Next Level Seniors: Sydney Nakagawa Dives Into Her Next Adventure as a Collegiate Athlete
Hang on for a minute...we're trying to find some more stories you might like.
Sydney Nakagawa, La Salle's standout swimmer, is now on her way to swim at the collegiate level after a remarkable high school career, not only seeing her hard work pay off in the pool, but in the classroom as well. 
She is in a small group of La Salle seniors who have committed to play college sports, students we are profiling in our Next Level Seniors series.
In the fall, Nakagawa will be attending the University of Redlands in Redlands, California. She is undecided as to what she will be majoring in, but she has thought of going in the direction of something math or science related.
For Nakagawa, swimming has always been a part of her life, capturing a love for the sport at the young age of two. Although she has had a love-hate relationship with swimming along the way, "I don't know what I would do with my life if I wasn't [a swimmer]."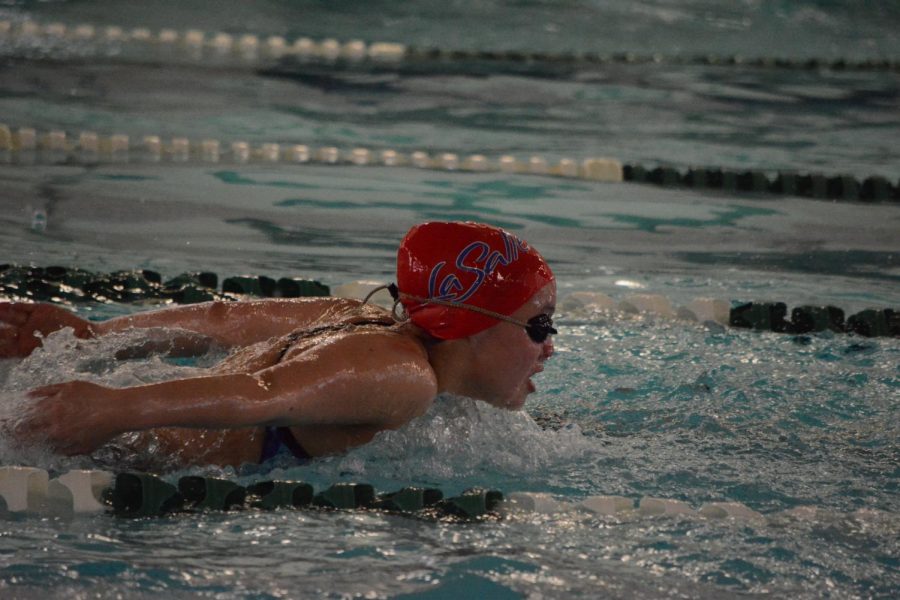 Nakagawa knew she wanted to continue her swimming career at the college level once she started her first high school season for La Salle. She said that high school swimming is a lot different than club swimming, as it has a family feel to it. As she loved the feeling of being able to represent her school, "I knew I wanted to continue doing that [in college], and I knew college swimming would still help me push myself to become a better swimmer and reach new levels", she said.
The main reason why she wanted to swim in college is because of how much the sport has become part of her life, and integrated into a daily routine that she has become fond of. Nakagawa thrives off of the feeling of having a great race, and "the constant love and support you get from your teammates and coaches and the overall feeling of accomplishment. It makes you realize all the countless hours and laps were for something more than just exercise."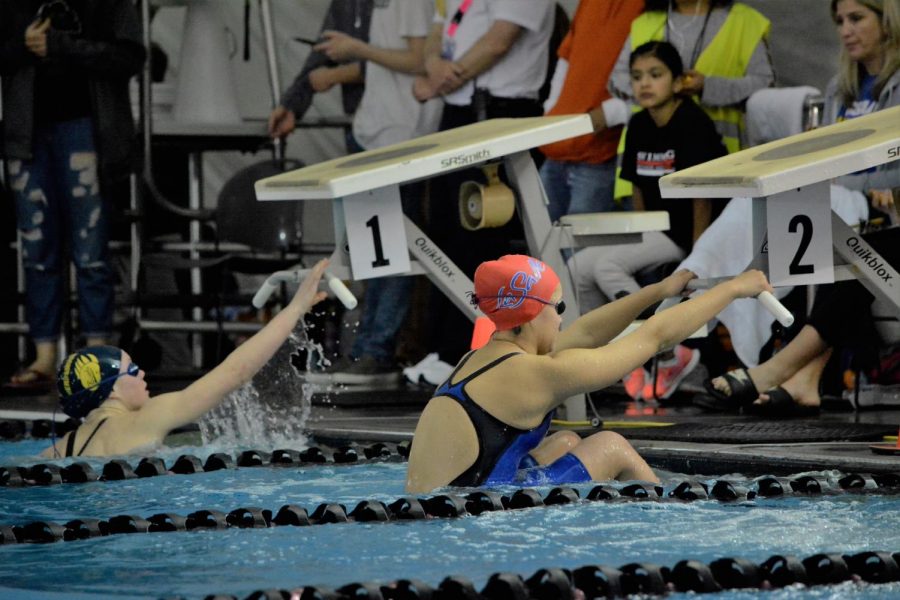 After four years of swimming for the Falcons, Nakagawa has received many athletic achievements, and has excelled academically.
Throughout her high school career, she has broken 9 of the 11 school swimming records, and qualified for state each year individually and on a relay. She was undefeated in league junior year, earned the MVP award for her team sophomore through senior year, and was team captain her junior and senior year.
Here are a list of her notable achievements in state competitions
Freshman year:
500 Free – 10th place

1st Team All Conference
Sophomore year:
200 Free – 9th place

500 Free – 10th place

1st Team All Conference
Junior year:
100 Fly – 7th place

100 Back – 4th place

1st Team All Conference
Senior year:
100 Free – 5th place

100 Back – 3rd place

1st Team All Conference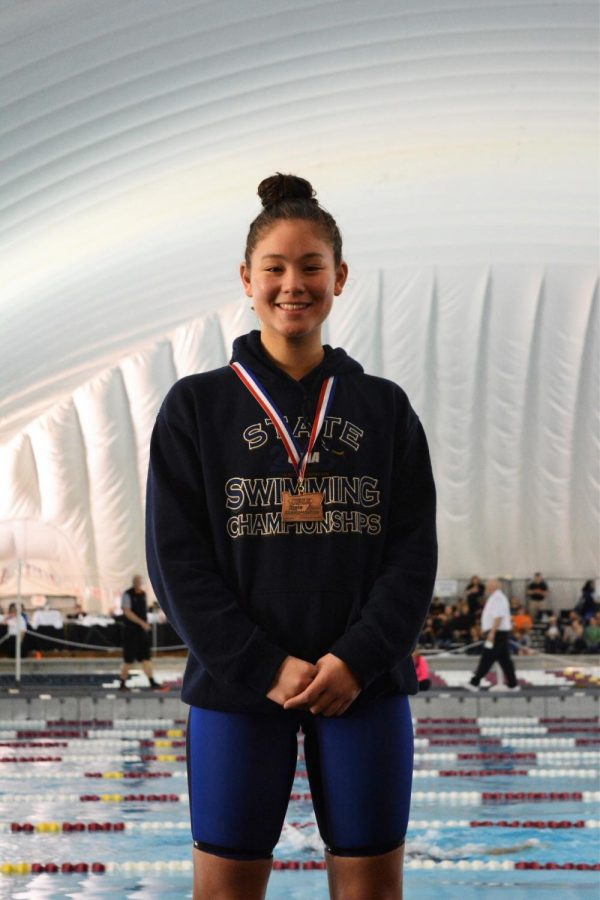 On the academic side, she is most proud of being able to take multiple AP and honors courses while maintaining a high GPA and still being a competitive swimmer. AP and honors courses require a lot of time and work, and "with the amount of time and dedication I put into swimming as well, I am proud of being able to handle it all."
As for the rest of the year, her main goal is to end high school on a good note while making sure to enjoy herself by making as many memories she can with the small amount of time left. Athletically, she plans of continuing to train throughout the summer, and "hopefully end the [club] season with some great races and also having fun with my swim friends."
Nakagawa first began her recruiting process in March of her junior year, and continued talking with coaches right up until she made her final decision. She said that the process was very stressful at first, as she had never been in a situation where she had to initiate communication with coaches and ask questions about their program. Although challenging at the start, "after the first few coaches it became pretty easy and I knew what questions I wanted to ask in order to get a better understanding of what the team was like," she said
She ended up receiving offers from every school she applied to, including Whitworth University, the University of Puget Sound, Pacific University, the University of Redlands, the University of San Diego, and Loyola Marymount University.
When it came down to deciding what school was best for her, she focused mainly on narrowing down her options to what she liked and disliked about each school and what their team was like.
During the process, the University of Redlands really drew in her attention compared to the other schools. Not only did she like the school academically, but their swim coach was very friendly and welcoming when they first met. Prior to meeting her, the coach had done research on Nakagawa and looked up her times, which showed how interested she was in having her on the team. Because of that, "she really stood out compared to the other coaches who were trying to contact me and helped me narrow down my decision."
Nakagawa officially committed to the University of Redlands in late April and signed her National Letter of Intent on May 3rd alongside La Salle's 12 other collegiate student athletes.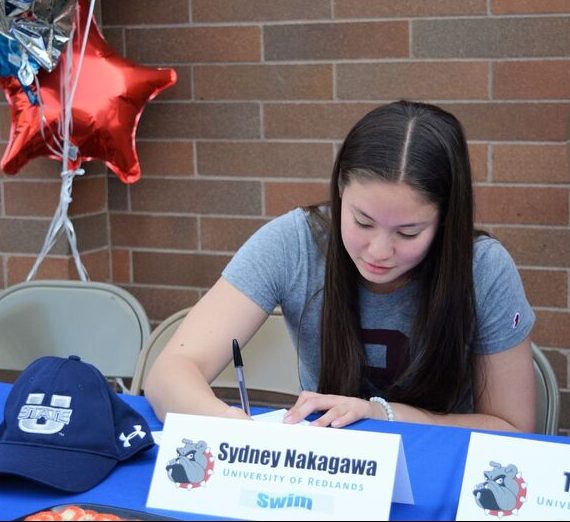 The location and the academics is what she loved most about Redlands. Nakagawa has always wanted to attend college in California, so the campus and location of the school was highly desirable for her.
The small classroom sizes are something else she really appreciates about Redlands, as it "makes it easier to connect with fellow students and teachers."
Nakagawa is confident in saying she feels prepared to be a collegiate student athlete. She has been participating in club swimming for almost seven years, which consists of two hour practices every day after school along with having meets monthly, so time management is not something she struggles with, having learned how to effectively manage her time over the years. "Swimming has taught me how to focus on what needs to be done as well as learning what my priorities are", she said.
Getting closer to becoming a Bulldog in the fall, Nakagawa is most looking forward to meeting a whole new group of people. "I love the swimming community and how you can instantly connect with people without even knowing anything about them beforehand", she said.
She is also excited for college swimming in general because it has the team feel of high school swimming, yet combines the intensity of club swimming with the perk of getting to swim outside in the California weather. "Overall, I am looking forward to the change that will come with leaving home and starting over," she said.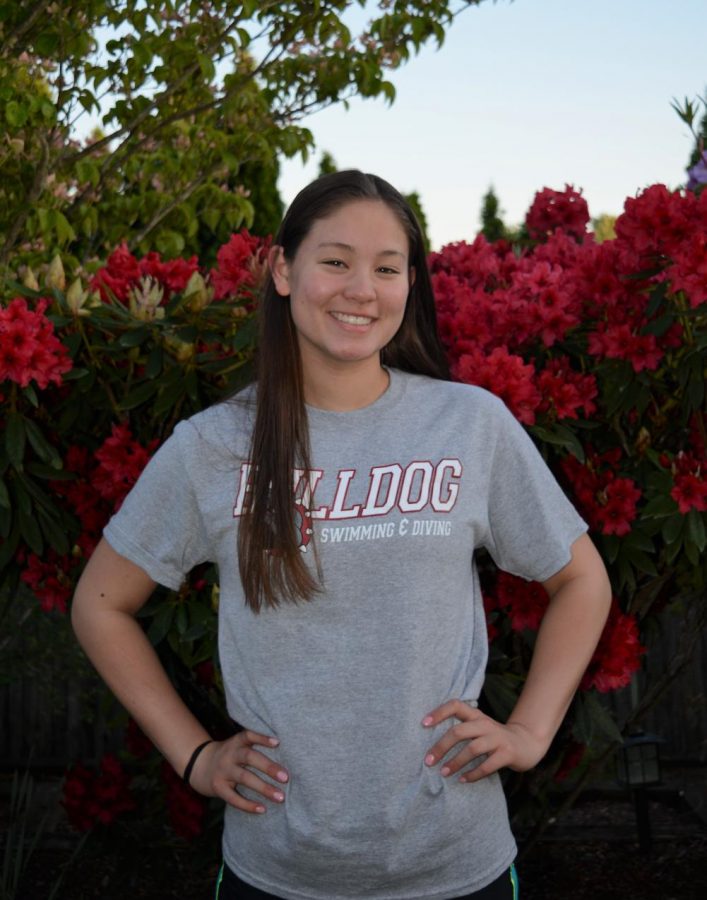 Nakagawa likes to set high goals for herself, so going into her first swim season at Redlands she would like to be able to place at the Conference Championship meet as a freshman as well as being a valuable member of her team, both individually and on relays. By the end of her collegiate swim career, she hopes that "I would have the chance to swim at the NCAA Nationals meet and maybe get some school records along the way."
A main piece of advice she can give to anyone interested in playing sports at the college level is to start the recruiting process early, and be consistently in contact with coaches. "I know it's hard, and for me especially, to be the first one to reach out and contact a coach," she said, "but there is nothing wrong with being the first one to make a move." All in all, do not be afraid to reach out and tell a coach you are interested in their program. Along with that, "it is important to keep updating them and [stay] in contact because it showed that you are interested in them, plus it will help keep you on their radar."
Lastly, Nakagawa can attest to the fact that you shouldn't pick a school just because you want to play on their sport team. "Make sure that you can also succeed inside the classroom because at the end of the day that's where it  matters the most," she said.
***
Congratulations to Sydney on committing to the University of Redlands, and good luck to her as she begins her first swim season as a Bulldog in the fall!
About the Writer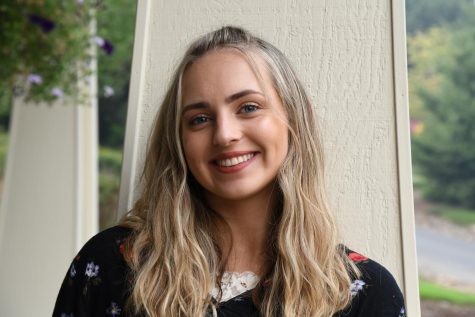 Kendal Shride, Editor
Kendal is currently a senior at La Salle. She is a competitive gymnast and will be attending Azusa Pacific University to compete on their Acrobatics and...