Student of the Week: Andy Nguyen
Hang on for a minute...we're trying to find some more stories you might like.
For Andy Nguyen, there is more than meets the eye. As a second-semester senior with a 4.024 GPA this semester, he is an academically dedicated student who has achieved much in his time here.
This year he is taking two AP classes, which happen to be his two favorite courses. These classes, AP Calculus and AP Chemistry, are challenging—but Andy says that he likes the challenge and finds the courses to be fun. He states that both "Mr. Swanson and Mr. Owen are very good teachers that help me through my struggles and also provide me with a fun environment."
While Andy excels in school, he also has quite the life outside of the classroom. For one, he has played varsity boys tennis for all four years of his high school career. He currently plays doubles, and says that "we have been undefeated this season and have high hopes for making it to state this year."
On top of tennis, Andy has a good number of other hobbies. He loves to play video games with his friend Andrew Cheung, enjoys going out with friends to eat, and also likes watching Naruto Shippuden.
Looking ahead to the end of the school year, Andy is very excited to graduate and spend part of his summer in Japan. He has a two week trip planned, in which he hopes to try authentic Japanese food, and learn about the language and culture. He is also excited to test out those cool vending machines in Japan that dispense everything from self-freezing Coca-Cola to puppies.
After Japan, Andy is excited to go to the University of Portland, where he plans to study to become an orthopedic surgeon. He has been interested about how the human body functions since the 7th grade, when he "had a muscle tear on [his] right shin from a taekwondo tournament." He hopes that by becoming an orthopedic surgeon, he will be able to help people recover from their injuries because he can empathize with how badly they can hurt.
Since Andy will be leaving La Salle in a few short months, he has some wise advice for underclassmen. He says, "If there is one tip I could give, I would say to not complain about the homework load, because complaining about it won't change the assignment. Just do it and don't procrastinate. Obviously, it's easier said than done."

About the Writer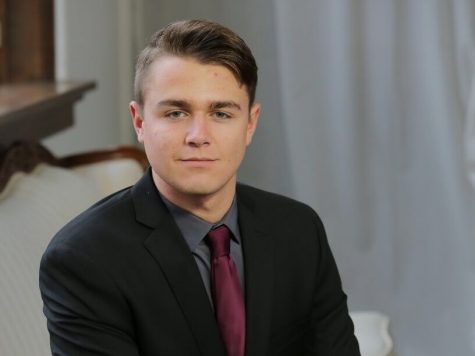 Stephen Leeb III, Staff Reporter
Stephen is a senior at La Salle. He is a member of the tennis team, and is a student ambassador. He likes photography, reading, watching movies, and reviewing...