Next Level Seniors: Matthew Werner Chooses La Salle
Hang on for a minute...we're trying to find some more stories you might like.
Matthew Werner, La Salle's standout golf player, is seeing his drive and determination to become a Division 1 student athlete now paying off. He is one of a number of La Salle seniors who are moving on to play sports at the college level, students we are profiling as part of our Next Level Seniors series.

In the fall, Werner will be attending La Salle University in Philadelphia, Pennsylvania where he will be playing on their golf team. Werner has not yet made a final decision of what he will be studying, but knows it will be in the field of business.
Even though he is just a senior in high school, Werner already has big goals set for himself, surpassing just playing college golf. After college, Werner says he wants to try to pursue his dream of playing professional golf. Although following this path means he won't be returning back to school anytime soon, Werner really wants to attend law school eventually.
Werner has been playing golf since he was three, with his dad, but back then it was more of just a fun activity for him. "I started taking golf very seriously and focusing lots of time towards it in 8th grade", he says.
The summer before freshman year is when Werner first decided that he wanted to play college golf, and before his sophomore golf season is when "I told myself I wanted to play Division 1, and when I began working very hard to better myself on and off the course".
Werner's main draw into playing college golf is what he will athletically get out from it after those four years and where it could lead him on his path to become a professional golfer.
He believes that playing college golf will give him the best chance of possibly playing professional golf in the future, as he says, "statistically, most PGA Tour players played in college before turning pro, even if it was just for a couple years. Playing D1 golf will also allow me to compete among the highest level of competition and better my game". Werner hopes that in college he will be able to greatly improve in golf and learn more to help himself reach his dream of going pro.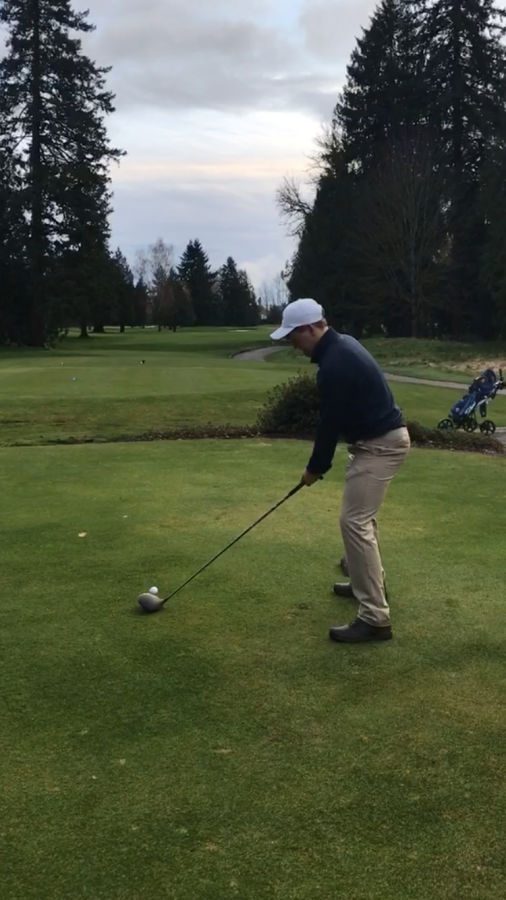 Throughout his golf career thus far, Werner has acquired many notable achievements. He has won the Willamette Valley Club Championship, as well as being named to 1st team all state in 5A last year. To top it all off, Werner says his proudest accomplishment has been winning an American Jr. Golf Association tournament last year. "AJGA tournaments are of the highest prestige" he says. "They are won by some of the best players in the world such as Tiger Woods and Jordan Spieth".
Werner's goals for the rest of his senior year are just as ambitious as the long term ones. These goals include winning an individual state championships, qualifying for the U.S Open, as well as qualifying for the U.S. Amateur. Nonetheless, Werner says, "I really just want to have a good summer of successful tournaments and go into [my] college season next fall feeling confident".
Like most athletes striving to play college sports, Werner's recruiting process was very long and often stressful, as it began before sophomore year of high school.
For Werner, this process consisted of having to talk with many college coaches, as well as having to play well and constantly be on his "A game" for the coaches to be interested in pursuing him. Werner says the most stressful part of the process was "going into a tournament and knowing that you had coaches watching you, and if you don't play well that one round then they may lose interest".
For any high school student, the decision of where to spend the next four years of your life can be a very difficult decision, but for Werner it was the opposite.
Even though he had other schools to choose from, Werner's decision to attend La Salle University was fairly easy for him. On his official visit, Werner says he felt very comfortable on the campus and loved the environment and the city of Philadelphia. The other convincing aspect of his decision to choose the school is the golf coach, who he feels could really help him further his golf career.
Werner made the final decision that he would be attending La Salle University in late October, verbally committing right after his official visit to the school. Werner then signed his National Letter of Intent in November.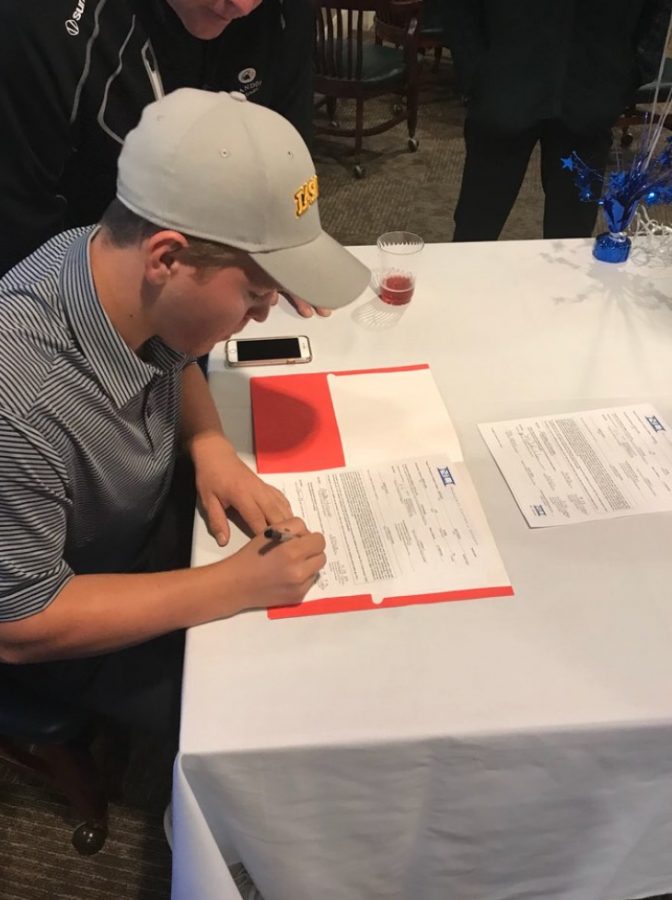 What really set La Salle University apart for Werner is the campus, location, and facilities.
The campus itself, he says, is fairly large, and has an old and rustic feel while at the same time having very modern classrooms. Werner's favorite part of the campus was the indoor golf practice facility, which is a luxury being that "the weather in Philly is very cold and it snows a lots in the winter, so it is necessary that we have somewhere to practice and hone in our games before the spring golf season", so the indoor facility was a stand-out item for him.
Because all of the academic and athletic work he has put in over the last four years at a rigorous college prep school like La Salle, Werner feels that he is very prepared for the time commitment that playing a college sport will require.
Reflecting upon his time here, he says that La Salle has really prepared him for being a student athlete in college because it helped him learn how to manage schoolwork with sports. Because he often misses school due to traveling for golf tournaments, and because he has been able to manage it fairly well throughout high school, Werner feels as though he will adjust and adapt just as well in college.
A lesson he has learned throughout high school is that "the best way to keep up with school while playing a sport is to stay in communication with your teachers as much as possible", which is another tool that will stay with him throughout college.
This upcoming fall, Werner is looking forward to adjusting to college life and into a new environment surrounded by new people, besides those on the golf team. He is also excited to have the freedom of choosing his classes relating to his major and being able to really focus on his academics.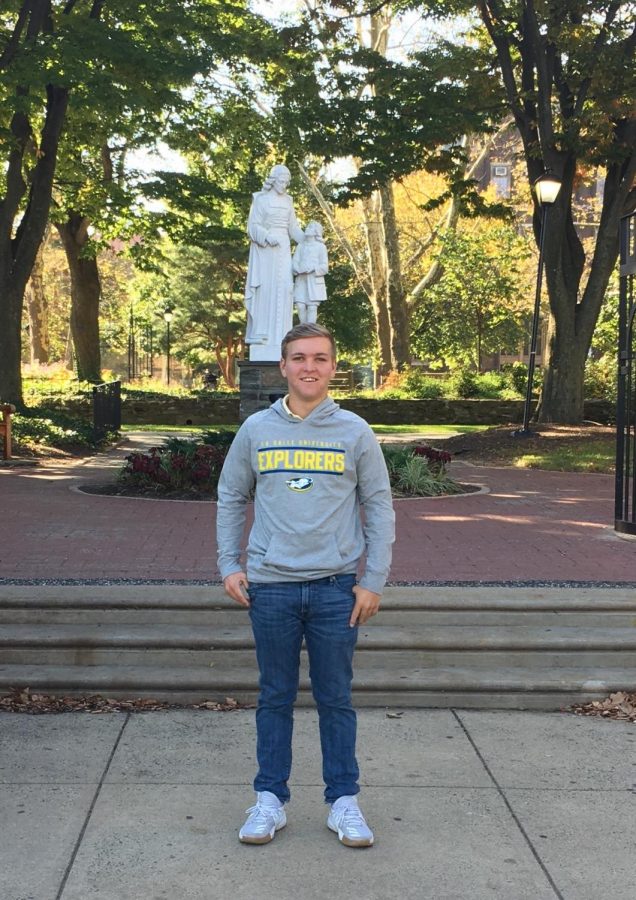 Often the advice given to those who want to play a sport in college relates solely to that sport and developing the necessary skills, but Werner's advice relates to the other side of the spectrum: academics.

"No matter what and no matter how good you are at your sport, schoolwork will always be more important", he says. Werner's advice agrees with the saying of being a student first and an athlete second. He says that having solid grades in high school is also attractive to the coaches recruiting the athletes because this means that "they know in the future they don't have to worry about a player being academically eligible".
Not only do the coaches not have to worry as much about a player's eligibility in the future, but they are able to save more money in their recruiting budget. By having good grades and test scores in high school, coaches suspect that the athlete will get a lot more academic scholarship money from the school, and then, "[the coaches] don't have to use as much of their athletic money to give you scholarships, which means they can then recruit better players to help the team".
For his first golf season at La Salle University, Werner's goals are to qualify for all of the fall and spring tournaments, meaning being one of the top five players on his team each week. He also is striving to become first team all conference, as well as being in a position to play in an NCAA championship. Besides these individual goals, Werner wants to "help lead my golf team in the right direction, and be a part of improving the golf program at La Salle University".
***
Congratulations to Matthew Werner for signing with La Salle University! Good luck to Matthew as he completes his senior golf season and to his first year as an Explorer in the Fall!

About the Writer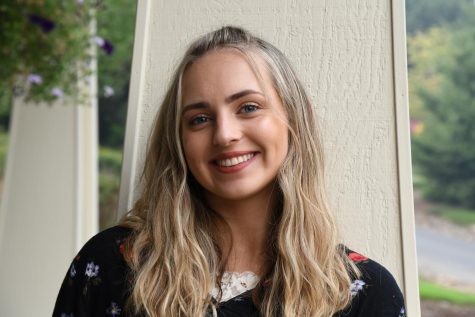 Kendal Shride, Editor
Kendal is currently a senior at La Salle. She is a competitive gymnast and will be attending Azusa Pacific University to compete on their Acrobatics and...