Bubbly, Sassy, and Inspirational: "Legally Blonde" Comes to La Salle
La Salle's spring musical, "Legally Blonde", kicks off in just two days! Opening night is on Friday, April 20th at 7pm in the La Salle auditorium, and the show then continues for a run of five more performances.
"Legally Blonde" tells the story of Elle Woods, a fun, outgoing, and upbeat college student. She lives a glamorous life and is used to having everything be perfect. When her boyfriend unexpectedly breaks up with her to attend Harvard Law School, she scrambles to follow him there in an attempt to prove herself to him.
Through attending Harvard, Elle experiences struggles that lead her to discover her bright future.
Senior Amanda Acker plays Elle Woods. Elle has a bubbly personality and is portrayed as a stereotypical Southern California blonde. Emmett Forrest, played by junior Alex Ensroth, befriends Elle at Harvard and gives her lots of advice.
"My favorite line that I sing is, 'Girls it's a fact, when you're attacked, you've got to respond,'" Amanda said. "It's a really relevant message especially in today's society and the fight for women's rights."
Alex said, "The show is about fighting for what you want, persisting and refusing to give into defeat."
Amanda added that "[a] big message of this musical is that you shouldn't always base your judgments on people via your first interaction or first impression of them."
Rehearsal hours for the musical have been intense, taking place every day after school. Each day focused on a different aspect of the musical such as dance, vocals, and blocking.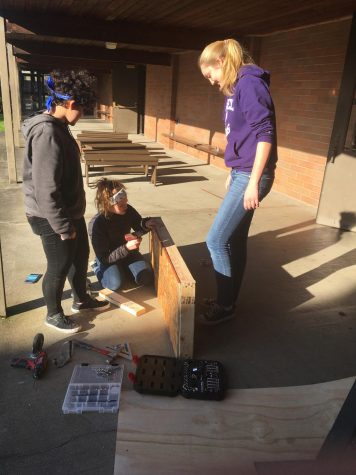 Alex said, "We're devoting time to something we love to do, so we're okay with working a little overtime to get everything done."
Mr. Shelton, La Salle's drama teacher, said that he is excited for this production because it is one of the largest musicals La Salle has put on, with twenty-two different scenes.
With a complex show, there are "always going to be challenges and opportunities from a technical standpoint when you are doing such a large production with so many different moving parts," he said.   
Ultimately, Elle learns to love herself and see her own potential.
"There's something I think [that's] very powerful about that kind of a message and our hope is that the audience will be inspired and empowered by Elle," Mr. Shelton said. "We also want them to laugh at the funny jokes and tap their foot along with the catchy music."
After "Legally Blonde" premieres on April 20th at 7pm, the show continues on April 21st, 26th, 27th, and 28th at 7pm. There will also be a matinee on Sunday, April 22nd at 2pm. Tickets are $15 for adults (or $12 if purchased online in advance), $12 for senior citizens, and $10 for students!
***
Check out the full cast list below!
ELLE WOODS – Amanda Acker
EMMETT FORREST – Alex Ensroth
VIVIENNE KENSINGTON – Emma Kuffner
WARNER HUNTINGTON III – Carson LeMaire
PROFESSOR CALLAHAN – Luke Thompson
PAULETTE BUONAFONTE – Maren Kain
BROOKE WYNDHAM – Arianna Fitzsimons
PILAR – Gabi Fontenette
SERENA – Anna Kay
MARGOT – Katie Kell
KATE – Alvina Hsiao
ENID HOOPES – Rachel Jones
KYLE the U.P.S guy/GRANDMASTER CHAD – Luke Wild
ADDITIONAL DELTA NU – Anna McClow, Natalie Galbraith,
Rue Johannes, Emma Foteff, Ella Springer, Alena Salley
HARVARD ADMISSIONS – Egan Arntson, Andrew Harder, Jordan Yeager
DEWEY – Ian Pearson
SUNDEEP PADAMAN – Richard Nguy
AARON SHULTZ – James Kelley
NIKOS – Eric Nguyen
CARLOS – Joe Koppy
CHUTNEY WYNDHAM – Aislinn McCarthy
JUDGE – Colleen O'Reilly
DISTRICT ATTORNEY – Peter Rink
LAKERS DANCER – Joie Barnett
ELLE'S FATHER – Andrew Kuffner
ELLE'S MOTHER – Tiffany Arnold
ENSEMBLE/DANCERS/FEATURED ROLES – Caroline Kiesz, Samantha Harrison, Olivia Galbraith, Anna McClow, Natalie Galbraith, Rue Johannes, Emma Foteff, Ella Springer, Alena Salley, Luke Wild, Egan Arntson, Andrew Harder, Jordan Yeager, James Kelley, Eric Nguyen, Joe Koppy, Joie Barnett, Richard Nguy, Colleen O'Reilly, Peter Rink