Athlete of the Week: Caitlynn Young
Hang on for a minute...we're trying to find some more stories you might like.
Junior Caitlynn Young has demonstrated a great work ethic throughout her time at La Salle so far, thriving academically while dominating on the volleyball court and softball field. The Falconer interviewed Caitlynn to find out more about her achievements and how she is able to successfully balance school and sports.
What sports do you play?
Currently I play varsity volleyball and softball at La Salle. I also played basketball freshman and sophomore year. Freshman year, I played JV volleyball and softball, and JV2 for basketball. Sophomore year, I played varsity volleyball and softball, and JV basketball. 
How did you get involved with each sport?
I have played volleyball for 7 years and softball for 9 years. I played basketball for 8 years. I started playing volleyball in 5th grade when one of my best friends at the time had played for the last two years, and she convinced me to play for our CYO team and quit soccer. As far as softball, I started off like many little kids playing Tee-ball, and I continued to play softball afterward. Growing up around it, I always loved the sport. For basketball, I was following in the footsteps of my family members.
What is the most challenging thing about being a student athlete?
I have found that one of the most challenging things about being a student athlete is time management and being able to plan my schedule ahead of time to balance my homework, practice times, games, etc.
What is your academic schedule like this year?
This year has been the most challenging since I've been at La Salle. I am taking 5 AP/Honors classes including Honors Spanish III, Honors Chemistry, AP Calculus AB, APUSH, and AP English III. My cumulative weighted GPA is 3.95.
What athletic achievement stands out to you?
One of my most memorable achievements was from my sophomore volleyball season when we were league champs.
What is a goal you have for this softball season?
One main goal I have for our team this year is to be league champs. We got second in league last year and I hope that this season we will be able to go one step further.
Why do you enjoy playing sports at La Salle, what do you think you get from it?
I enjoy playing sports at La Salle because I love being able to participate in the competitive programs. Also, I have been able to make some of my closest friends.
Do you plan to continue any sports in college?
No, I want to go in the medical field so I plan to focus on just academics in college.
Catch the softball team on the field at their first league game on Wednesday, April 4 at home at 5pm!

About the Writer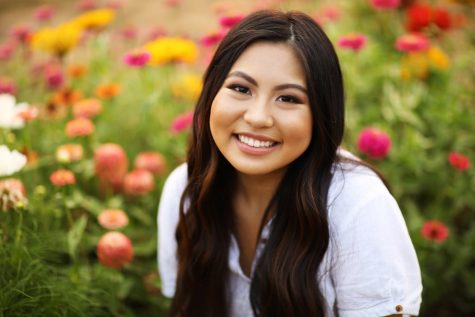 Samantha Kar, Editor in Chief
Samantha is a senior at La Salle. She is a varsity swimmer on the swim team. In her free time, she enjoys playing the piano, photography, and hanging out...