La Salle's Religion Guru: The Mindful Mr. Mac Speaks On Vocation
Hang on for a minute...we're trying to find some more stories you might like.
For Mr. Mac, his love of God was the driving factor in his decision to become a teacher.
Mr. Mac knew his calling from the age of 21. He found his vocation while "sitting in a theology course in Notre Dame senior year." He describes his teacher in this class as being a mesmerizing story teller. This made an impression on Mr. Mac and on this day he discovered his vocation to teach.
From there, Mr. Mac went on to become a teacher. He graduated from Notre Dame, then taught at the college level for a little while in between. He eventually came to La Salle in the spring of 2012 as a substitute teacher. Towards the end of the year he took over as a long-term substitute for an English teacher. He says that he "liked the community feel" of the school. After that, a religion teacher named Mrs. Friend left La Salle so Mr. Mac gladly took her place. Since then he has taught World Religions, Sacraments, and Intro to Sacred Scriptures classes.
While Mr. Mac has been a successful religion teacher, it hasn't always been an easy road. He always knew that he was meant to be a teacher, but at one point he found it very difficult to support the church.
"In the early 2000s I had trouble teaching Catholicism at the time that the sexual assault crisis really broke out," states Mr. Mac. He says that "the church is still his family," but that "the church needs to be better and I try to speak truth."
Although this problem still bothers him, he hasn't abandoned his church community. His love for God and community has helped him to stay with the church through the darkness. This love also has helped him to remain as a religion teacher.
His favorite class to teach is World Religions. He says that there is powerful wisdom in all of the religions and he wants to share that wisdom with his students. He also says that these different religions overlap and complement each other. Because of this, Mr. Mac is appreciative of the religious diversity that exists at La Salle. He says that having a diverse set of religions lets people be authentic and that makes for a healthy environment.
When asked about why religion itself is important, he stated that "human beings have been spiritual for 100,000 years. It's a part of our human story." Mr. Mac holds the belief that by finding out about religion, you are learning about and connecting to others who are religious.
***
What are your favorite memories of Mr. Mac as a teacher? Let us know in the comments below.

About the Writer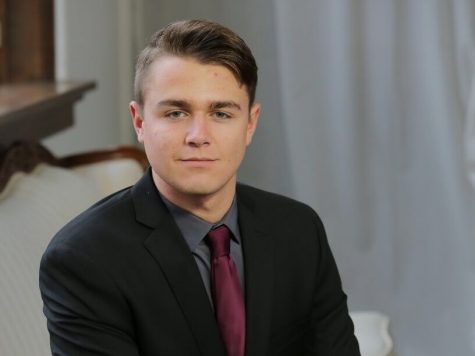 Stephen Leeb III, Staff Reporter
Stephen is a senior at La Salle. He is a member of the tennis team, and is a student ambassador. He likes photography, reading, watching movies, and reviewing...