After a Strong Performance at Districts, La Salle Swimmers Prepare for State
After an impressive performance at districts, eight La Salle swimmers will be competing at the OSAA state championships this Friday and Saturday at Mount Hood Community College.
The girls swim team took second place at districts behind Wilsonville, qualifying for state with the 200 medley relay, with senior Sydney Nakagawa also qualifying in two individual events. Meanwhile, the boys team tied for second and will be competing at the state championships in the 400 free relay.
The girls swim team is looking towards state with high hopes. The two events that Nakagawa qualified for are the 100 backstroke and the 100 freestyle, and she will also be participating in the 200 medley relay. The other swimmers for the relay will be freshman Aislinn McCarthy, junior Samantha Kar, and sophomore Hanna Nguyen. Their alternates are junior Brigid Hanley, junior Madlin Nichols, and junior Dani Rinz.
Nakagawa, a team captain, has consistently been a standout member of the team, breaking several records throughout her time at La Salle. This year, she has broken the 100 free, 200 free, and 200 IM school records with times of 54.88, 2:00, and 2:17.47 respectively. Along with this, she's also broken her previous school records this year for the 500 free, 100 back, and 100 fly once more, bringing her total number of records to six.
Looking at the remainder of her season, she says that she is excited for the state competition and hopes to show her best.
"The most exciting part of the season would probably be districts because it's fun to see everyone race and see how much we have all improved," Nakagawa said. "But I am also most excited for the state meet this weekend because I have set high goals for this season and I hope to accomplish them."
The boys swim team, after tying for second place against Hillsboro at districts, is going to state to compete in the 400 free relay. The members of this relay are junior Ben Robinson, freshman David Jensen, junior Samuel Stockett, and senior Andy Krueger. Freshman Toby Schram, junior Reed Metzler-Gilbertz, senior Jack Arp, and junior Nic Richardson are the alternates.
Overall, both teams have done extremely well this season. In districts, the girls team matched their projected 235 points, while the boys won 198, improving on their expected result. Team members are looking forward to the competition and hoping to win at state.
"The most exciting part of this season was getting to compete in finals at districts. The competition was really tough, and watching other races, where it sometimes looked like two people touched at the same time, was so intense," freshman Aislinn McCarthy said. "Knowing that all my hard work had paid off this season was a good feeling. I am really excited for state this Friday and I'm honored to represent La Salle and swim as fast as I can in our relay."
"My favorite part of swim team is being able to push myself and make myself better at something I love," captain Ben Robinson added. "I am looking forward to the state competition this Friday, and getting to compete with the top swimmers in the state."
About the Writer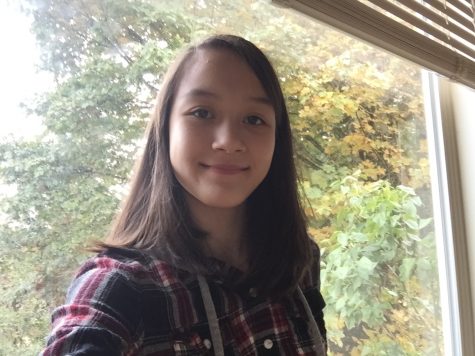 Kierra Young, Assistant Editor
Kierra is currently a junior at La Salle. She loves traveling and volunteering in nature. In the rest of her free time she enjoys reading, playing the...