Kendal's Acoustic Chill Playlist, Perfect For a Rainy Day
Hang on for a minute...we're trying to find some more stories you might like.
As we quickly head toward the end of the semester, our stress levels are rising along with the heavy rainfall. To reduce the stress that most of us are experiencing heading into finals week, music can be a great outlet to ease some of that anxiety we may have built up. Here are 10 essential acoustic songs that are guaranteed to calm you down and provide some relaxation, as well as match the rainy mood this January.
Hero – Family of the Year
"Hero" is the type of song that allows you to get lost in its lyrics and nudges you to explore its possible meaning, as it can be interpreted in many different ways. In my opinion, this song is perfect for teenagers while we are in the process of growing into adults and facing the pressure to become "somebody" as we enter the real world. This acoustic track is one that I always turn to when I need to unwind after a stressful day.
Bloom – The Paper Kites
The indie-folk vibe in "Bloom" provides instant relaxation with its beautifully hypnotizing melody. It is easy to let your mind wander when listening to this song and its enchanting lyrics. 
Better Together – Jack Johnson
It's not possible to feel anything but happy when listening to Jack Johnson's simplistic but meaningful lyrics. "Better Together" gives me major nostalgic vibes and takes me back to the good old days listening to his whole "In Between Dreams" album as a kid. This song never fails to bring a smile to my face.
Fast Car – Tracy Chapman
An oldie but goodie, Tracy Chapman's "Fast Car" is just as relatable as it was when first released in the 80's, making it an essential acoustic hit. The guitar-led ballad is an easy classic and will continue to be for years to come.
American Girl – Luke Sital-Singh
Originally performed by the late Tom Petty, this cover of "American Girl" gives the original a modern and acoustic twist. Sital-Singh transforms the song by slowing down the melody, with his unique voice bringing more emotion and intimacy into the vocals.
Sweet Creature – Harry Styles
In this acoustic, folk ballad, the catchy guitar picking at the start of the song paves the way for sincere and emotional lyrics that Styles evokes with his raw and captivating vocals. The simplistic harmonies and background tracks in "Sweet Creature" take this song to the next level, providing a soulful vibe.
Blackbird – The Beatles 
"Blackbird" by the Beatles is without a doubt my favorite acoustic song. Whenever I am feeling overwhelmed or stressed, this is the song I turn to to ease any tension. Just the sound of the sweet, chirping birds alone is enough to put me in a good mood. The soft vocals and simple melodic chords of the guitar bring me a sense of peace and for a minute shines a glimmer of hope on the world.
All The Pretty Girls – Kaleo
In "All The Pretty Girls" Kaleo communicates many sincere emotions through personal and distinctive lyrics. His tender and serene voice is nothing but relaxing and pairs excellently with the soft melody provided by the guitar.
Holocene – Bon Iver
"Holocene" is an indie-folk instrumental track that will put you in a state of tranquility, which is exactly what you need when winding down after a long day. Bon Iver's deep and poetic lyrics tell a story, while his unique yet peaceful vocals trigger an array of emotions.
Paint- The Paper Kites
"Paint" is the epitome of an acoustic chill song as it combines both the sound of soft guitar strumming with easygoing and gentle vocals. If you're looking for more of these types of songs, The Paper Kites will never disappoint as their sound is greatly reliant on acoustic guitars and soothing lyrics.
***
What's your favorite song here? Do you have a recommendation for a different track that would work well on this list? Let us know in the comments below.
About the Writer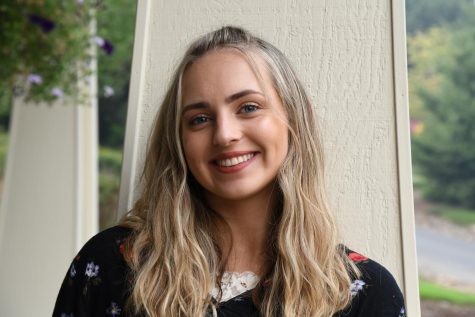 Kendal Shride, Editor
Kendal is currently a senior at La Salle. She is a competitive gymnast and will be attending Azusa Pacific University to compete on their Acrobatics and...