Second Phase of Campus Development Bringing $750,000 of Renovations to La Salle
Hang on for a minute...we're trying to find some more stories you might like.
La Salle has embarked on a $750,000 renovation plan, known as Phase 2 of the Campus Development Plan, that will bring tons of new improvements to campus, hopefully by the end of the summer of 2018. Recent improvements that have already been completed and that are part of this plan have been the new Innovation and Design Center, also known as the Creator Space, and an updated Counseling Center, but that is just the beginning of many projects to come.
Plans for this upcoming summer include renovating and remodeling the locker rooms and theater lobby. There will also be a part two to the Innovation and Design Center, which will involve more equipment and an exterior courtyard adjacent to the Center.
To find out more about these upcoming developments, we talked to the school's Vice President of Foundation and Major Gifts, Ms. Andrea Burns, who said that this is one component of moving "confidently into the next phase of delivering exceptional education that is responsive and innovative, emphasizing collaboration and project-based learning."
Going back in time, Phase 1 of Campus Development consisted of the front entrance renovation and new main office, costing $1.8 million. Initially, Phase 1 also included the Counseling Center and theater lobby, but the limited summer months and increased construction costs required these two components be postponed until Phase 2.
"This new plan has informed the facility and space planning decisions as we move confidently into the next phase of delivering exceptional education that is responsive and innovative, emphasizing collaboration and project-based learning," Ms. Burns said. "The school prioritized the security and safety components of the master plan into the first phase as a result of a feasibility study performed in the winter of 2015."
For Phase 2, La Salle has been actively fundraising to reach a total of $750,000. This began with the Innovation and Design Center, which La Salle received a $300,000 grant for from the M.J. Murdock Charitable Trust, due to their "interest in science education and innovation." When the Murdock Charitable Trust awarded the grant, they agreed that La Salle could use part of this money to complete the unfinished components in Phase 1 of the Development Plan, including the Counseling Center and theater lobby.
Ms. Burns says that "at the same time, while assessing additional campus facility needs, [La Salle] recognized an additional need in the locker rooms". They then added $150,000 to the initial fundraising goal of $600,000 for Phase 2, which the school felt was "an amount that would provide sufficient resources for necessary improvements and [was] an amount of additional funds we could successfully raise in a short period of time."
Currently, La Salle has raised $615,000 of the $750,000 goal. Here's a breakdown of the numbers: the Innovation and Design Center cost $300,000, the Counseling Center cost $66,000, the theater lobby will cost $234,000, and the locker rooms will cost $150,000.
Boys and Girls Locker Rooms Renovation: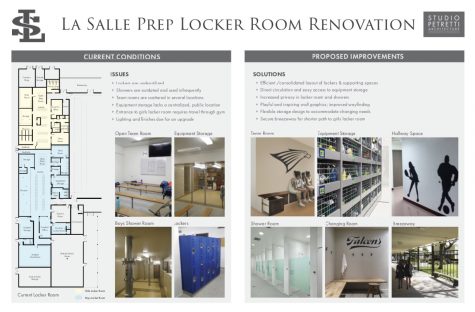 Renovations will address the following:
Efficient/consolidated layout of lockers and supporting spaces

Direct circulation and easy access to equipment storage

Increased privacy in locker rooms and showers

Flexible storage design to accommodate changing needs

Secure breezeway for shorter path to girls locker room

Equitable division of space amongst both locker rooms
Theater Lobby Renovation: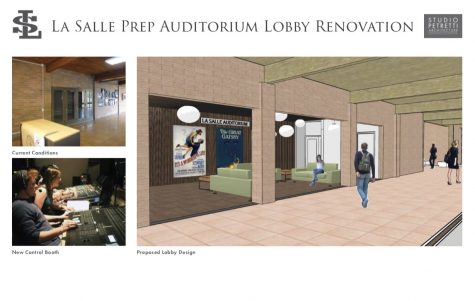 With the new $234,000 theater lobby coming next fall, all students at La Salle will get the chance to immerse themselves in the space. Ms. Burns says the idea is to "create an informal learning space that connects to the main hallway."
Here are the proposed plans for the theater lobby renovation:
Because of how much students have been drawn to the furniture pods in the main hallway, there will be more collaboration space in the theater lobby.

The current theater lobby doors and a couple of the brick walls will be removed, and the ceiling in the lobby will be raised.

Bathrooms on either side will now be more accessible during the day.

Carpeting will be put in, as well as a large furniture pod that can be moved for a production if needed.

Information about upcoming productions can be displayed.

Double-doors for entrances on either side of the theater will be light and sound-lock doors.

For performing art students, there will be an enclosed sound and lighting booth, contrary to the current open space.
Part Two of the Innovation and Design Center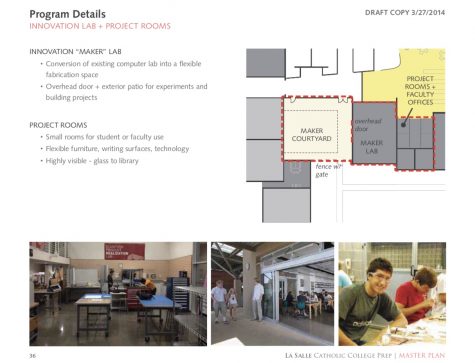 The first part of the Innovation and Design Center was transitioning it out of a computer lab and bringing in all the current equipment and furniture. The second part, happening this coming summer, includes bringing in more equipment and creating the "Maker Courtyard." New equipment will include a table saw, Chromebooks, and Arduinos. The brick wall of the space will be opened up to the outside, and it will either be turned into a garage door or sliding door. The "Maker Courtyard" will be similar to a covered patio, providing additional space for larger projects.
With La Salle taking on these renovations for this upcoming summer, Ms. Burns says that "in every single component of Phase 2, all of our students will benefit." For instance, the Innovation and Design Center and Counseling Center are open to all students. Even though the theater lobby is more of a performing arts space, opening it up will allow for all students to utilize the space all day. And since every student has to take a PE class sometime during their four years at La Salle, they will be impacted by the renovated locker room.
Another La Salle staff member involved in the development of this plan is Mr. Matt Winningham, Vice President of Finance and Operations, who says that he is excited "seeing us march forward into what we envisioned for the school over the next several years, and it's important to keep that momentum going."
"We feel really good about the main entrance and what that brought to the school," he said. "Being able to continue to move down the hallway with the theater lobby and the Counseling Center and also working through the Maker Space is an important continuation of making sure we're staying on the leading edge of innovation for education in the 21st century."

About the Writer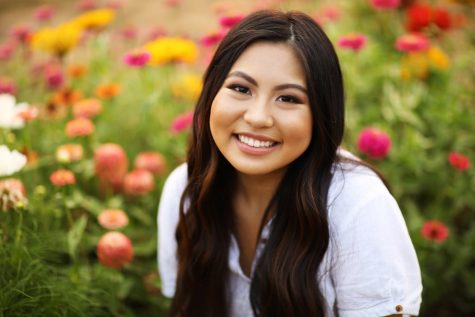 Samantha Kar, Editor