Why Portland? Signature Ice Cream Shops
In our occasional series -Why Portland?- the La Salle Falconer staff profiles all the interesting and unique things about the City of Roses.
With summer just around the corner, take advantage of these beautiful sunny days and take a ride to visit some of these local ice cream shops that make Portland special.
Location: 3345 SE Division St. Portland, OR
Hours: 11am-11pm daily
Location: 2035 NE Alberta St. Portland, OR
Hours: 11am-11pm daily
Location: 838 NW 23rd Ave. Portland, OR
Hours: 10am-11pm daily
Rain or shine, you can always find a line at Salt & Straw's various locations in the Portland area. This iconic ice cream chain offers bold combinations that cover the whole flavor spectrum ranging from sweet and salty to savory. Their menu includes sundaes and ice cream floats.
Location: 2021 SE Clinton St. Portland, OR
Hours: 12pm-11pm Sunday-Thursday
12pm-12am Friday & Saturday
This hot spot stands out for their custard based ice creams with a mix of original and unique flavors that even incorporate adult ingredients like butter-scotch. Even with a smaller location, Fifty Licks embodies a relaxing and calm vibe. Customers get their choice of getting a bowl or a freshly made waffle or sugar cone. They not only offer ice creams but root beer floats, milkshakes, and Cuban coffees. They keep it cute but classy with a light up ice cream cone outside the door and a unique take on tips.
Location: 1105 NW Johnson St. Portland, OR
Hours: 12pm-10pm Sunday-Thursday
12pm-11pm Friday & Saturday
Located in the Pearl, Cool Moon captures your eye from across the street with their glowing ice cream cone and twinkling window lights. They offer unexpected exotic flavors like Thai iced tea and Saigon cinnamon and you can complete your scoops with your choice of almost ten extra toppings. Cool Moon is the perfect spot to end a night downtown.
Location: 4525 SE Woodstock Blvd. Portland, OR
Hours: 12pm-10pm Monday-Sunday
Cloud City has the typical ice cream shop feel but are unique by using all natural products from around town. They have different menus corresponding with the current season, highlighting fruity and sweet flavors for spring and summer, and more savory and rich flavors for fall and winter. They also offer their customers various vegan options.
Location: 4703 SE Hawthorne Portland, OR
Hours: 12pm-10pm Sunday-Thursday
12pm-11pm Friday & Saturday
Ruby Jewel is noticeable by their vibrant "Ruby Jewel Scoops" sign. When you walk in you're faced with high ceilings with industrial furnishings. They serve homemade ice cream flavors and give customers free reign to create their own ice cream sandwiches. Their ingredients are provided by local farms and food artisans all over Portland and the Pacific Northwest.
***
Which of these ice cream shops is your favorite? Or is there another one that you like that we didn't include here? Let us know in the comments below.
About the Writer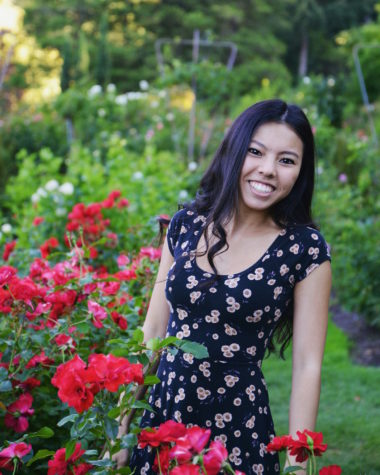 Emrie Good, Editor
Emrie Good is a senior at La Salle. Her favorite dogs are German Shepherds and she likes being involved with the social events at La Salle. Her favorite...