Student of the Week: Jacob Brumbaugh
Besides making time for football and hanging out with friends, junior Jacob Brumbaugh puts in a lot of time and hard work in order to maintain the grades he currently has. He excels in the classroom, taking four advanced classes, which include AP U.S. History, AP Calculus AB, Honors Chemistry and Honors Spanish 3, and he has maintained an impressive 3.9 unweighted GPA. The Falconer decided to interview Jake because of his outstanding grades and his participation in La Salle athletics.
When asked about what his favorite class is, he said that he really enjoys AP Calculus because "math has always been my strong suit and Mr. Swanson has been the most effective at teaching and caring for his students." He says that "I have never had a fun spirited teacher like him before that cares for his students so much."
Jake loves playing the sport of football; however, he says that it can get challenging maintaining his grades and spending many hours on the football field per day. Jake says that accomplishing these two things is difficult, but it all works out because he feels like he works better under stress and with a schedule. The reality, though, is that most nights he will usually have to sacrifice a few hours of sleep during the season in order to finish his homework.
With junior year coming to an end and senior year right on the horizon, Jake is most looking forward to the football season starting back up and the higher level of challenging classes that will prepare him for college. He plans on taking a few AP classes while continuing to be involved in the school community as much as he can. Most importantly, he wants to have a great last year of high school maintaining good grades and getting the La Salle football team into the playoffs.
Right now, he is already preparing for summer football college camps and for his senior season where he hopes he will be fortunate enough to receive an athletic scholarship. This spring he has already been talking with a few schools that are at the D1 level.
As far as college goes, he's not really sure where he wants to go; however, he wants a school that offers a great football program and is challenging academically. He says that he definitely wants to play football in college, and so he has been using football to help guide him on the right path to choosing a college.
His long term goal is to make it into the NFL. If that doesn't work out, he has considered studying some form of engineering, but he is still not set on a specific path. However, he says that he does know that he wants to have a job that he enjoys so that it will never become boring.
About the Writer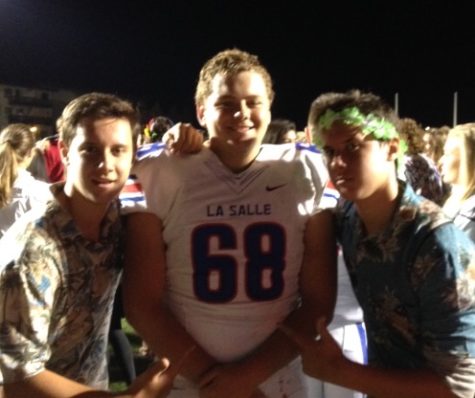 Ben Wease, Staff Reporter
Ben Wease is a junior at La Salle high school in Milwaukie, Oregon.  He is currently on the varsity football team and loves playing.  During his free...