Six Game Winning Streak Propels Softball to Second in League
Hang on for a minute...we're trying to find some more stories you might like.
Currently second in league, the softball team is looking forward to finishing the season strong. With a record of 6-2 in league play and 10-6 overall, the team is hopeful for their postseason run.
"We have done really well so far. On Friday (April 21st), we beat Putnam, the number one ranked team in our league," stated senior captain Jaden Gloden. "It was also the first time we've ever [won against] Putnam since we entered this league my sophomore year."
Struggling with injuries early on, the team got off to a slow start. However, their win against Putnam this past week has given the team ample amount of confidence to close out the regular season.
"We can beat any team in our league and I see the rest of our season going well as well as accomplishing our team goal of winning league," stated Gloden. Winning league is the main team goal for the Falcons this year. On top of this though, another team goal is to make two or less errors each game.
"We are definitely on the right path to get the number one spot in league and each day we are getting better to make less mistakes," stated sophomore Jessica Loboy.
With more league games scheduled, there is definitely enough time for the team to reach their goals. Currently on a six-game winning streak, the team is playing their best so far this season.
"I think because we keep improving, have strong pitchers, and because our batting is getting better each game that we will have a lot of success this season," stated Loboy.
Looking forward to the rest of the season, the team has one more game each against their biggest league competitors, Putnam and Hillsboro. Winning these games would be a huge confidence boost heading into the postseason.
"For me, the best part of the season is really just getting to play the game I love for my last season as a Falcon," stated Gloden. A four-year varsity team member, Gloden is enjoying her final season.
Her first year on varsity, Loboy is cherishing the memories she is making this season. "The best part of the season is all the team bonding we do together and the special connection our team has with each other," she stated.
The Falcon's next game is today at 5 PM at Sandy. The next home game is May 4th against St. Helens so make sure to come out and support your softball team!
About the Writer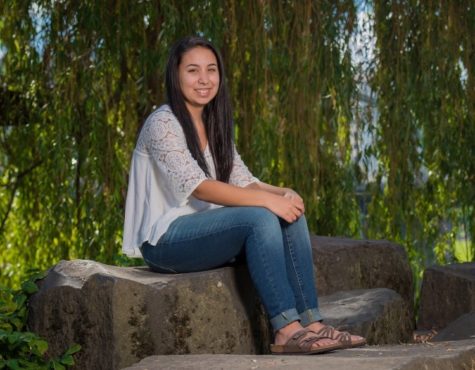 Maddie Pfeifer, Editor
Maddie Pfeifer is a senior this year at La Salle. She enjoys soccer and track and is also involved in many clubs at La Salle. She plans on majoring in...