Señora Kessler Shares Her Love for Spanish and Teaching
Known for her intense red hair, fun-loving personality, and unique style, Ms. Kessler has been a blessing for the students at La Salle. Many look up Ms. Kessler as a leader, a great teacher, and a provider of cough drops instead of gum. Ms. Kessler has been at La Salle since 2010, making this year her 7th year. Not only is she a great teacher for Spanish 1 and 2, but she also gets to truly know each of her students, and goes out of her way to help them out if need be. Although we know Ms. Kessler for her amazing attributes, she also has a love for teaching that we wanted to explore. Here's what she had to say:
Where did you go to college?
"For my Bachelor of Arts in Spanish I attended Portland State University. And for graduate school for my Master's degree, I attended Marylhurst University."
What do you like most about teaching?
"I love to teach interactively with students so I get to know their personalities by the way they contribute to an activity or engage in an activity."
What do you like to do outside of school?
"Anything that involves going outside! (Hence being a part of the Outdoor club.) But I must admit, I really enjoy hunkering down on a rainy windy day and binge watching shows on Netflix and Hulu!"
What lead you down the path of being a teacher?
"I actually wanted to be a pilot but my dad told me I was too short — you used to have to be over 5'6" to be a pilot — and told me to look into something else. Many family members were educators but I wasn't sold on the idea. So over the course of 6 years we had five exchange students from all over the world. The exposure to various cultures and having the experience of traveling back with the student to experience their country, culture, and language exploded the desire within me to want to teach."
Do you have a favorite student?
"ALL my students are my favorites. Why? Because each has something to offer. I seek the best in each student, and many I still have good relationships with after having them in class. Instead of favorite student, I would say favorite scenarios [with students]. I enjoy the excursions outside of school just as much as the time in the classroom. [It is] such a wonderful benefit to being at La Salle to be a part of a student's growth through immersions."
What are your thoughts on homework?
"It is a tool to keep skills fresh.  I never give homework for the sake of teaching tenacity or busy work.  I give purposeful and intentional work to build students' skills with a concept in language."
How do you survive school days?
"Two words: my Keurig!  It has been my saving grace this year when I am dragging. But I must add, kids crack me up! There isn't a day when I am thinking, not sure we will cross the finish line, and [then] a student sends me rolling in laughter! I simply adore those moments! It is what keeps me coming back year after year: the spontaneity and unpredictability of teaching."
How long have you been a teacher?
"This is my 25th year!  I taught middle school for 14 years, high school for 7, and [I have also] taught in the elementary years."
What do you like about La Salle?
"The ability to talk openly about God, the amazing kids that attend this school and the incredible opportunities to go on immersions with students."
What other subject would you teach if you didn't teach Spanish?
"Well, I really would like to learn Italian and Portuguese."

What do you keep in your desk?
"Word has gotten around… if you need a cough drop? Ms. Kessler…. Dryer sheet for static cling? Ms. Kessler… Forgot your perfume?  Ms. Kessler… Bandaid?  Ms. Kessler… Hands are dry? Ms. Kessler has lotion too! Need a pick-me-up?  Ms. Kessler has peppermints or offers other treats when available. You may ask yourself  W-H-Y?!!! [For the] same reason Coleman makes pancakes or Voge brings in Krispy Creme Donuts, Ms. Staggs and Ms. Bartel have dishes of candy on their desks or  Swanson brings in food to make a point about math, and then you get to eat the reward?! Many other teachers bring in little pick me ups for kids from food, to pencils to stickers, etc. It is called relationship. As educators we all strive for positive relationships with our students because if you feel safe, cared for, and appreciated — then the learning will follow!" 
***
What are your favorite things about Ms. Kessler? Let us know in the comments below!
About the Writer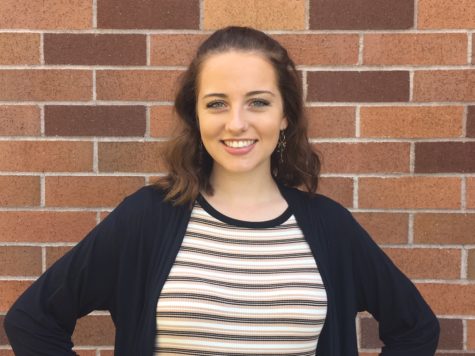 Kiley Russell, Staff Reporter
Kiley Russell is a junior who is a varsity goalkeeper and swimmer. Kiley enjoys attending her sister's Portland State University soccer games, hanging...