Senior Ole Arnston Looks Ahead to Future Playing Division 1 Baseball
Four-time varsity baseball player Ole Arnston will be attending The University of the Pacific this fall to achieve a dream of his since he's been six years old: to play Division 1 baseball. In the fall of 2016, Arnston signed his National Letter of Intent earning a partial scholarship to continue his baseball career after high school. 
Arnston chose Pacific due to the location in Stockton, California, the conference (WCC), and the confidence he has that he will be able to play right from the start. He is most excited about traveling around the country to play some of the best teams in the nation.
Pacific is a Division 1 school and Arnston will have the opportunity to play against some top tier teams in the WCC including LMU, Gonzaga, and University of Portland along with some of the best Division 1 college teams across the nation.
Some of Arnston's biggest accomplishments include making the Power Showcase All American team last summer. He also had the the opportunity to go to Jupiter, Florida for the World Wood Bat tournament (WWBA) and he says that "it was a dream come true getting to go this year."
Arnston has been a huge contributor to La Salle baseball since he has been a freshman. Arston's main position is first base and he bats third in the lineup, which shows just how powerful and strong of a hitter he is. In 2016, Arston earned first team all NWOC and was a huge part of the team's success.
Arnston's goal for this season is to hit .580 and hit 12 home runs to beat the state record in batting average. The team's goal is to earn the league championship and win the state title. The Falcons are on track to meet both of their goals as they are tied for first place in the NWOC and are currently ranked 6th in state.
"If we are focused and clicking I don't see why we can't win a state championship. We just need to have a lot of confidence going into games," Arston explains on his thoughts about state.
Baseball has been looking very sharp in league play and Arston is a huge reason why. The Falcons are 6-0 in league with two sweeps against Sandy and Milwaukie. Arston thinks every team in the league is a threat and the team needs to focus on winning each series.
"We are a very talented hitting team when we make good contact with the ball. Also we have an amazing defense that really backs our pitchers up," Arston says on the team's success.
Being that Ole plays for a strong club team in the summer, his outside experience is one of his biggest contributions to the team. He has played against elite competition and knows what it takes to win.
Ole wants to continue playing baseball as long as possible, and looking ahead, says that "I want to play professional baseball."
***
Be sure to come support Falcon baseball in their remaining games this spring, all while watching a future Division 1 baseball player!
About the Writer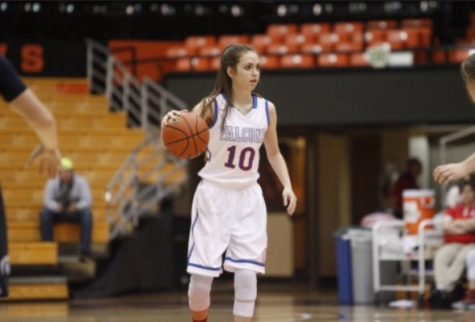 Hannah Sisul, Staff Reporter
Hannah is a junior at La Salle. She enjoys playing softball and hanging out with her friends. Hannah enjoys science and math and would like to pursue a...