Mr. Oey: The Loyal Lasallian
Anyone who has had the privilege of being in one of in Mr. Oey's math classes at La Salle understands and can attest to the fact that he lives up to the hype behind his name. For 24 years Mr. Oey has been teaching math at La Salle, and in that time, he has built up the reputation of being an outstanding teacher. A La Salle alumni himself, graduating in '87, Mr. Oey is well known throughout the school community.
Starting off as an engineering major in college, Mr. Oey was inspired by his love for math and decided he wanted to use his skills to help others and become a teacher. As his first real job after college in 1993, Mr. Oey returned to La Salle but this time as an algebra teacher. His love for the school navigated him back to the La Salle hallways, and he was excited to return, hoping to follow in the footsteps of the teachers he once had and highly respected.
To this day, Mr. Oey still enjoys being part of the La Salle family. "Every year I meet a bunch of new faces and our 'family' just keeps getting larger," he says. "The students here seem to genuinely care for each other and I find myself learning something new from them every year". It is no wonder his feet lead him back to La Salle, the place he can very much call home, and he proudly says, "I have spent over half my life walking these hallways".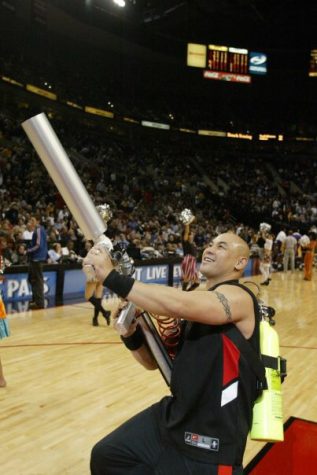 As most people know, Mr. Oey is not only a teacher but a coach as well. If you think you have seen him on the sidelines at a Blazers game, you are not mistaken. As head coach of the Blazers Stunt Team, Mr. Oey constantly has a full plate on his hands. In fact, Mr. Oey is actually responsible for putting together and starting the Blazers Stunt Team just over 25 years ago. He and a few other guys were asked by a Blazers dancer he was dating at the time to stunt with them at the basketball games.
"After performing at a few games, he says, "I put together a proposal to start my own team, and then received the approval to coach, hire, and perform with them". Mr. Oey has been a participant on the stunt team up until four years ago when he began to stick to just the coaching position. Due to being a teacher, coach, and parent, his life is jammed packed with responsibilities. Regardless of his busy schedule, he always makes sure his students receive all the attention they need to succeed in his classes.
As a teacher, Mr. Oey is dedicated and passionate about his job. His favorite part about being a teacher, he says, is "knowing that I might make a difference in someone's life". His teaching style is raved about by many students as being beneficial to all in the classroom. Dylan Jackson, a junior, confirmed this is true and that "he goes above and beyond to make sure each student understands the material by offering help before and after school". Mr. Oey sacrifices much of his own time, and is more than willing to help students outside of class to reach their capabilities and full potential.
Considering Mr. Oey's fun personality and teaching style, it is no wonder why many students call him their favorite teacher. Whether it's trying to figure out his well known card tricks or being impressed with his crazy consumes for St. Patrick's Day and Halloween, Mr. Oey's students are guaranteed a source of entertainment just by entering his classroom. But fun and games aside, Mr. Oey is a highly respected teacher by all, and just like junior Abby Green-Hoke says, "He truly cares about his students".
***
What's your favorite memory from Mr. Oey's class? Let us know in the comments below!