La Salle's Spring Musical "Into the Woods" Opens This Friday
La Salle's drama department will be stepping out on stage this Friday, April 21, at 7:00pm in the auditorium for opening night of this year's spring musical, Into the Woods.
Into the Woods follows the lives of a baker, his wife, and several other of the Grimm Brothers' storybook characters as they try to accomplish their dreams and escape the curse of an evil witch. And if that doesn't entice you enough, senior Gabe Tafoya, who will be playing the baker in the upcoming production, explained, "The play adds an entirely new story onto classic fairy tale characters to formulate its own tale."
The cast of the show includes a large group of thirty students from various grades. In addition to the character of the baker being played by Tafoya, a few other cast members include junior Maren Kain playing the baker's wife; junior Anna Kay playing Cinderella; junior Carson LeMaire playing Jack from Jack in the Beanstalk; sophomore Anna McClow playing Little Red Riding Hood; senior Anna Meyer playing the witch; sophomore Alex Ensroth playing the wolf; senior, Kateri Dir-Munoz playing Rapunzel; and sophomore Rachel Jones narrating.
"We have the talent with the cast to do a show like Into the Woods" said Mr. Shelton, La Salle's Drama Director. "And it's a large cast, which really speaks to me as a high school educator to include as many students as possible in our productions."
Senior Zoe Wilber, who plays the role of Jack's mother, also commented on the large cast, saying that "this play features a wide variety of talented people at our school who have committed to create a play filled with humor as well as depth."
The show promises to be a comedic musical that will leave the audience thinking about how to deal with their inner wishes and desires while also demonstrating the effects of the consequences of good and bad actions. Mr. Shelton is thrilled for the play to begin and encourages all students to attend, saying that "It's great music. It's a great story. And I think they will really enjoy, and be pleasantly surprised [by the production]; especially if they don't know anything about the show."
Be sure to check out the drama department's production of Into the Woods show's this Friday, April 21, at 7:00pm in the auditorium. There will also be four additional showtimes at 7:00pm on April 22, 27, 28, and 29, as well as one matinee at 1:30pm on Sunday, April 23. Tickets will be $15 for adults, $10 for students and seniors, and $5 for children 10 and younger.
About the Writer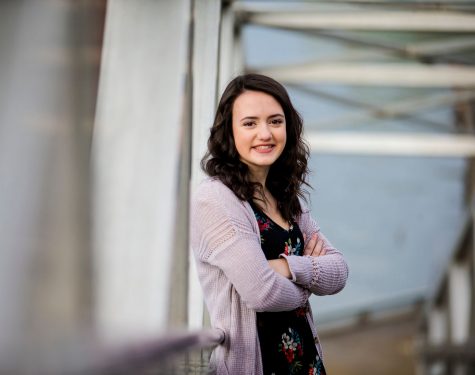 Taylor Foster, Assistant Editor
Taylor Foster is currently a senior at La Salle. She likes to hang out with friends, play volleyball, and participate various clubs in her free time. Taylor...