La Salle Students and Staff Gearing Up to Take on the Shamrock Run this Sunday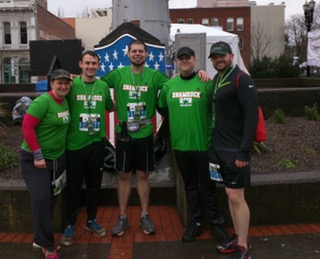 This Sunday, March 19th, around 36 students, staff, and families of the La Salle community are set to participate in the Shamrock Run, held on the Portland Waterfront Park. Participants in the Shamrock Run can decide their running distance, matching it with their capabilities.
These distances include the Shamrock Stride (4 mile walk), a 5k, 8k, 15k, or a half marathon. This big team of Falcons has multiple runners in each category to represent La Salle.
The 39th annual Shamrock Run holds the title of being the largest running event in Oregon with 30,000 participants set to race this year. The Shamrock Run is known for its exciting atmosphere and fun costumes in honor of St. Patrick's Day. Sponsored by Adidas, there are many activities provided for the participants before and after the races, including a two day fitness fair before the event, musical entertainment after the race, and even a complimentary cup of soup for the runners.
This Sunday, runners will be provided with a change of scenery due to the course location differing from previous years. Instead of the whole race going directly through downtown Portland, runners will navigate the Waterfront Park to start out.
Much of the credit goes to Mr. Voge for devoting the time to put together this large team of Lasallians. Having participated in the Shamrock Run last year with the whole science department, he felt inspired to see if others wanted to join because of how fun his experiences have been in the past.
Mr. Voge is a seasoned pro when it comes to the Shamrock Run, this Sunday being his third year participating. Competing alongside fellow staff members in the 15k, he says, "My only goal is to beat Mr. De Ieso… I don't really care what time I get." Competitiveness aside, what he enjoys most about participating in the Shamrock Run is the amazing feeling of being a part of such a big social event in Oregon.
Another staff member ready to tackle the Shamrock Run is Mr. Owen. Once again, he is an experienced participant in the Shamrock Run, having ran the 5k, 8k, and 15k in years past. This time around, Mr. Owen is challenging himself by running in the half marathon for the first time. His personal goal entering his first half marathon is mainly just to finish, but also to have an overall good race and allow himself to have fun doing it.
Mr. Owen seems to be well prepared, saying, "I've been running about 3-4 times a week for the past couple months and have gone on a long run (8-12 miles) every Sunday with my mum and younger sister, who are also running the half marathon, for the past several weeks." He is very excited for this year's run, and is especially looking forward to the change of scenery, fun atmosphere, and the encouragement and cheers from observers. Mr. Owen's only hope for Sunday is that the weather stays dry and not too chilly.
Alex White, a junior, will be one of the few students representing La Salle this Sunday.  However, Alex is one of the most experienced runners out of the bunch. "I started running as a hobby and participating in races when I was 11 or 12", he says.
Alex has prepared for the race by continuing to do his usual triathlon workout and he even commutes to school by running, along with going for long runs on the weekend. He has many years of experience in the Shamrock Run under his belt, and says he feels confident and well prepared to take on the half marathon.
The team of 36 Falcons are prepared and excited to tackle the Shamrock Run in their green attire! Good luck to our fellow students and staff on their races this Sunday!
***
Here is the full list of La Salle participants:
Shamrock Stride:
Nancy Orr
Renee Giesemann
5k:
Ryan Darmody
Brian Devine (and his wife, too)

Dave Heineck
Denise Jones
Andy Kuffner
Kieron Redford
Michelle Simpson
Owen Tunstill
8k:
Carie Coleman
Lisa Daniels
Sherri Keepes
Tom McLaughlin
Alanna O'Brien
Debbie Schuster
15k:
Mario De Ieso
Paul Dreisbach
Christine Stroud
Kyle Voge
Half Marathon:
Matt Owen
John Donnelly
Alex White
About the Writer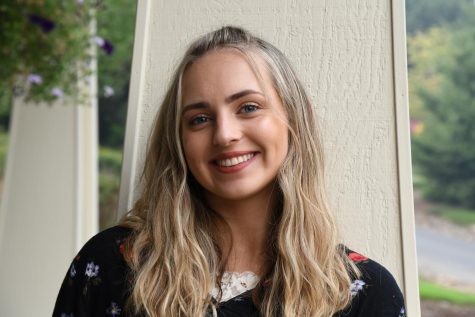 Kendal Shride, Editor
Kendal is currently a senior at La Salle. She is a competitive gymnast and will be attending Azusa Pacific University to compete on their Acrobatics and...