La Salle Winter Sports Head into Postseason Play
The La Salle winter sports teams are wrapping up their seasons and getting ready for postseason play. 
Both the girls and boys basketball teams are ranked in the top 5 in the state. The swim team is heading to districts and is looking to send several swimmers to state. The sideline cheer team has been cheering hard alongside home basketball games, and the snowboard and ski teams are looking sharp on the mountain this year.
After impressive performances in the last four seasons, it is no surprise the girls basketball team is having another successful season. Without a single loss to an Oregon team, the lady Falcons are ranked #1 in 5A and ranked #1 in all classifications. Led by senior Aleah Goodman and junior Taycee Wedin, girls basketball is looking to make another strong run at state.
The boys basketball team is currently ranked 5th in state and 2nd in the Northwest Oregon Conference. With only one loss in league so far to #1 ranked Wilsonville, the Falcons are making a statement. Seniors Jonah Pemberton and Matthew Berger are contributing a lot to these wins, hoping to lead the Falcons to the state tournament.
The La Salle swim team is looking forward to districts which are being held at Parkrose high school this Friday and Saturday, February 10th and 11th. Last year, La Salle was able to send 3 relays and 4 individual swimmers to state and is hoping to send even more this year. With strong performances so far from many swimmers, including junior Sydney Nakagawa and seniors Jason Waters and Meredith Marcinko, the team's chances are looking promising.
The sideline cheer team is looking good this year. The cheer squad is young, as the whole team is made up of freshmen. They are hoping that after a couple more years and as the team grows, they will be able to perfect their performances. Though only freshmen, Kira Hanson and Aisha Hill are stepping up as leaders on the team.
After successful seasons on the mountain last year, the snowboard and ski teams are hoping to perform as well this year as they did last year. Led by seniors Kiana Christensen, Luke Guasco, and Zoe Jones, the skiers and snowboarders are racing extremely well and looking strong heading in state.
There is no argument that the Falcons are impressive this year on all levels. The Falconer wishes all teams good luck as the season comes to a close. Here is a list of important dates to catch our sports teams in action:
February 10th and 11th: Girls and Boys Swimming District Championships at Parkrose High School
February 17th and 18th: Swimming State Championships at Mt. Hood Community College Aquatic Center
February 24: Boys and Girls Basketball Senior Night. Boys play at 5:30 and Girls play at 7:15 against Hillsboro.
March 1st-3rd: Ski State Finals
March 7th-10th: Girls and Boys Basketball State Championships at Oregon State University
March 8th-11th: Snowboard State Finals
About the Writer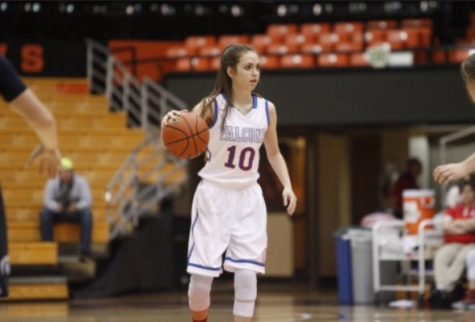 Hannah Sisul, Staff Reporter
Hannah is a junior at La Salle. She enjoys playing softball and hanging out with her friends. Hannah enjoys science and math and would like to pursue a...