La Salle Swim Team is Looking to Make a Splash at State
Coming off of a very successful District meet at Parkrose High School last weekend, thirteen La Salle swimmers will be heading to the state tournament this Friday and Saturday, February 17th and 18th, at Mt. Hood Community College Aquatic Center. The girls swim team placed first at Districts and the boys swim team placed second.
"Districts this year I think was a huge success," junior Sydney Nakagawa said. "Our girls team ended up winning districts and being the conference champions."
After an impressive win at Districts, the girls swim team is sending seven swimmers to the state tournament. Sydney Nakagawa individually qualified for the the 100 butterfly and the 100 backstroke. The team also qualified in the 200 Medley Relay and the 200 Free Relay. The members of these relays include Kiley Russell, Maddie Nichols, Hanna Nguyen, and Sydney Welp, Sydney Nakagawa, Meredith Marcinko, and Samantha Kar.
"The thing I am most excited about is being able to get the chance to make it to the finals at state and possibly break more records and just get the opportunity to make more memories with my teammates during the last week of the season," Nakagawa said.
Nakagawa broke a La Salle record at districts—finishing with a 1:03.02 in the 100 fly, beating the old record of 1:04.81—and although she is happy with her accomplishments, she hopes to improve both her times in her individual events at state. She has been practicing very hard this season and hopes that it will pay off at the state tournament. She has been a huge part of the swim team's success this year and has already stepped up as a leader, despite being only a junior.
"Districts went very well this year," senior Jason Waters said. "The girls team scored a huge win, and the guys team got a second place finish to Hillsboro, who we knew would be quite a competitor. A lot of swimmers dropped time, and we even had a record broken, so it was a great way to end the 6-1 season that both teams had."
The boys swim team is sending a total of six swimmers to the state tournament. The boys 400 Free Relay qualified for state at the District meet. The members of this relay include Andy Krueger, Carson Lemaire, Jason Waters, and Ben Robinson. Sam Stockett and Kevin Nguyen are the alternates for this relay. Jason Waters also qualified individually for the 100 breaststroke.
Waters is very excited about qualifying for state this year, and as a senior, he knows he must pull out all the stops to have the best finish he can. Going into the prelims in his 100 breaststroke, Waters is seeded eighth, but he is only one second away from the swimmer in fifth. He knows he has a good chance to make it to the finals and hopes to be able to call himself one of the sixth fastest swimmers in the state.
"For all four years of my high school swim career, making it to state has been the highest goal that I've reached for," Waters said. "After missing qualifying by .04 seconds last year in the 100 Yard Butterfly, I'm both extremely relieved and excited for this opportunity. As for the relay, I think we have a great team of swimmers this year that can definitely shave off some more time and try and move up in the rankings, so I'm excited to see how that turns out."
About the Writer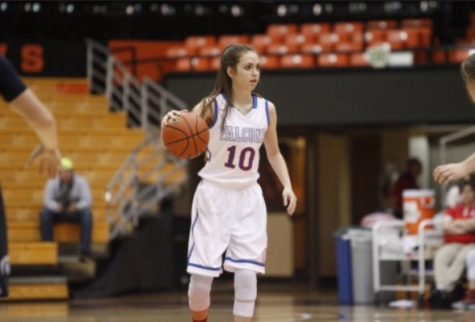 Hannah Sisul, Staff Reporter
Hannah is a junior at La Salle. She enjoys playing softball and hanging out with her friends. Hannah enjoys science and math and would like to pursue a...