Athlete of the Week: Ben Robinson
Hang on for a minute...we're trying to find some more stories you might like.
Participating in his second year as a varsity swimmer, sophomore Ben Robinson is looking forward to the outcome of this year's season. Last year Ben went to state as an alternate for two relays, which is an impressive achievement for a freshman swimmer. By setting goals and challenging himself, Ben has shown his dedication to the sport he loves. The Falconer interviewed Ben to find out more about his aspirations and hopes for this season.
When did you start swimming?
"I started swimming when I was about 10 years old for Irvington Swim Club."
What made you want to keep swimming?
"Just the competitive nature, because I've always been one to try and better myself. Swimming is a great opportunity to do so. It's a team sport and you're trying to win and beat other teams, but you're also racing against your own times and it really is a great way to better yourself."
How do you balance school and swimming?
"It's not really a big challenge for me, but I just think you just have to get your work done and study hard. Swimming is a great way to take your mind off things. During finals week we will still have swim practice, but it's a great way to exercise, clear out your mind and relax."
What is the most challenging thing about it?
"The most challenging thing would probably have to be that it can sometimes be hard when you might be faster than the person next to you, so you're not pushing yourself to your limit. Which can be hard because sometimes I need to go all out and I need to do the best I can and go for my own personal records, not necessarily just beat the person next to me."
Do you have any goals for yourself this season?
"My goals would be to break 5 minutes and 30 seconds for the 500. A broader goal would be to look back on the season and be able to say that I pushed myself as hard as I could."
Do you have any hopes of swimming in future or in college?
"Swimming in college would be nice, but it's not a priority for me. Right now I see swimming as a great way to just have fun and take my mind off of stressful things like school and other aspects of my life. For that reason I will probably keep it up even if it is just for recreation."
How has your season been going so far?
"So far we have had three meets, and we've done very well. For me personally though, I have gotten into that rut where I'm just trying to beat the person next to me and just trying not to lose to the other team, instead of going for my own times and trying to become the best swimmer I can be."
What do you like most about being a part of the La Salle team?
"It's a great team, and everybody is so kind to each other. There is really great camaraderie."
How many days a week do you practice and have meets?
"We typically swim about 5 to 6 days a week, one of those days will be a swim meet, which are usually on Thursdays, and on Fridays we will either not have practice or we will have dryland workouts."
What is your favorite event?
"My favorite event would have to be the 500 freestyle because it's the longest event that you can swim, and it's a great way to focus on your stroke and keep building."
Districts is coming up February 10th and 11th, so make sure to go support your Falcon swim team!
About the Writer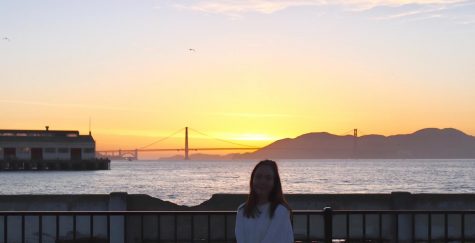 Peyton Hedges, Editor in Chief
Peyton is a senior at La Salle who participates in student council and the outdoor club. In her free time she enjoys spending time with her friends, family...