Holiday Guide: The Best Christmas Attractions and Activities in the Portland Area
With Christmas just around the corner, Portland offers a wide variety of great activities and attractions to get into the holiday spirit. Here's a list of all of the essential places to visit in the days left between now and Christmas:
***
Winter Wonderland at Portland International Raceway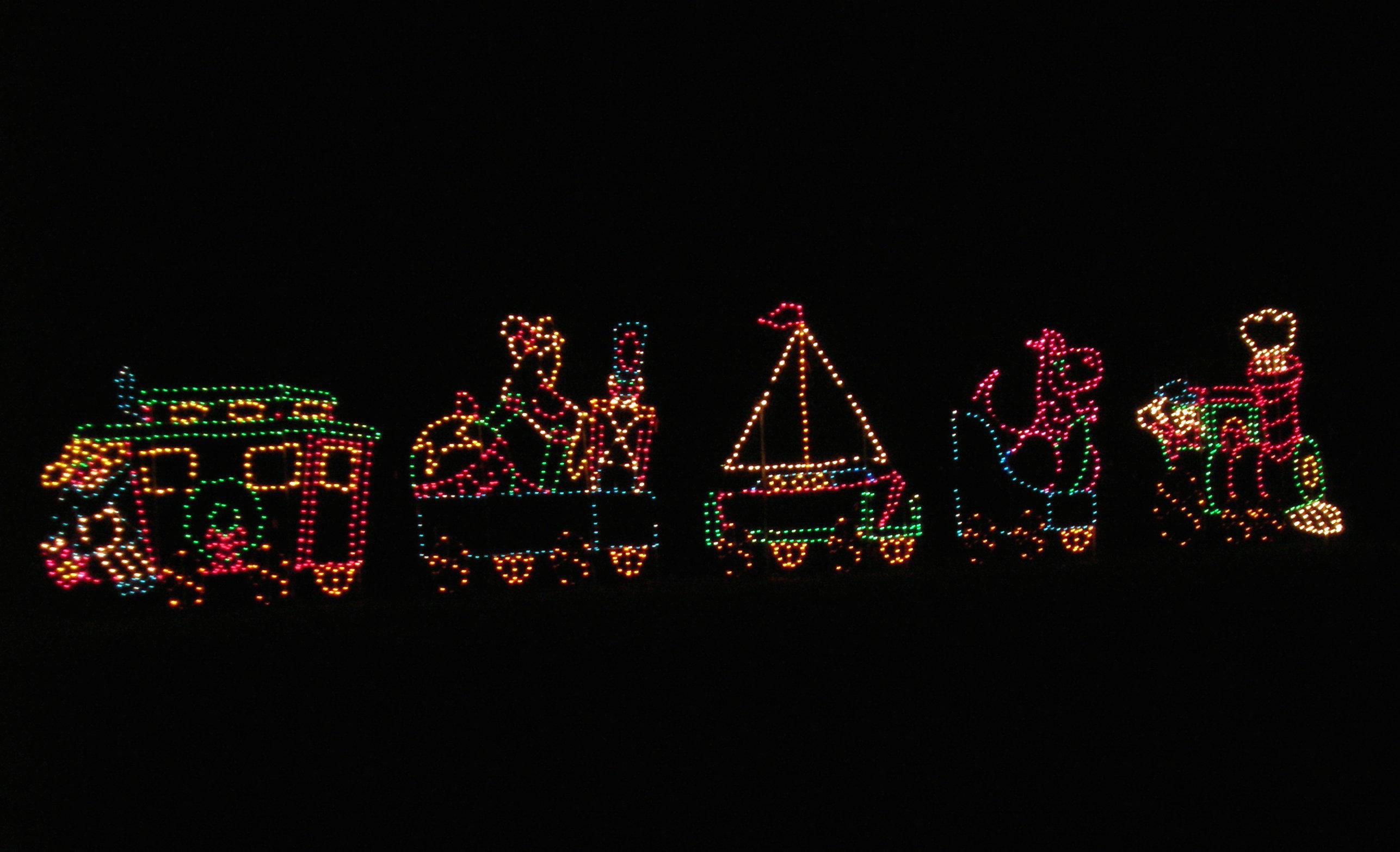 Creative Commons photo source: https://www.flickr.com/photos/joshb/7573550/span>
Get into the holiday spirit by staying cozy in your own car with friends and family while driving around the Portland International Raceway to view over 250 colorful light scenes. This Portland holiday destination has attracted over two million people in the 24 years it's been open.

This year, all proceeds will be going to the Portland Police Bureau Sunshine Division. The Sunshine Division has been providing relief for families in need for 94 years by providing clothing and food. Donation barrels will be located near the ticket booth entrance.
When: November 25th – December 25th
Sunday – Thursday @ 5:30 pm – 9:30 pm
Friday – Saturday @  5 pm – 11 pm
Admissions:
Bus 26-45 people :  $45
Car : $20
Limo : $25
Mini-Bus 16-25 people : $30
Passenger Van (8+ people) : $22
RV/Motorhome : $25

Where: 1940 N Victory Blvd Portland, OR 97217

***
The Grotto's Christmas Festival of Lights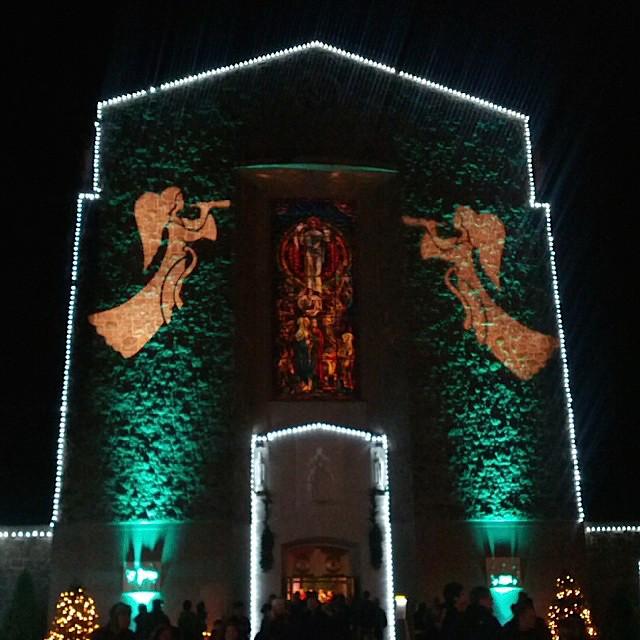 Photo source: https://thegrotto.org
Fill your ears with classic Christmas music at The Grotto. Known as being the largest Christmas choral festival in the world, the Christmas Festival of Lights has nearly 160 indoor holiday concerts in the Grotto's 600-seat chapel.

Take a walk outside, see the holiday lights and listen as the carolers sing your favorite Christmas tunes. You can also duck inside The Grotto Gift Shop for holiday treats and beverages.

When: November 25th – December 30th (closed Christmas)  @ 5-9:30 pm

Admissions:
General : $11
Senior (65+) Military : $10
Children 3-12 : $6
Children 2 under : Free
Where: 8840 NE Skidmore St, Portland, OR 97220
***
Creative Commons photo source: https://www.flickr.com/photos/murkmad/351244878
Peacock Lane, a Southeast Portland street, goes all out for the holidays, making it a Christmas tradition. Take a stroll and view houses covered with lights, and lawns filled with nativity scenes with iconic Christmas figures.

This event has become so popular that the Peacock Lane residents are looking to become part of the National Historic District. Donations to the hot cocoa/cider booth are welcomed as a portion of their proceeds will be going to The Architectural Heritage Center.  

When: December 15th – December 31st @ 6-11pm (midnight for the 24th and 31st)
Pedestrian nights (closed to cars) only are the 15th, 16th, and 17th

Admissions: Free
Where: SE Peacock Ln, Portland, OR 97214
***
Creative Commons photo source: https://www.flickr.com/photos/jmacphotos/76777625

Visit your favorite animals at the Oregon Zoo while being surrounded by Christmas lights. This winter festival, ZooLights, contains more than a million and a half sparkling lights that highlight your path and fill the trees as you wander the zoo.

ZooLights this year will be even bigger and better. As in years before, the train will take visitors on a magical ride on a tour and a new carousel has just been added. And as always, get warm from the inside out with an elephant ear or hot cocoa from one of the many concession stands spread throughout the zoo.

When: November 25th – January 1st @ 5-9 pm
Admissions:
Adults (12-64) : $14.95
Seniors (65+) : $12.95
Youth (3-11) : $9.95
2 & under : Free
Where: 4001 Southwest Canyon Road, Portland, OR 97221
***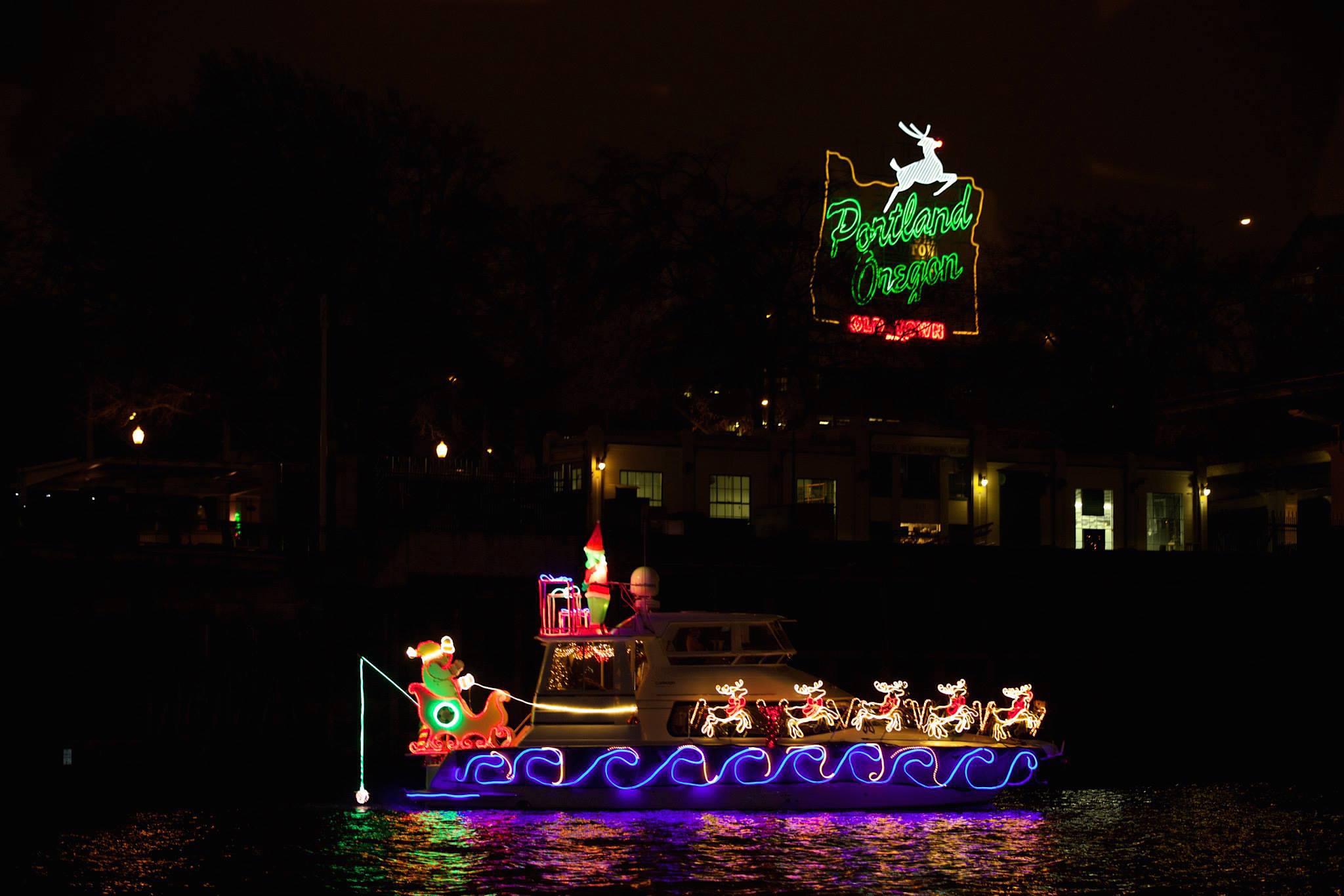 Creative Commons photo source: https://www.flickr.com/photos/ahockley/6565193569/span>
One lonely boat with Christmas bows hung on the sides started the Christmas Ships Parade in 1954, which has grown to be a Portland family holiday tradition. Bundle up, grab your sailor Santa hats and head down to the water to see vibrant colored boats parading down the Columbia and Willamette Rivers. Or snag a seat inside at one of the waterside restaurants to watch the show.

Over 60 boats are in this year's line up and depending on which night you go, you'll get to see different fleets light up the water. All lights will be visible from either sides of the bank. Also, for two nights, the boat and its crew will be docked, giving the viewers a chance to take a closer look.

When: Both the Columbia and Willamette fleets have different schedules but begin on December 2nd to December 18th. Times vary
Admissions: Free
***
Symbols of the season at the Pittock Mansion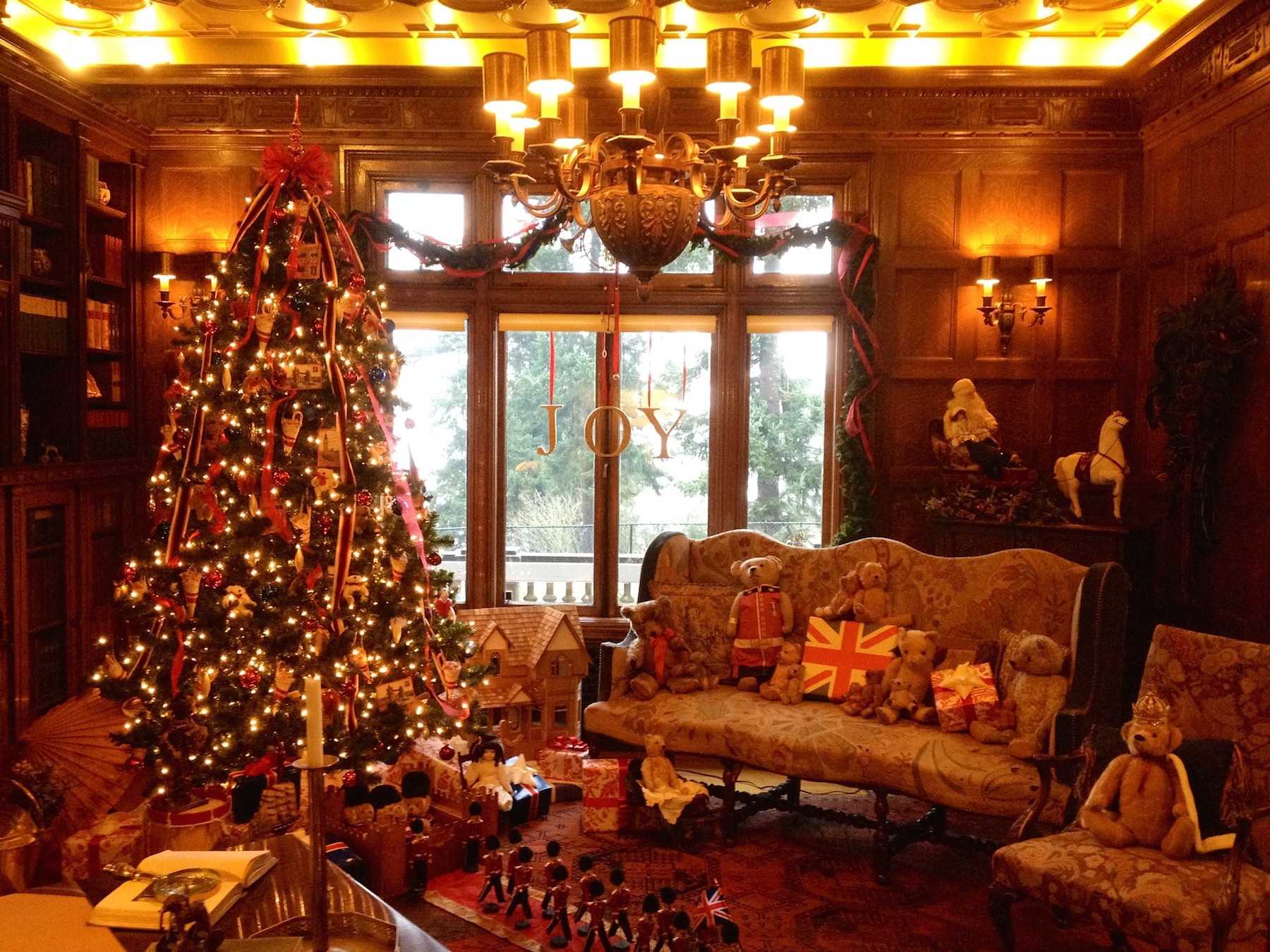 Creative Commons photo source: https://www.flickr.com/photos/brisan/6378648753/span>
Explore the Pittock Mansion that is decked out for their annual holiday exhibit. All 20 rooms of the Mansion have been covered in holiday decor, each with a different theme by a different decorator. Be enchanted by live music in the music room played by local volunteer musicians, and get the chance to see Santa Claus when he visits the Mansion.

When: November 21st – December 31st (closed Christmas) @ 11-4 pm

Members : Free
Adults (19-65) : $11
Seniors (65+) : $10
Youth (6-18) : $8
Children under 6 : Free

Where: 3229 N.W. Pittock Drive, Portland, OR 97210
***
Aspen Meadows Celebration of Lights
Photo source: http://www.aspenmeadowlights.com
For over 20 years, 150,000 lights have been put up in the Celebration of Lights to reflect the theme of "Believe in Hope." Aspen Meadows is perfect for the whole family to enjoy with an activity for everyone.
For the kids there is a miniature toy village, an interactive children's area, and Christmas videos. There are multiple light displays inside their life size snow globe and outside on the property for viewers to see. This event includes live concerts from Aspen Meadows Band.

When: December 10th – 27th
Monday-Thursday @ 5-10pm
Friday-Sunday @ 5-11pm
Admissions: Free
Where: 24232 S. Upper Highland Rd. Colton, OR 97017
***
The Miracle of a Million Lights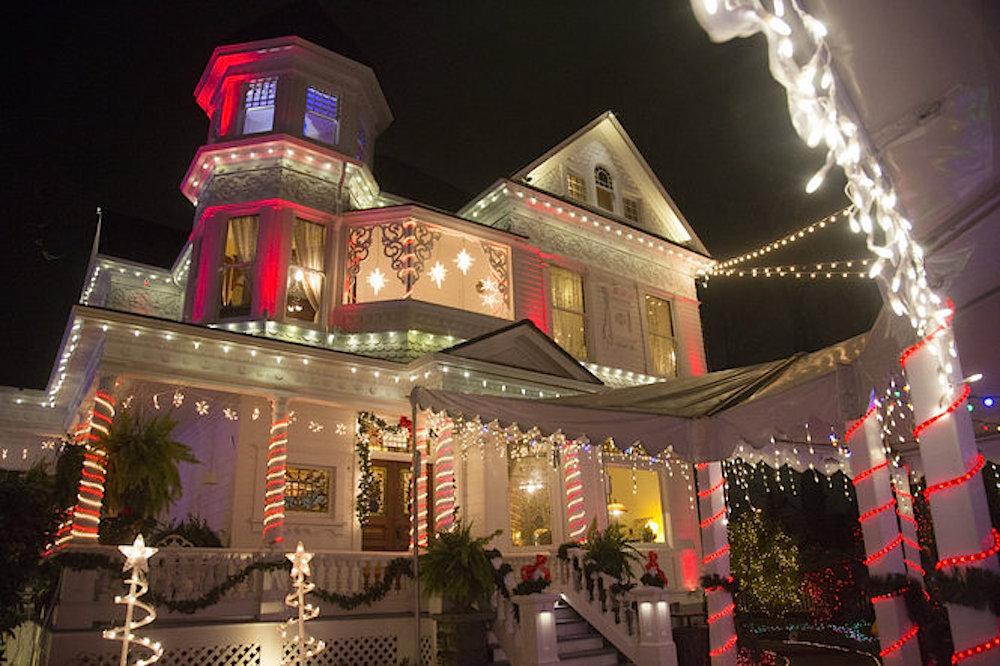 Photo source: http://www.victorianbelle.com/the-miracle-of-a-million-lights.html/span>

The Victorian Belle will be opening its 2.5 acres to the public to enjoy the million plus shimmering lights that create this winter event. As you walk through the property you'll be surrounded by inflatable snowmen, penguins and Santa with his sleigh.

This Portland landmark will be filled with families enjoying the festive live music from local choirs, groups and other artists in the enclosed gazebo. Treat yourself to a hot s'more as you roast marshmallows over their gas fire pit and warm your hands around a steaming cup of hot cider. Visitors are encouraged to bring a canned food donation that will be going to a local food bank. There is also an online coupon for $1 off their admission tickets for donators.

When: December 10th-23rd @ 6-10pm
Admissions:
Adults (18-64) : $ 6
Students (4-17) : $3
Seniors (65+) :  free
Children 3 and under : free
Where: 1441 N. McClellan St. Portland, OR  97217
***
Which of these places is your favorite Christmas attraction? Let us know in the comments below.
About the Writer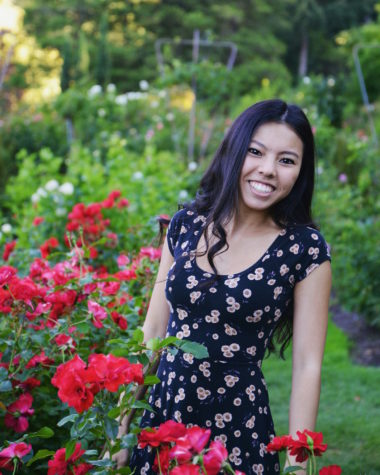 Emrie Good, Editor
Emrie Good is a senior at La Salle. Her favorite dogs are German Shepherds and she likes being involved with the social events at La Salle. Her favorite...