La Salle Snowboard Team Gets Ready to Hit the Slopes
Hang on for a minute...we're trying to find some more stories you might like.
With the season about to begin, the snowboard team is looking forward to hitting the slopes, creating lasting memories, and hopefully securing some medals too.
Starting in January, the team will be practicing every Wednesday at Mt. Hood Meadows and will have six competitions throughout the season, with an additional four competitions for state.
Senior riders Kiana Christensen and Luke Guasco are extremely excited for their final season. "[I'm] looking forward to just being on the mountain with friends," stated Guasco.
"I'm looking forward to night practices," Christensen added. "Also, State is really exciting and should be super fun this year."
With the new season, the team also has a new coach in Chris Leavitt. Both Christensen and Guasco are optimistic about their new coach. "I think the new coach is really great and I'm excited to be coached by him," Christensen stated. "I'm going to miss last year's coaches a lot but I think this coach will be great for our new team and will make it a lot of fun."
Guasco agreed, stating, "The new coaches are really cool! They seem pretty knowledgeable about what they are doing so hopefully it works out for the better."
The team has grown this year and both Christensen and Guasco believe that they will be able to win some competitions this year — although they lost Parker Busch, who graduated last year, and who was one of the best riders on the team.
Last year at State, Busch won two individual gold medals and one team bronze medal along with Sam Anderson, who also graduated. Christensen was also successful and won three golds and one silver medal, and she is looking forward to helping the team to secure more medals this season.
"Our goals this year are to get a few team medals and individual medals at league competitions and really to just have fun and have a good time at Hood," stated Christensen.
Besides focusing on winning, the team is really looking forward to improving individually, spending time with each other, and having fun.
"The existing team is all bonded really well together and we have a lot of new people on the team this year which is going to make the atmosphere on the team this year really exciting," said Christensen.

As the snowboard season begins, the team is getting ready to hit the slopes once more and make some lasting memories. Make sure to wish these athletes good luck this winter!
About the Writer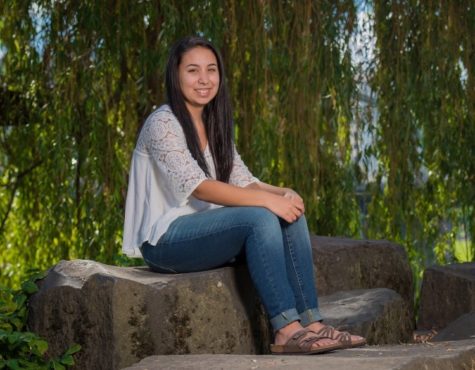 Maddie Pfeifer, Editor
Maddie Pfeifer is a senior this year at La Salle. She enjoys soccer and track and is also involved in many clubs at La Salle. She plans on majoring in...