With 2-0 Victory Against Crescent Valley, Girls Soccer Heads to State Championship
After a devastating 7-0 loss to Summit in the state finals last year, the girls soccer team is looking to get redemption this Saturday. With a 2-0 victory against Crescent Valley on Tuesday night, the #1 ranked Falcons earned a spot in the state championship game at Hillsboro Stadium this Saturday, November 12th, where they will be playing against #9 ranked Silverton at 1pm. 
"Last night's game was exciting and nerve racking all at once," said Adam "Gaff" Leyland, the team's head coach. "I was delighted to see my girls' efforts and hard work pay off with a well deserved win."
Despite their top ranking and going 11-1-2 in the regular season, it has not been a completely easy road to the championship for the Falcons. After a 4-0 win against #16 ranked Hermiston on November 1st in their first playoff game, the Falcons were put to the test in the quarterfinals against #6 ranked Hillsboro on November 5th, defeating them 2-1 in penalty kicks.
After a great run in the playoffs last season, La Salle was crushed after losing to Summit in the final game. Summit High School has dominated 5A girls soccer in the last few years, and there seemed to be no doubt they would make it to the finals again this year, especially after back-to-back dominating performances, defeating Thurston 13-0 in their first playoff game and North Eugene 7-1 in the quarterfinals.
However, the Falcons learned on Tuesday night that their opponent in the state championship game will be Silverton, who beat Summit 4-3 in a stunning semifinal game. This was a huge upset because Silverton, the #9 ranked team in the state, took down Summit, the #2 team in state, while on the road.  
The La Salle girls are feeling good going into the state championship game, given that they have already defeated Silverton 1-0 earlier in the season on September 6th in preseason play.
"I feel like we are ready to take on this challenge because we have worked all season for it. After last year, we definitely want to show what we can do and bring back the win for La Salle and our seniors this year," junior goalkeeper Kiley Russell said.
"I am very motivated to win, especially since we lost last year," junior Megan Lyver said. "I am confident we can win, however we still need to play with 100% effort."
Coach Leyland echoed the players' sentiments, saying that he is hopeful about the team's chances in the championship game.
"Looking ahead I am very excited for Saturday's final," he said. "This is a chance for my girls to achieve something they have been dreaming and working towards for two years. Nothing would give me greater pleasure than to see them victorious and happy on Saturday. They are a truly special group of young women and soccer players. It is my privilege to work with them."
***
Be sure to come support the Lady Falcons at 1pm this Saturday, November 12th at Hillsboro Stadium!
About the Writer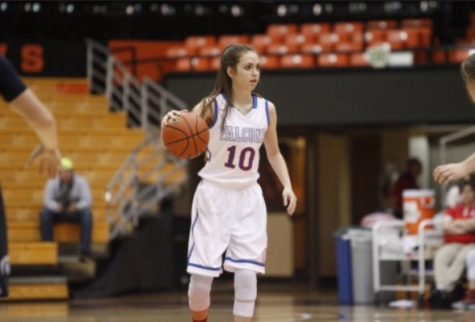 Hannah Sisul, Staff Reporter
Hannah is a junior at La Salle. She enjoys playing softball and hanging out with her friends. Hannah enjoys science and math and would like to pursue a...