Why Portland? Food Carts Offer a Delicious, Cheap Choice
Hang on for a minute...we're trying to find some more stories you might like.
In our ongoing series -Why Portland?- the La Salle Falconer staff profiles all the interesting and unique things about the City of Roses.

If you have ever been walking around Portland, one thing that you're bound to run into is food carts set up along the streets. Food carts have thrived in Portland, and in fact there are currently over 500 food carts scattered around Portland selling food year round. These carts are often set up in groups called "pods".
Food cart pods can be found almost anywhere. They are easily accessible, and nearly all the pods are open rain or shine. Most food carts are inexpensive compared to dine-in restaurants. All in all, food carts provide a perfect opportunity for a fun outing with family and friends.
With so many cart pods to chose from, it was hard to decide which carts to visit. However in the end, I decided to go to three pods to profile for this story: The Happy Valley Food Carts, the Portland Mercado, and the Division Carts.
***
Happy Valley Food Carts
The first food cart pod I went to was the Happy Valley food carts located at 13551 SE 145th Ave Happy Valley, Oregon — although technically not in Portland, this is still a close-by choice for many La Salle students. These food carts were recommended to me, and after visiting this pod, I could see why. The first thing I noticed when I walked in was the large building standing in the middle of all the carts. The building kind of looked like a large barn. The perimeter of the building was lined with carts.
After ordering food, I went into the building where the indoor seating was. One positive of this food cart pod is the indoor seating. Other carts have tented areas that people can sit in to shelter from the rain, which are nice, but having a nice clean area was definitely a welcoming surprise.
During my time at the Happy Valley carts I went to four different carts: The Kickin' Chicken Wings, Wasabi Sushi PDX, Crust Woodfire Pizza and Bardo's Grill. Overall the food was delicious, and was not too pricey.
Hours: Mon-Thu: 7:00 am – 8:00 pm
Fri-Sat: 7:00 am – 9:00 pm
Sun: 7:00 am – 6:00 pm
Website: http://happyvalleystation.com
***
The Portland Mercado
The second place I visited was a cart pod called Portland Mercado. These carts are easily noticed with their bright colors located at 7238 SE Foster Road. This cart pod is unique because they specialize in Latin American foods. Outside of each cart there is a sign that explains where in Latin America the food comes from, and what dishes the specific cart specializes in. Although all these carts sell Latin American food, each cart serves different varieties, so there are no competing menus, meaning that there is a huge variety of food to choose from. The seating area for this cart pod was nice because there are multiple places where you can sit. The main seating place is under a cover right in front of the carts, but if that's too crowded there is also a building that has seating around it too. Inside the building, you can find a grocery store as well as a juice bar, coffee shop and much more.
Hours: Sun – Thu: 10:00 am – 8:00 pm
Fri – Sat: 10:00 am – 9:00 pm
Website: http://www.portlandmercado.org/
***
Division Carts
The final place I went was the carts on Division. This group of carts can be found at 2880 SE Division St, Portland, OR, 97202. One thing that stood out about these carts was the lighting and aesthetics. I don't know if this applies to everyone, but I know when I'm looking around for a place to eat, the atmosphere definitely helps me determine if I should eat at a certain place or not.
One major positive is that there is a ton of space to sit down and eat. Most of the seating is not covered, but there are two tented areas, and one of them is heated. The carts are in a circle around the seating area, so it makes it easier for customers to walk around and choose what they are going to eat. If you decide to visit these carts during the colder seasons, there is also a fire pit in the seating area that is lit during the winter season. However, since Division is a busy street, finding a place to park can be a challenge.
Hours: Everyday 10:00 am – 9:00 pm
Website: http://www.foodcartsportland.com/category/location/southeast-portland-location/se-28th-and-division-tidbit/
***
One food cart I did not visit, but is close to La Salle is a cart pod called Cartlandia. These carts are located at 8145 SE 82nd Ave, and you can find more about Cartlandia at: http://www.cartlandia.com
Food carts are a growing part of Portland's culture. They are all over the city, and I recommend trying one out. Eating at the carts can be a fun alternative to dining in a restaurant, and when you eat at the carts you can get a variety of foods from different cultures in one place. Overall, I would rate the food carts 10/10 and I encourage going to a food cart the next time you are looking for a place to eat.
What's your favorite food cart? Let us know in the comments below!

About the Writer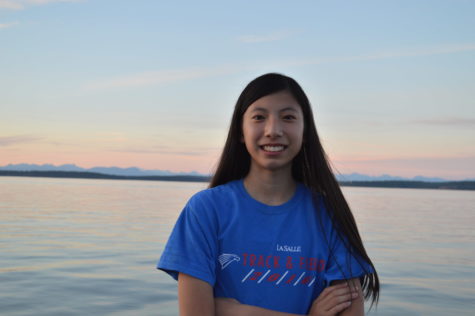 Grace Felder, Staff Reporter
Grace Felder is a sophomore at La Salle. She enjoys playing basketball and is on the track team. In her free time she likes hanging out with friends and...