La Salle Gets Ready to Celebrate Mr. Doran as Educator of the Year
Next week on Wednesday, November 16th, Mr. Doran, one of La Salle's World History and Government and Economics teachers, will accept his award as the Lasallian Educator of the Year at the Heroic Vow Assembly.
Each year, the La Salle staff vote for who they believe should be the newest Lasallian Educator of the Year. According to Mr. Kuffner, being the Lasallian Educator of the Year means that the teacher chosen is someone recognized by their colleagues as being a person who "exemplifies the mission of La Salle, and the call of our founder, St. John Baptist de La Salle, to be big brothers or big sisters to our students."
Many faculty members were excited to hear about Mr. Doran's achievement and feel he is well deserving of his new title. Mr. Hegarty, a U.S. History teacher who has been working closely with Mr. Doran in the Social Studies department for the past eight years, says that Mr. Doran is the "epitome of what it means to be a Lasallian educator" and that he is "proud to call him a friend."
Mrs. Powell, one of La Salle's secretaries, added that she felt Mr. Doran is "like an unsung hero. He's dedicated, he's always there [for you]. I have never met a kid who has ever said anything bad about Mr. Doran.
Students of Mr. Doran were also thrilled to hear that he had won Educator of the Year and spoke about some of his best qualities they believe make him a good educator. Kevin Nguyen, a senior in Mr. Doran's AP Government class, said that Mr. Doran is "really attentive to his students [and] makes sure everyone participates [in class]." He also remarked that he was "surprised that [Mr. Doran] hadn't already won."

Mr. Doran's helpful and positive personality is not something that takes multiple years to recognize, however. Mia Ly, a freshman in one of Mr. Doran's World History classes, also felt that even though she's only had Mr. Doran as a teacher for a short time, he is "very positive and encouraging" and went on to say that "[makes] class entertaining and not boring."
In addition to being a Social Studies teacher, Mr. Doran is also the coach of the Speech and Debate team, and many club members were eager to comment on Mr. Doran's excellent role in being their coach. Joseph Kreitzberg, a senior, has been a part of Speech and Debate for four years and says his favorite thing about Mr. Doran is that he is "excited about his students learning and about introducing debate topics," and continued on to say that "he cares a lot about his students' education and team success."
Mr. Doran has been teaching for the past nineteen years and has taught at La Salle for twelve. He says that his favorite thing about teaching is building a good relationship with his students and watching them succeed. He also says that his inspiration for teaching comes from "working with dedicated, hardworking students who represent the best and brightest for a hopeful future."
Mr. Doran says that while he does not have a specific philosophy on teaching, he tries to "treat each student with dignity and respect and to call them by their name. I hope this builds a rapport that allows me to connect well with my students as I teach them the important subjects of Social Studies and speech and debate. The more I can relate what students are learning to their everyday life, the better the learning experience for everyone."
When Mr. Doran heard that he won, he stated that he felt "really honored to be selected by my coworkers for this award." However, Mr. Doran says that he is still nervous for his speech at the Heroic Vow Assembly. He says that, "as the speech and debate teacher and coach, the expectations are high, and students want me to be funny. I hope to make some good points, and cause a few laughs all at the same time."
Ms. Coleman, who has worked with Mr. Doran for nine years and was last year's Lasallian Educator of the Year, says that she has no doubts that Mr. Doran will give an excellent speech. She says that because of his often self-deprecating humor, she finds Mr. Doran to be "incredibly authentic and it's hard not to like him," and that "he's an unabashed dad."
Because of these great qualities, Ms. Coleman says that she has no advice to give Mr. Doran on his upcoming speech, and congratulates him on the fact that he "pushes his limits to be like our school banners." Ms. Coleman also stated that one of the great things about Mr. Doran is that, after interacting with him, people walk away knowing "that they not only learned something, but they [also know] that Mr. Doran liked them, and [that] there was a mutual affection."
***
What are your favorite memories involving Mr. Doran? Let us know in the comments below.
About the Writer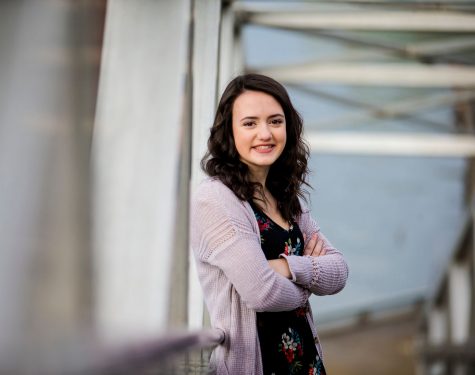 Taylor Foster, Assistant Editor
Taylor Foster is currently a senior at La Salle. She likes to hang out with friends, play volleyball, and participate various clubs in her free time. Taylor...