What to Watch for in the NFL
With the NFL season already five weeks in, there are quite a few things that fans will need to look out for, including paying close attention to the major teams: the New England Patriots, Denver Broncos and the Minnesota Vikings.
Everyone is also probably aware about the Colin Kaepernick controversy overtaking the headlines, although that issue has faded somewhat in recent weeks. Fans should also look out for Cam Newton this year because there is talk he could be considered for the MVP award for the second year in a row.
Let's start with the top three teams fans need to look out for. Beginning with the New England Patriots ranked at number one, they are 3-1, losing to the Buffalo Bills 16-0 on Sunday. With this being Brady's last game sitting out while suspended, Rob Gronkowski was asked "How important is it to get Brady back?"
He paused for a few seconds before saying, "I don't even have an answer for that [because] obviously it's exciting to get Tom back."  Even though this was terrible football for the Patriots to get shut-out at home for the first time since 1993, the team is still in a good spot with Tom Brady returning. Needless to say, it doesn't hurt to have one of the greatest players in NFL history returning to help with their success.
The Denver Broncos are the second best ranked team coming into this season. Their record is great, going undefeated with four wins. With their most recent game against the Tampa Bay Buccaneers, they had to rely on the rookie quarterback Paxton Lynch for the whole second half after Trevor Siemian (the normal starting quarterback) suffered from a shoulder injury.
All this did was help motivate the defense to play as hard as they possibly could. The final score of the game was 27-7. This shows why the Broncos should be in the running to win the Lombardi Trophy at the Super Bowl.
The third best ranked team would be the Minnesota Vikings with an outstanding record of 4-0 as well. The Vikings defense is unstoppable. So far, Cam Newton, Odell Beckham Jr. and Aaron Rodgers haven't been able to find a way to stop them.
During week three when they played the Carolina Panthers, Cam Newton was sacked eight times. The defense had to step up because the offense lost three of their starters including quarterback Teddy Bridgewater, team standout Adrian Peterson, and left tackle Matt Kalil.
Fans should also continue to be aware of the National Anthem controversy with Colin Kaepernick. In a recent interview, Kaepernick said that he has decided to protest during the National Anthem because, "I am not going to stand up to show pride in a flag for a country that oppresses black people and people of color. To me, this is bigger than football and it would be selfish on my part to look the other way. There are bodies in the street and people getting paid leave and getting away with murder."
There are a lot of Americans that are upset with Kaepernick kneeling during the National Anthem to the point that they thought it would be okay to send death threats to him over social media. Kaepernick says that he is only trying to raise awareness for issues surrounding race relations, and says that the fact that he has received death threats over this helps to prove his point.
Some people are neutral about the whole idea — they aren't really sure if what he is doing is good or bad. For example, Jerry Rice, who is arguably the greatest football player of all time, first thought that Kaepernick's idea of kneeling wasn't good, and said on Twitter, "All lives matter. So much going on in this world today. Can we all just get along! Colin, I respect your stance but don't disrespect the flag."
However, recently, he changed his mind by tweeting, "I support Colin Kaepernick for bringing awareness for justice!!! As Americans we all have rights! I'm hoping we all come together."
Another key player to pay attention to is Cam Newton because last year he won the league MVP award and there is talk that he could possibly win it again this year. Only four players have been able to accomplish this: Brett Favre, Joe Montana, Jim Brown and future Hall of Famer Peyton Manning. 
Even though Cam wasn't able to pull off the Super Bowl win, losing to the Denver Broncos 24-10, he is still a great player and has a strong team. Kelvin Benjamin is returning after sitting out the 2015 season due to a torn ACL, which will help Cam's numbers quite a bit. Many people believe that it will be a perfect quarterback-receiver combination on the Carolina Panthers. With that being said, everyone who pays attention to these teams and situations should be prepared for an interesting rest of the season.
***
What do you think about what's going on in the NFL this year? Let us know in the comments below!
Creative Commons photo source: https://www.flickr.com/photos/brookward/21586592316/
About the Writer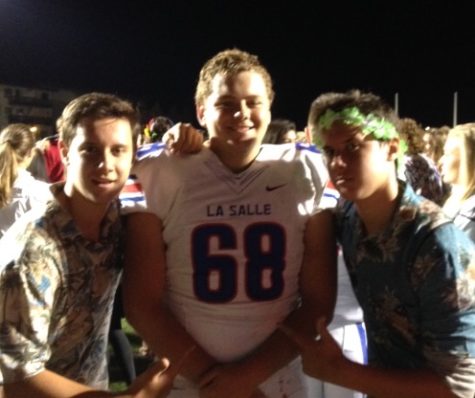 Ben Wease, Staff Reporter
Ben Wease is a junior at La Salle high school in Milwaukie, Oregon.  He is currently on the varsity football team and loves playing.  During his free...