No Role Models: The Artists Creating a New Genre of Rap
Hang on for a minute...we're trying to find some more stories you might like.
Since its rise in the late 80's, Hip Hop has had a significant influence on popular music. Introducing legendary artists and cultural anthems, rap continues to be blasted from the streets to sky rises even today in 2016.
Unfortunately, in recent years the quality of popular rap music has begun to dwindle, almost to the point of being generic. A majority of popular mainstream hip hop songs seem identical to each other, every artist a simple replica of the next. For example, two members of XXL Magazine's 2016 Freshmen list, Lil Uzi Vert and Lil Yachty, have sounds noticeably similar to each other, with voices chopped and drenched in autotune; rapper 21 Savage (also a member of the XXL Magazine's 2016 Freshmen list) has sprung up copycat artists such as 22 Savage, with many others copying his mellow style.
But look past the radio and you'll realize mainstream rap is just the tip of the iceberg, a mere representation of the wealth of nuanced songs and albums that lies underneath.
Defined by the digital age, in recent years a new form of rap has emerged on the forefront of young culture, commonly referred as Experimental or Abstract Rap.
Taking influences from progressive and alternative rap, contemporary R&B, post bop jazz, funk, and the vaporwave aesthetic movement, this sub genre of Hip Hop writes a new chapter in the book of rhymes; all while staying true to the nostalgic properties that defined a generation of hip hop culture.
Some of the artists of Experimental and Abstract Rap have been prominent in the industry for years, while others are up and coming or underground. Many of the artists are rappers, and some are producers or composers.
Either way, here are the top five artists and groups pushing forward this musical revolution that you definitely do not want to miss.
5. Deca
Possibly the strangest and most abstract artist on this list, Deca also happens to be the least recognized; the only way to learn more about him is on his lonely Facebook page or his account on the website Bandcamp. His blend of vintage edits, surrealistic themes, jazz, funk, and lyrical progressive poetry have gone unnoticed by many, but those who stumble upon his songs are transported to another world. His standout album, The Ocean, seems almost like a children's story book of the digital age; Deca beckons the listener to adjust the record to your dreaming needs, and to imagine yourself on a sea of nighttime sounds and lyrics. His opinions on religion, social order, and culture mix themselves between revolutionary edits, melodies and samples that sound like they were produced in an art gallery. Music critic Stephen Kearse from up-and-coming online culture magazine Respect-Mag describes Deca's seamless feat of delivering positive messages and themes while at the same time "creating an atmosphere of misery" for his audience to ponder on and dissect. Deca's music is something you have to hear to truly understand, and steadfastly defines the meaning of Abstract Rap.        
4. Phony Ppl
A group formed of five men from Brooklyn, Phony Ppl self describe their music as a blend of "vintage astral funk, soulful complex R&B, and dusted-out hip-hop". Their mind blowing LP Yesterday's Tomorrow highlights the golden days of inner city culture, with a nod to present-day influences and melodies that seem to be back from the future. Although the band has not seen the limelight of mainstream recognition, shout outs from prominent artists such as rapper Tyler, the Creator and a feature in the NBA 2k16 soundtrack probably mean you'll be hearing from them very soon. With their resurgence of classic sounds and revival of modern ones, Phony Ppl remind us of why music is important for the soul, and will continue to define Experimental Rap for years.   
3. Noname
Hailing from the great city of Chicago, rapper Noname (formerly known as Noname Gypsy) shocked the world with her unique voice and poetic justice when she was first featured on Chance the Rapper's Acid Rap mixtape. From there, she continued to drop unofficial songs and mixtapes that sent ripples of harmonic joy and positivity through the underground rap world; until finally, much to her fans' delight, her debut studio album Telefone was released in late 2016. Heavy jazz effortlessly mingles with funk and vaporwave electro dance on every track, with Noname's social criticisms and clever word play taking center stage. Music critic Jayson Greene of Pitchfork writes that "[Noname's] voice is in a playful and confident middle range between forestalling, singing, and slam poetry, and her lyrics carve out enough details to fill the song with an entire imagined cast of characters." Noname's influence on Abstract Rap has not gone unnoticed by fans or critics, and her experimental nature is sure to surprise in the years to come.

2. Thundercat
Bassist and producer Thundercat has propelled modern hip hop back to its roots since he began appearing in credits on various albums and songs. Although he has collaborated with less popular underground artists such as Flying Lotus and Badbadnotgood, his most prominent influence on Experimental Rap was his role in the making of Kendrick Lamar's critically acclaimed To Pimp a Butterfly. Music critics and Kendrick fans praised To Pimp a Butterfly as an avid and colorful representation of years of hip hop and African-American culture; incorporating elements of jazz, funk, soul, and spoken word poetry between its abstract lines on politics and marginalized people. Rolling Stone critic Greg Tate called it a "masterpiece of fiery outrage, deep jazz and ruthless self-critique". All of this, in large part, can be attributed to Thundercat, who won a Grammy for his work on Kendrick's LP. Thundercat's signature bass guitar backdrops and funky trumpet melodies are evident in all of his songs, and his influence can not only be heard in Kendrick's masterpiece, but throughout Abstract Rap. Exemplified further on his three solo albums, in recent years Thundercat has turned rap production on its head; thanks to him, real instruments are making their way back into popular music. So whether Thundercat is on the cover or in the credits, on the bass guitar or on the drums, fans and critics know the evolving genre of Experimental Rap would not be the same without him.   
1. KAYTRANADA
Emerging first under stage name Kaytradamus in 2010, composer and producer KAYTRANADA has shocked the culture of electronic dance music and hip hop by producing strange synths and complicated beats rather than the normal bass drop, hardcore rap type club anthems; but his debut studio album, 99.9%, earns him the top spot on our list of Abstract Rap artists. Nuanced in nature but conservative in delivery, 99.9% highlights the greatest aspects of Experimental Rap: classical drum progressions mixed with vaporwave synths and melodies, stacked with artists possessing unique voices and attitudes. Jonah Bromwich of Pitchfork writes that "The genre-defying stew of funk, soul, R&B, and beat and dance music that KAYTRANADA has cooked up on 99.9% nods back at that heritage of percussion-driven synthesis." By collaborating with mainstream artists such as Anderson .Paak, Vic Mensa, GoldLink, and Syd, KAYTRANADA has taken the underground sound of Abstract Rap and introduced it to millions of new listeners, shedding some light into a huge world of experimental albums that otherwise may have gone unnoticed.
***
There are many more artists out there influencing Abstract and Experimental Rap, but these five artists can get you started on experiencing this new age of music for yourself. Please be aware that most have songs explicit in nature, though clean versions are usually available.
What do you think about these artists? Have you noticed elements of Abstract Rap in any songs you listen to? Let us know in the comments below.
About the Writer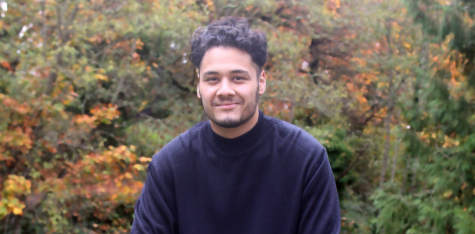 Shak Saidjanov, Editor
Shak is a senior at La Salle, where he played varsity football. In his free time Shak enjoys trout fishing and writing, as well as listening to a copious...