Athlete of the Week: Emma Herder
Hang on for a minute...we're trying to find some more stories you might like.
Even though school is just a few weeks in, fall sports are already well underway. Emma Herder, senior, is one of many athletes who is currently managing a schedule full of school and sports. Although Emma has only been on the cross country team for two years, she has already earned a varsity letter. We interviewed Emma to find out about her goals for her final season as a Falcon, what she thinks her future in running will look like, and more.
How did you become interested in cross country?
I became interested in cross country my junior year. I was looking for a new sport to try out, and my sister told me I should try cross country. I was hesitant to do so at first but then I went to one of the practices and instantly had so much fun meeting new people.
What personal goals do you have for this season?
This season, I want to definitely gain new personal records as often as I can. I do not think that I am capable of earning the times that I ran last year, but if I could cut down my current time and run a 5k in under 23 min I would be satisfied.
How many days a week do you have practice? What does a typical practice look like? (How long? What drills do you do…etc)
Practice can be very intense. We practice every school day from 4-5:45 and have optional practices on Saturdays which usually are about 90 minute runs. Almost every week, we have a hill day. This includes running up Sunnybrook road to the Talbert apartments and then running up and down the Talbert trail several times. Other days, we call recovery days where we run for about 40 minutes, stretch, and then do some form of ab workouts. And if we do not do that, we sometimes have timed workouts either on the track or over at Lot Whitcomb.
What's your favorite part about being on the cross country team?
My favorite part about being on the cross country team is being able to run with so many great people. Everyone on the cross country team encourages one another to do their best and give it their all during a workout.
What would you say has been your most memorable moment from high school cross country?
One of my favorite memories would be the time the boys and girls varsity team traveled to Idaho for regionals. We unfortunately did not make it to state but we still were invited to regionals. We all decided it would be fun to wear our prom dresses out to team dinner in Idaho.  All the other teams were super confused as to why we were so dressed up. Once we got to one of our team meetings, though, there was music playing so it actually made it seem like there was a prom going on.
Do you think it's hard to balance being on the team and academics? If so how do you balance both school and sports?
It is definitely challenging to be on cross country while taking school academics very seriously. Surprisingly, for me, cross country helps me manage my time. I will go to practice and immediately once I get home, I'll start my homework just because I don't have any time to procrastinate.
Do you think you will continue to run cross country in the future? If so where?
In college, I definitely want to continue running. However, I am not sure how much time I will have to be on a cross country team in college, so I will most definitely stick to a running club or something like that at the very least.



***
Make sure to wish Emma and the rest of the cross country team good luck at their next meet on October 1 at the Harrier Classic!
About the Writer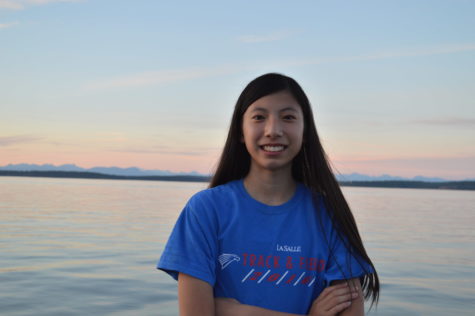 Grace Felder, Staff Reporter
Grace Felder is a sophomore at La Salle. She enjoys playing basketball and is on the track team. In her free time she likes hanging out with friends and...