Swim Team Finishes Strong at District Meet and Heads to State
La Salle's swim team is heading confidently into state this weekend because of their results at the district meet last Friday and Saturday. The boys team took 3rd place and qualified for two relays (200 yd medley and 400 yd freestyle) and two individual events (100 yd freestyle and 100 yd backstroke) for state. The girls team finished 2nd and qualified one relay (200 yd medley) and two individual events (500 yd freestyle and 200 yd freestyle) for state.
Three school records were broken at the district swim meet. Sydney Nakagawa, sophomore, broke the 500 yard freestyle record with a time of 5:32.92. In addition, Keenan Robinson, senior, broke two records at the district meet; one in the 100 yard freestyle with a time of 49.05 and one in the 100 yard backstroke with a time of 54.92.
Keenan says that he feels "strong" regarding his performance at the district swim meet. Regarding the entire team, Keenan says, "Everyone swam really well and did well. I am really proud of everyone's performance."
This Friday and Saturday, February 19th and 20th, the OSAA 5A state swim meet will be held at the Mount Hood Community College Aquatic Center. Sixteen members from La Salle's swim team will be attending this meet.
As for the events, Sydney Nakagawa will be swimming the 500 yard freestyle along with the 200 yard freestyle. She will also be a part of the girls 200 medley relay which includes Kiley Russell, Meredith Marcinko, and Madlin Nichols. The alternates that will be attending the state meet for this relay include Brigid Hanley, Sydney Welp, Madi Nomura, and Kelly Nisbet.
For the boys team, Keenan Robinson will be swimming two individual events, the 100 yard freestyle and the 100 yard backstroke, and will be a part of both relays (200 yard medley and 400 yard freestyle). The other members of the 200 yard medley relay include Matthew Williams, Jason Waters, and Ly Van. The alternates for this relay are Ben Robinson, Andy Kruger, Carson LeMaire, and Kevin Nguyen.
For the 400 yard freestyle relay, Ly Van, Andy Kruger, Jason Waters and Keenan Robinson will be competing their hardest for the state meet. Matthew Williams, Ben Robinson, Jordan Kerston and Robby Jones will be available to step in as alternates.
Overall, the team feels very prepared for this state competition. One of the captains on the team, Meredith Marcinko says, "I feel that the girls team is prepared for state and that we will do better than we expect! The team is four seconds off from making it into the top 6, [and] I think that all of us will be able to shave off the time needed."
"I feel very confident that the boys relays will do just as good as they did at districts," Meredith adds. "We have very strong swimmers on all three relays and I know that we will all be proud of each other!"
***
Head out to MHCC Aquatic Center on Friday and Saturday to support La Salle's swim team at the state meet! View the full schedule here: http://www.osaa.org/docs/bsw/champeventsch.pdf
About the Contributor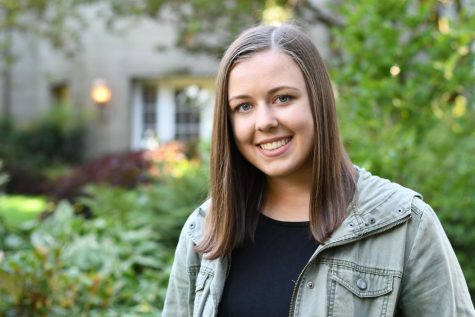 Katie Moreland, Editor
Katie is a senior at La Salle. In her free time she loves to hang with friends, dance, hike, and go shopping. Next year, she wants to go to college out...