Controversy Over New Starbucks Holiday Cup is Disappointing
Many of you may have probably heard or seen Starbucks' 2015 red holiday cups that were released on October 22nd of this year. The new design of this cup is very different compared to most of the cups from previous years, and as a result, has sparked a rather intense controversy.
In the past, Starbucks has included snowflakes, trees, snow, reindeer, and other Christmas themed items. However this year, Jeffrey Fields, vice president of Design and Content for Starbucks, helped to design the new cup which is a plain, ombré red and cranberry color with the normal green Starbucks logo in the middle. This simple design caused many customers to be upset because they feel that this cup is a departure from celebrating Christmas.
Because of the simple design, Starbucks have received a great amount of feedback from their customers.
Here is what some of them said:
@Starbucks why won't you put #MerryChristmas on your cups this year?

— Searching1 (@Searching1) November 6, 2015
I challenge you all to use the name #MerryChristmas when you order at Starbucks since they refuse to promote Christ in their establishments

— Brennan Clay (@BrennanClay24) November 5, 2015
@Starbucks since you despise Christians, I will spend my $200 per month coffee budget elsewhere. #MerryChristmas

— Michael Rivera (@wrenchboy) November 5, 2015
Even Republican candidate, Donald Trump, is boycotting Starbucks for the lack of Christmas design on Starbucks' holiday cups:
I'm w/@realDonaldTrump! #BoycottStarbucks 4 removing the Christmas theme from their holiday cups to make a statement https://t.co/iAzhUyEUn3

— Vicky ☆❤☆ Brush (@VickyBrush) November 10, 2015
Although many people believe that Starbucks is "hating on Christians" for not including a design on their holiday cup, more people like the new design and are defending Starbucks using the hashtag #ItsJustACup on Twitter:
I was saved by Jesus, not a latte. A cup doesn't determine Christmas. You do. #IStandWithStarbucks #ItsJustACup pic.twitter.com/v98Gm3KKfR

— • Amanda Woodward • (@hey_its_manders) November 10, 2015
Please complain about your expensive coffee in a red cup to the homeless outside. #StarbucksRedCup #ItsJustACup pic.twitter.com/wnHUJKOoSL

— Genevieve kay (@Genevieve_Kay) November 11, 2015
Can we start a controversy over this subway cup?! Absolutely no Christmas spirit, I'm offended. #ItsJustACup ???? pic.twitter.com/w6wCf1g2f2

— Britney (@Britneyy12) November 12, 2015
Americans are complaining about the absence of snowflakes on their #StarbucksRedCup while Syrian refugees are washing ashore the Aegean Sea.

— Adam Alattry (@alattry) November 8, 2015
MARCHED into Starbucks to DEMAND why they are so anti-Christmas… #StarbucksRedCup pic.twitter.com/FVLBpoWVxG

— Paul Ludwig (@paulludwig) November 9, 2015
Personally, I believe that Starbucks is not disrespecting Christians or any other religion. They simply decided to make a unique design for their holiday cups that is unlike anything they have had in the past.
Jeffrey Fields said, "In the past, we have told stories with our holiday cups designs. This year we wanted to usher in the holidays with a purity of design that welcomes all of our stories."
Sorry, there are no polls available at the moment.
With the new holiday cups, Starbucks is simply allowing customers to create their own stories. Since the first holiday cup came out in 1997, Starbucks has created a different story each year by using different symbols that represent the season. This year, however, the simplicity of the cup allows all stories to be told.
In addition, I agree with those who are defending Starbucks with the hashtag #ItsJustACup. During this holiday season, there are many other things that we should focus on, such as family and friends, instead of a simple cup that you are going to throw away.
***
What do you think about Starbucks 2015 holiday cup? Let us know in the comments below!
Creative Commons photo source: https://www.flickr.com/photos/[email protected]/22995587671/
About the Contributor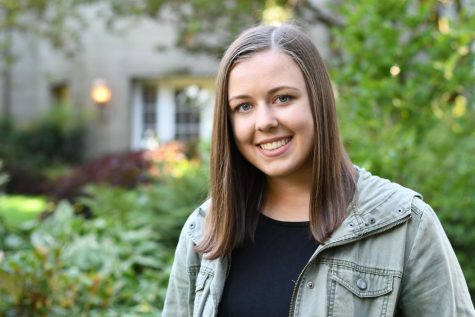 Katie Moreland, Editor
Katie is a senior at La Salle. In her free time she loves to hang with friends, dance, hike, and go shopping. Next year, she wants to go to college out...