Volleyball Heading to State
The La Salle girl's volleyball team has made the school extremely proud for the second year in a row, going 15-1 in the Northwest Oregon Conference (NWOC), and securing a league co-championship. The team's only league defeat was in the second game of the season, to St. Helens, against whom they later earned redemption, beating them 3-2 at home. The girls are now heading toward state with an overall record of 20-3 and ranked 5th in 5A.
They will have their first round play-off game this Saturday, October 31st at 1:00pm, at home versus Corvallis, who is ranked 12th in 5A. The match on Saturday is single elimination, but a win means they would play on Friday, November 6th in the State Quarterfinals at Liberty HS in Hillsboro. After the Quarterfinals, win or lose, they would have another game; a win would mean the team would play that same day in the Semifinals, and a loss would result in playing on November 7th in the Consolation game. A win in the Semifinals would advance the team to the State Championship at 6:00pm on November 7th.
Coach Liz Banta was asked about how she feels the team is going into the playoffs. She said, "I feel good, we are in good shape and well conditioned. We have seen a lot of the teams that will be there and I believe that the top six teams are fairly even and anyone can beat anyone. We are excited to have the chance to play St. Helens again if we win this Saturday."
Senior co-captain Rachel Berger, a four year varsity player is going into her last state tournament, and said that "I am most excited about being in the atmosphere of the state tournament. Last year it was an experience that I will never forget and I hope to get that experience again."
Senior co-captain Taylor Westermeijer said that "I think our toughest competition heading into state would be Marist because they are first in state right now and we also lost to them in a tournament. St. Helens is always a good game because it increases our intensity as well."
Junior Emmerson Smith was asked how she was feeling going into the state tournament. She replied, "I am feeling very confident in my team right now. [On Tuesday] we played very well against Valley Catholic and we are working very hard in practice to prepare for state so we can hopefully get to the championship game again."
***
The 2015 girls varsity volleyball team has already had huge success and has made this season very enjoyable for the students, staff, parents, and fans to watch and be a part of. The La Salle community is looking forward to cheering them on as they head to play in the first round of the state tournament. Come support the team this Saturday at 1:00pm in the brick oven!
About the Contributors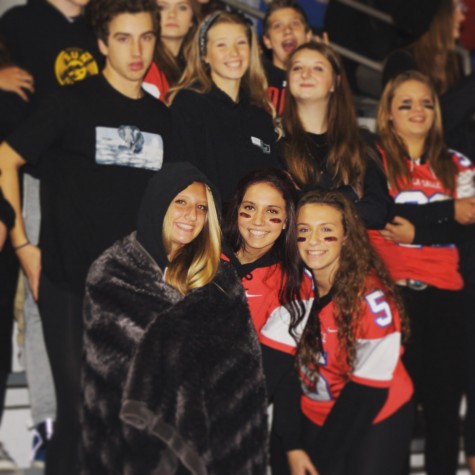 Aleah Goodman, Staff Reporter
Aleah Goodman is a junior at La Salle. She enjoys playing basketball and hanging out with her family and friends. Aleah wants to go to college either in...
Matt Duarte, Staff Reporter
Matt is a junior at La Salle Prep, who plays football, baseball, and basketball. Matt enjoys playing Madden and MLB the Show on PS3 and believes that he...