Seven La Salle Seniors Reflect on the Journey to Becoming a College Athlete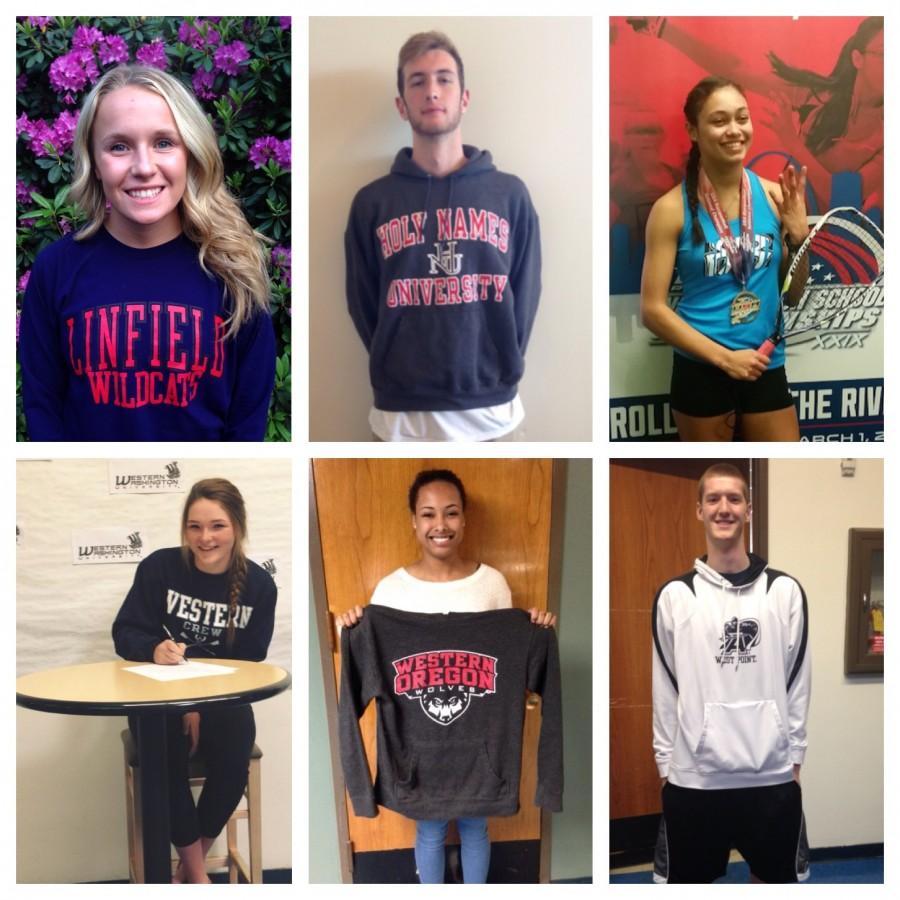 For this year's senior class of 2015, graduation day is now quickly approaching, and a few of our seniors have been granted a scholarship by different universities to play a sport. This year, La Salle has seven seniors that will soon be starting their journey as college athletes. These seven honored students are Reece Wible, Keeston Smith, Lexi York, Molly Agrimson, Loryn Williams, Veronica Horton, and Marlie Norman.
***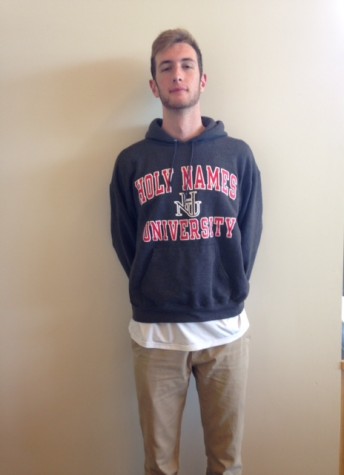 Reece Wible, one of La Salle's basketball star players, will be attending Holy Names University in Oakland, CA on a scholarship that pays for full tuition and part of housing. As far as academics go, Holy Names University has a very highly regarded Psychology program, which Wible said was very appealing to him. "They [also] have a 'Counseling Psychology' Masters degree program that I plan on completing, and since I will be an alumni I will have a huge discount towards their Masters program," says Wible. If that doesn't work out, he also has a backup plan, which would be to complete the Forensic Psychology Masters program instead.
Basketball has always been a very important part of Wible's life. He's been playing since he was three years old, and needless to say, he is glad that his hard work has paid off. "I'm most excited for the California Bay Area experience," Wible said. "We go to Hawaii for two weeks as a basketball team —I'm looking forward to that as well."
Wible also says he understands the level of commitment it takes to be a college athlete: "For students who want to play in college, it's not just a sport, it is a full-time job. You need to play and train with the best."
***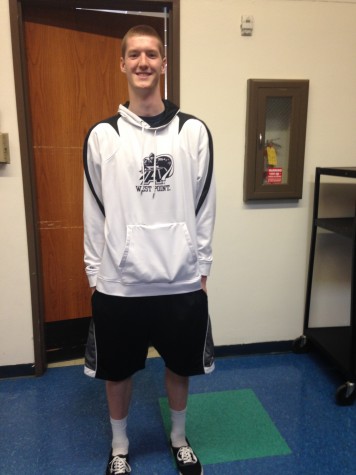 Another La Salle basketball star, Keeston Smith, will be playing college basketball as well. He will be attending the United States Military Academy at West Point University in the fall of 2015 on a full ride scholarship. West Point is the perfect fit for Smith, because of the fantastic education and basketball program. "Of all the schools I visited West Point had all of the key pieces I was looking for in a college," he said. "I loved the campus and the atmosphere surrounding the school. The coaching staff that I will be playing for is amazing, and I know I will be pushed to succeed there. I also want to serve my country and I will get to do that once I graduate." Smith also says he is excited to make new friends and get the opportunity to play with his new teammates.
Because he has gone through the stress and anxiety of finding and committing to the right college, Smith has some good insight for students looking to play a college sport. "Make sure and put your information out there and get in contact with the schools you want to go to early!" he says. "A lot of people wait for the schools to discover them and that may never happen even if you are a great athlete. Establishing a relationship with the coach and learning about the program is the best thing to do early on."
***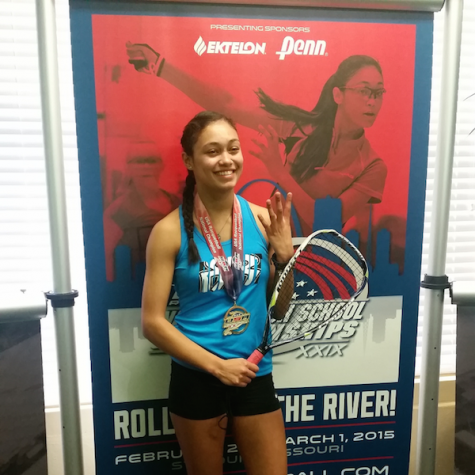 Lexi York is another among the seven seniors signing to play a college sport. Her sport is racquetball, and she will be playing for Oregon State. Unfortunately, they do not give out scholarships for racquetball players, but that does not take away from York's amazing talent as a state and national racquetball champion.
Oregon State was an easy choice for York. She wants to major in the medical field, while playing racquetball at the same time. "They have a very good [medical] program as well as the best racquetball team nationally 8 years in a row," she says. "I'm excited to be on a team that I know I will be with for the next four years and that I will be able to play completely."
As far as signing to a college, York says: "If you really want it you have to work for it, because if you really truly love the sport and want to be the best, you can. It takes time and dedication."
***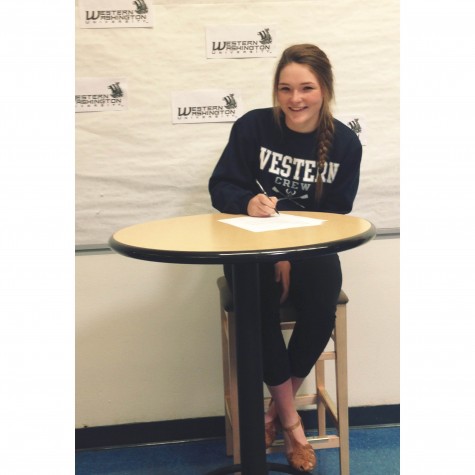 Molly Agrimson will be attending Western Washington University and will be a part of their rowing crew, which is a very big accomplishment considering she has only been rowing since her sophomore year. WWU was an easy choice for her because it has a great atmosphere. "It's almost like a mini Portland surrounded by trees," Agrimson says. "It is also the top D2 school in the U.S., so I am very excited to be joining some other amazing athletes and pushing myself to get where they are."
As far as education goes, Molly will be studying business and marketing. It will be a lot of work trying to juggle the 5 A.M. practices and individual practices later in the day with her school work, but Agrimson says she knows she'll "get used to it but it will be [hard and] tiring at first." She also says she is "excited about meeting my teammates and becoming friends with them! The team is one of the best parts of crew because it involves so much trust in one another to give your full effort."
For students who want to commit to a college to play a sport or who are in the process, Agrimson gives some good advice as a student who has gone through this overwhelming process. "I think there are two very important things people who want to play a sport in college need to recognize," she says. "First is that D1 is not always the best option. The only thing that D2 or D3 means is that they do not have as many competing teams and that they don't get [as] much funding. This does not mean that the athletes do not work hard or that the team is inadequate."
"Second, just because you did not play a sport since third grade or just because you got cut from your team in high school doesn't mean you have no chance of playing sports in college. Try something new! …I was pretty bad at volleyball and I wanted to try something that I would be good at, so I quit volleyball and took a chance with rowing. It's been the best decision I have made so far in my life and it is taking me places. So don't be afraid to do something new!"
***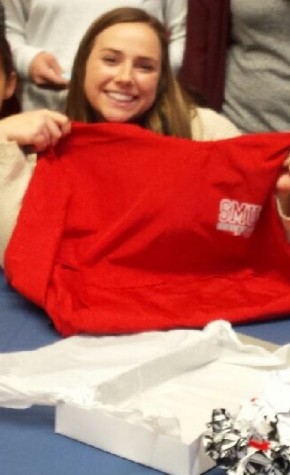 Loryn Williams is a softball commit to Saint Martin's University. Because she has been playing softball since she was six years old, it was an easy decision for her to play in college. Williams, along with the other seniors, will also be getting a significant amount of money to play for her university. "This University is the perfect location away from my house," she says, which was a very big part of her decision. "[It] also has what I want to major in, which is criminology."
Williams is excited to get the chance to play softball past her high school career, which many students are not as fortunate to get. For students wanting to play a college sport, she says: "Don't give up. It may feel that all of your hard work is not paying off in high school sports but if you continue to push yourself by putting in extra hours outside of high school you will go far."
***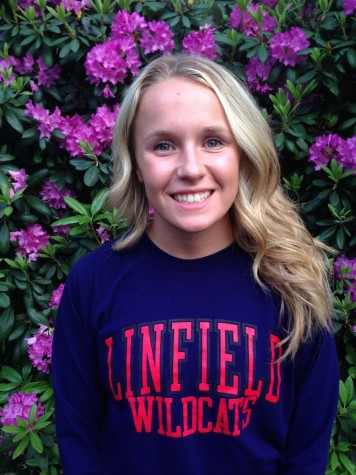 Soccer star Veronica Horton is also going to start her college experience as an athlete at Linfield College in McMinnville, Oregon. Linfield does not offer athletic scholarships, however Horton has received housing money as well as an academic scholarship. Horton says she is "excited for meeting new people and being able to play a sport I love for a few more years. It's great that I get to carry on something I love and enjoy."
Academically, Horton would like to explore the medical side of psychology, which was a deciding factor in her choice of university. "I decided [on Linfield] because I think [it] has a lot to offer for being a smaller school and has a great psychology and medical program," she says. "It also is close enough to home that I can still feel like I am away, but still able to visit when needed."
For those seeking the experience of becoming a college athlete, Horton says: "Talk to schools as soon as possible and make yourself noticeable. It is also important to focus on school and grades because it is just as important as having the coach want you. Make sure to pick a school that you can play a sport at and has what you want to study, not just because the school gave you money for a sport. And make sure that you push yourself to be able to compete at the college level!"
***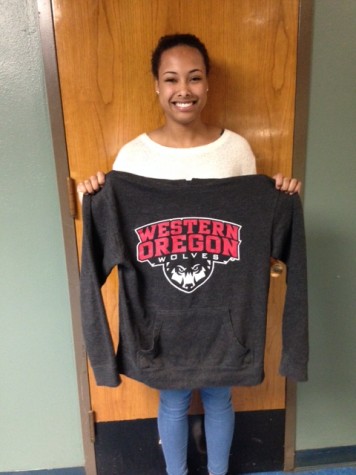 Last but certainly not least, Marlie Norman will be playing volleyball for Western Oregon University on scholarship as well. Western Oregon was the perfect choice for Norman for two main reasons. "It is only about two hours away and I love being near my family so location is important to me," she says. "The campus is beautiful and this school has the classes I want to take." She plans to major in criminology and minor in Spanish.
Playing volleyball for Western Oregon will be a very exciting experience for Norman. "I am most excited to be a part of such a competitive volleyball program and to meet new people!" she says. "The girls on the volleyball team are [also] all very dedicated and determined, which was something I was looking for."
"My advice for students who want to play a college sport would be to not let yourself get discouraged," Norman says. "You always have to stay focused on your goals even when it looks like you're not going to achieve them because you won't achieve anything if you don't try."
***
Getting the chance to play a college sport can be a very hard thing to do. It doesn't happen for everyone, but if you are serious about playing the sport you love in college, take the advice from these seven seniors who were lucky enough to get this opportunity. Also, feel free to congratulate these athletes when you see them in the hallway!
About the Contributor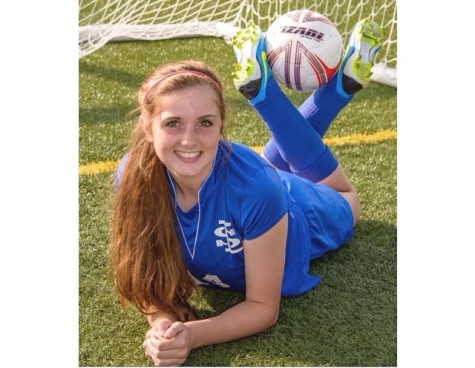 Regan Russell, Staff Reporter
Regan is a junior at La Salle. She enjoys playing soccer for her club team as well as the varsity girls team here at La Salle, and she also plans to play...