Athlete of the Week: Rachel Primack
Tennis season is underway and La Salle is expecting great things from its varsity squad. Sophomore Rachel Primack is a two-year varsity player who has already made an big mark on the team. As a result of strong accomplishments, she was selected for this edition of Athlete of the Week.
How long have you been playing tennis?
"I have been playing since I was nine years old."
What prompted you to start?
"My dad introduced me to tennis because he had played it a lot of his life, so he has been kind of like my 'private coach' ever since I was little."
What is your favorite memory of tennis?
"My favorite memory of tennis was making it to state as a freshman and placing second in districts. I was so proud of myself for making it that far and only being a freshman. It was an incredible and enjoyable experience as I bonded with my teammates and became a better tennis player. Another one of my favorite memories of tennis was when I went to Palm Springs to watch the Indian Wells tournament. Not only did I get to watch professional tennis, but I also got to enjoy playing with my dad under lights in 80 degree weather."
Who are your favorite professional players?
"Nadal is my number one favorite tennis player. It was unbelievable seeing him only 10 feet away from me in Palm Springs."
What was your experience like to watch professionals play in Palm Springs?
"Watching professionals play really motivates me to want to become an even better tennis player. It's incredible to see players put their all into the game. It was amazing to watch how talented each and every pro at the tournament. I definitely took a lot away from the experience."
What has been the best part of playing tennis at La Salle?
"The best part of playing tennis at La Salle has been meeting new people. I have really bonded with the tennis team these past two years. I also love my coaches and appreciate all of the feedback they have given me."
How has this season been so far?
"This season has been great so far! Moving up to 5A has been a challenge but it's great to be facing some real competition this year."
Do you find it hard to balance school and sports?
"Yes, I find it very difficult. You always have to on top of school work and never procrastinate because tennis is a huge commitment."
Are you planning on playing in college? Where do you want to go?
"I have been thinking about this question a lot lately. I think it would be an amazing and life changing experience to play in college, but it is also a lot of hard work and commitment. I want to go to a school in California. I think I would like University of San Diego or Loyola Marymount."
About the Contributor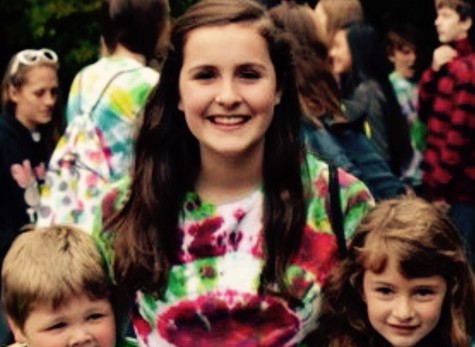 Delaney Miller, Staff Reporter
Delaney Miller is a sophomore who plays on the volleyball and basketball teams. She loves sports, playing the piano, and traveling. Her favorite restaurant...