Project Unify Soccer Team Looks to Continue Success
Hang on for a minute...we're trying to find some more stories you might like.
The La Salle Project Unify soccer team looks to keep their season going strong on Monday on the La Salle turf at 4:30 against McMinnville.
The Project Unify program at our school allows the students in our Signum Fidei (signs of faith) program to play sports, have fun, and interact with other students. It gives them a chance to compete just like everyone else.
"Project Unify is a division of Special Olympics that partners students with intellectual disabilities on the same team as students without intellectual disabilities," states Ms. Moore, who is in charge of the program at La Salle. "In years past, we have had mainstream students participate on the team; this year for soccer, we don't." Anyone who is interested in joining the team can contact Ms. Moore, located in room 106.
"It is a less competitive form of sports with fewer practices and games. Currently, we practice 1-2 times per week and have a few games," Moore said. "We compete with other schools in 2 tournaments per season. We participate in soccer in the fall, basketball in the winter, and soccer in the spring."
The Special Olympics mission as stated by their website is "to provide year-round sports training and athletic competition in a variety of Olympic-type sports for children and adults with intellectual disabilities, giving them continuing opportunities to develop physical fitness, demonstrate courage, experience joy and participate in a sharing of gifts, skills and friendship with their families, other Special Olympics athletes and the community."
La Salle's Project Unify soccer team has done well so far this season and the members are looking forward to the rest of the season. "So far this year, we played Wilsonville and resulted in a tie. Last weekend in our tournament, we placed 2nd in our league and won the Sportsmanship Award. Monday we play McMinnville and on the 13th we play Forest Grove. Nov. 15 we meet at Providence Park for the State Unified Soccer Games," states Moore.
Project Unify creates a warm, inviting, and accepting environment for the students in Signum Fidei to thrive. It brings joy to not only the players, but also the coaches.
Students can come and support the Project Unify team on Monday and cheer them on. Whether they win or lose, they will surely be brave in their attempt.
About the Writer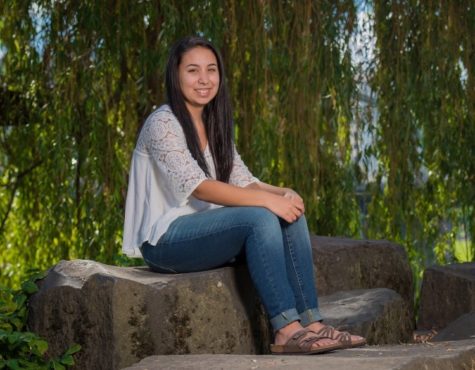 Maddie Pfeifer, Editor
Maddie Pfeifer is a senior this year at La Salle. She enjoys soccer and track and is also involved in many clubs at La Salle. She plans on majoring in...