La Salle's Fall Play: Hollywood Arms
"Hollywood Arms" opens up for five shows, running through Nov. 22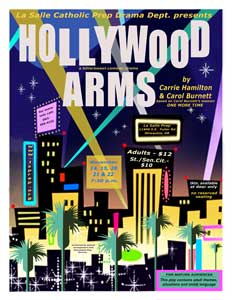 La Salle's fall play is "Hollywood Arms," a fictionalized dramatization of famous actress Carol Burnett's childhood. It opens on Friday, November 14th at 7:30 pm, and continues its run on November 15, 20, 21, and 22. Tickets are available at the door and cost $12 for adults and $10 for students and senior citizens.
The main character, Helen, lives in Hollywood, California, from 1941-1951. Three generations of the women in her family live "on welfare in a dingy apartment house called The Hollywood Arms," according to the play's description on the school website.
Mr. Casciato chose this play for several reasons. "[It has] well written characters and is complicated and had a lot of depth and there is a real challenge for the actors," he said. "I also chose it because… Carol Burnett is a very famous performer and very much loved, and people think her life, because she's such a happy person, has always been one big, fun thing after the other. The story is really how she raised herself up from nothing; from poverty, dysfunction, and alcoholism in her family, to become the kind of person she is today. I think it's kind of an interesting story there."
Mr. Casciato is very excited about this particular play. "Well, it's a challenging play. I didn't think it would be as challenging, [but] because the way it's written, it's very difficult; [there are] a lot of costume changes, and it spans from the 40's to the 50's," he said. He is hoping to have the performances down "to a finely tuned machine, where it goes quickly."
But the challenge isn't the only reason he's excited. "I'm also excited that people will laugh at this play, but they're going to be moved, [and also they will be made to] think. I'd like people to be touched by the play. That's what makes me excited. And to see our actors take on really difficult roles."
Mr. Casciato also talked about Carol Burnett and her writing of the play. "The interesting thing about the play [is that Carol Burnett] wrote it with her daughter… and it's about Carol Burnett's youth, and her daughter died before it got onto Broadway. Which is too bad. It's kinda sad [and] bittersweet for Carol Burnett; another sadness in her life."
As unfortunate as some parts of Carol Burnett's life were, Mr. Casciato hopes that the play will make the audience both laugh and cry. So, be sure to see "Hollywood Arms" before it closes on November 22.  And please remember, this play is recommended for mature audiences.
About the Writer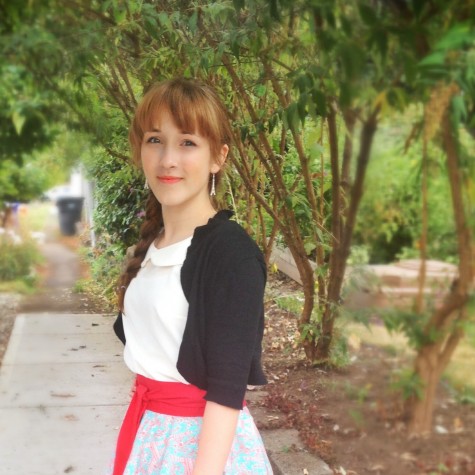 Hannah Markowski, Staff Reporter
Hannah is a sophomore, who speaks three languages: English, Spanish and Sarcasm. She is psyched to be able to write for The Falconer (though she wishes...