Ms. Bromley: Teacher, Friend, Inspiration
As many of you know, after a two and a half year battle with Ovarian Cancer, La Salle lost a very loving member of our community, Ms. Loreva Bromley. Bromley taught at La Salle for 21 years and although her time here was cut short she impacted the lives of many of her students.
When asked about their memories with Ms. Bromley, students had nothing but positive and humorous things to say:
"Some of my friends would always hang out and do homework in her room after school, and she would let them stay until past 5 o'clock…she trusted them with her room because that was the type of relationship she had with her students" -Senior, Mady Starr
"One day I had to have Math help and I couldn't find a math teacher until I walked into Ms. Bromley's room, and even though she didn't know me she helped me out a lot and I really appreciated it." -Senior, Loryn Williams
"Ms. Bromley wasn't really the person to sugar coat things, so when we got bad grades on things she would just tell us. Because of that I came in after school one day to correct assignments to bring my grades up and I realized I had a lot more assignments to be corrected than I had anticipated. At the start, I came in and there were a bunch of people in the classroom, but as time went by there were less people in the classroom and she continued helping me. Eventually I was the last person left in the room and I still had more assignments I needed help with. The hours stretched on and Ms. Bromley stayed without any frustration with me. I appreciated how patient and kind she was with me and my fellow students." -Senior, Ian Hamel
"I remember one time I lied to her because I told her that I had a pass to the library but I didn't…she confronted me and I felt really bad and couldn't stop thinking about my actions. At the end of the day I went to her room and apologized and said it would never happen again. She was the type of person that made you want to better yourself, and that's exactly what she did for me."  -Senior, Kevin Luyumba
"I remember she was super different from any other teacher I had met…she would say things other teachers wouldn't say and she would throw things in class. One time I fell asleep in class and she took her super big rubber band out and launched it at me…her aim was really accurate. She was a good teacher and mentor and she would always be there after school and she would stay there until late. We talked about supernatural, her fav. show and other things that weren't related to class." -Senior, Kim Le
Ms. Bromley touched the hearts of all of the people she encountered. Not only was she a teacher, but she was a friend and a constant companion. Bromley's passion for teaching was very apparent and serves as an inspiration for those determined to follow their vocation. She had a love for teaching that was as big as her love for her Lasallian family. Although she may be gone from our halls, her memory will live on in the many lives that she positively influenced in her remarkable 53 years of life.
About the Contributor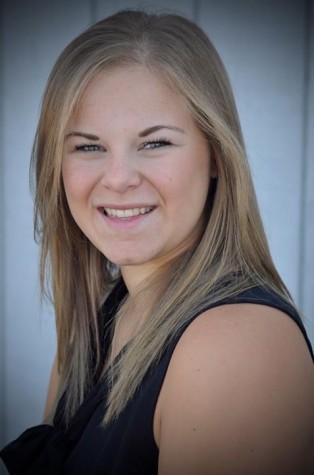 Natalie Saltares, Staff Reporter
Natalie Saltares is currently an editor for The Falconer. She is a senior at La Salle and has been a member of Journalism for two years. She is also a...