Falcon Formation: New Year, New Class
Hang on for a minute...we're trying to find some more stories you might like.
With a new school year always comes changes. This year, one major change at La Salle Prep is the inclusion of a Falcon Formation class.
These Falcon Formation groups consist of about 20 students who will stay with their group for all four years at La Salle. The students will have this class every Friday for 25 minutes.
"Our new Falcon Formation advisory period has been scheduled during the school day on Fridays with goals of building community," states the school website, "streamlining communication, raising student voice and providing opportunities for social and emotional formation."
The school has also said, "We also plan to use Falcon Formation time to cover topics such as study skills, stress management, substance abuse, safe driving, healthy dating relationships and respecting one another."
While some jump at the opportunity to go to their respective classroom every Friday, others trudge along because the class feels like another extended period of time to sit and listen to a teacher lecture them. The Falcon Formation class is organized alphabetically, so depending on the student's last name, they may or may not be with their friends. This can definitely influence one's opinion on the class.
The La Salle Falconer staff interviewed several students about their opinions on Falcon Formation and received a range of responses.
Freshman Abby Green-Hoke was interviewed and she said, "At first I didn't really know what Falcon Formation was, then, later on, I was told that it was homeroom." After attending her Falcon Formation class, she stated of it, "Well, all the people in my Falcon Formation class were either at the school I previously went to, or I already knew them from before, which was exciting. Overall, I thought it was interesting because I got to interact with other people that I haven't talked to in awhile." Abby believes that adding this class will be beneficial to her; she said, "I thought it was a good idea to add this class, mainly because I get to learn more about La Salle and I get to talk to my friends, but I don't think this class will be that useful later on."
Sophomore Joseph Kreitzberg was interviewed on his thoughts of Falcon Formation. His first reaction was a simple "Why?" He continued on to say, "I never really had problems with the current system, and I'm still not too sure about the purpose of the class." After going to class, Joseph gave his first impression saying, "When I went to my first class, I wished that I could change into a class with more of my friends, and I thought it was pretty boring… [and I think] it would be a good idea to switch it up every year." Joseph also expressed his thoughts on if it was a good idea adding the class. He stated, "It will be "useful" in the sense that we'll do more with the school theme." He concluded with, "So in summary, the class is going to be okay I guess, but I don't look forward to it on days that we have it."
The Junior class member that was interviewed was Natalie Herder. She stated of her first impression, "I had a neutral opinion of this class because I did not understand what it was going to be for." After attending her respective class her opinion was, "I really like the class and I enjoy hanging around new people that are typically not my group of friends." Her final conclusions of the class were, "I think this is a great class but I think every year the classes should switch up."
Senior Makenzie Cook was also interviewed. Makenzie's first impression of the class was, "I was excited to have a homeroom and get to know some of my classmates better." She then went to her Falcon Formation class and said, "I really liked my teacher and group of classmates because they make Falcon Formation fun." Finally, Makenzie stated her opinion on whether it was a good idea to add the class or not. She responded, "I think it was a great idea to add this class because it is nice to have time to do activities to bond with different classmates."
What is clear is that Falcon Formation is getting students excited to meet new people and grow closer to those they already know. Overall, the new class is going to be a good way for students to grow and bond as well as learn some new things too.
About the Writer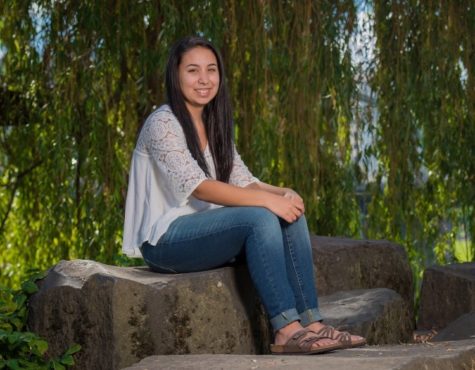 Maddie Pfeifer, Editor
Maddie Pfeifer is a senior this year at La Salle. She enjoys soccer and track and is also involved in many clubs at La Salle. She plans on majoring in...