Falcon Football Is Proud of Season Despite Challenges
The Falcon Football team started the 2015 season with a big win against Milwaukie, but since then have faced a tough road in their move up to 5A competition. However, the team has worked hard to make the most of their season, despite the losses.
There have been many changes to the football team, including a new coach, Aaron Hazel. Linebacker Mike Bianca stated,  "I was excited because I knew he would have a different coaching style and would give the program a change that it needed." After the first game of the season, the boys noticed how much of an impact Coach Hazel was able to make on this team.
Coach Hazel came from Skyview High School in Washington, and with this "he brought a lot of credibility" says Athletic Director Glenn Elliot. "Coach Hazel has the right personality and style of play for our boys", not to mention Hazel is an alumni from the class of '99 here at La Salle. "Coach Hazel is an authentic person and here for the right reasons, [and] being an alumni was a very large part because he knew he wanted to be here."
"The coaches pretty much sell their program to us," Elliot said. "He has a similar style of play compared to University of Oregon, filled with action."
A big difference, noticed by many players was the focus on and off the field. "It was a lot of fun," Bianca said. "I have never looked forward to practice as much as I have in the past since Coach Hazel came here."
Michael Duarte, a senior on the team, stated, "After playing for Coach Bowman, this change was a easy transition. Bowman was one of my favorite coaches, however Coach Hazel fits our program perfectly and has shaped us into being real men." With this large of an impact, although the team has had a rough season, it goes to show that there are many more years to come and Coach Hazel is the coach for La Salle.
"The team cannot be defined by their wins and losses," says Mr. Elliot. The entire team, and each individual player has a goal for the end of the season. Michael Bianca's goal the season is, "to give everything I have and that our team plays the best we possibly can. I don't care if we win or lose I just want us to give all of our effort."
Similarly, "My goals are to finish the season with momentum for the following year to build off of," says Michael Duarte. Both of these players show much respect and care for their team. They agree that the most important thing is to end the year strong and with their best effort.
This season has been tough, but La Salle Football has played well and worked very hard. "We knew it would be tough, and it is easy for guys to quit but nobody has left and that is a big compliment," Elliot said. "Their enthusiasm is up, the boys don't try to get out of things. Because we don't have a lot of depth, with players hurt there is a greater challenge to keep things going."
There are many difficulties that the team has faced but they have done a tremendous job and continue to work hard. Without a doubt this team has performed well and will finish with positive memories of their season, despite their record.
About the Contributor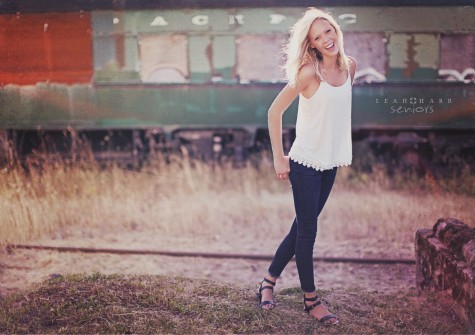 Gabi Simmons, Staff Reporter
Gabi Simmons, a senior at La Salle, plays varsity golf and is a part of the Pay it Forward Club. Gabi plans to study nursing at Oregon State University....