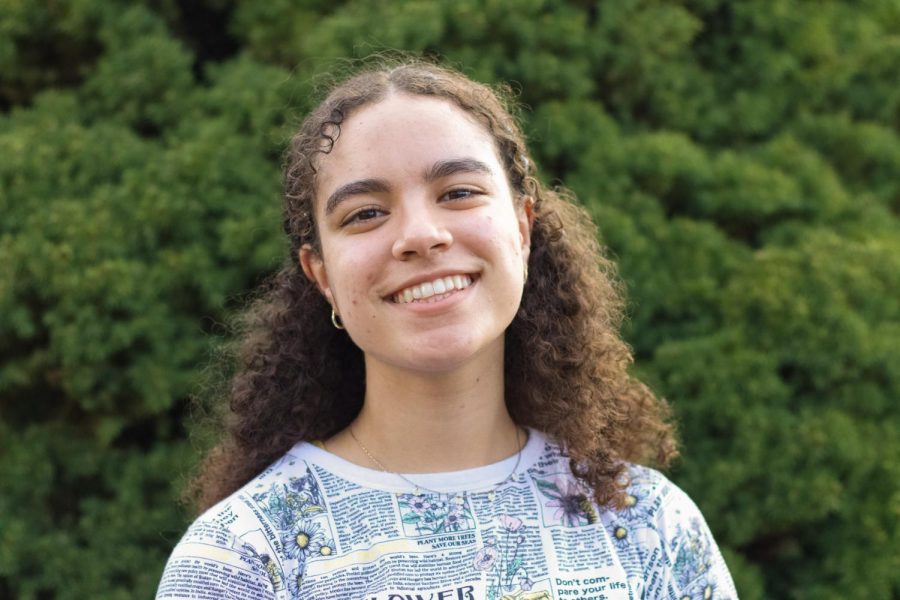 Fia Cooper
Sophomore Izzy Sulloway Ferreras has been dancing for 12 years, starting with ballet at the age of three. 
Her mom was the first person to get her interested in dance. "My mom, when she was little, wanted to be a ballerina but she couldn't afford to go to the classes," said Ferreras. "So she put me in the classes instead. So then after that I just loved it." 
At La Salle, Ferreras is an alternate for the varsity dance team. She joined the dance team when she was a freshman. What she values most about the team is "that they're willing to help each other and want to make everybody the best dancer they can be," she said. 
This year, Ferreras said that the biggest accomplishment they've had as a team is being able to go to state. "I personally think that we've done really good," Ferreras said. "We've come far from the previous years. And we got third at our last competition." 
As an athlete, the biggest challenges Ferreras has had to overcome are being able to be on the dance team, as she wasn't encouraged to dance at her other school. Another challenge for Ferreras is the choreography. "I struggle with remembering the choreography," she said. "But, once I remember it and once I get it into my body, it comes easier to me, and then it's more fun.
One thing Ferreras enjoys about dancing outside of La Salle's team is the recitals. "I would just do one dance in the recital but it'd be so fun," she said. "I'd be backstage with my friend and we'd just hang out and then do our dance." 
Her favorite dance routine she's done so far has been, "When I did recitals, I was the dresses from Beauty and the Beast…that was a really fun dance," Ferreras said. 
Ferreras's favorite dancer is Misty Copeland, whom she admires for her perseverance. "When people were like 'you're too muscular, or no you can't be in the Nutcracker…she was like, I'm going to be in the Nutcracker because I want to be in the Nutcracker," Ferreras said.
Aside from dancing, Ferreras enjoys participating in other forms of art. "I draw, I play the ukulele, I like to do theater, and I also like to sing," she said. Ferreras is a part of the La Salle Theater Department, the choir, and she takes music teacher Mr. Otto Wild's guitar class. 
This year, Ferreras said that it can be difficult to balance the dance team and her school work. "Between the competitions and practices and state this year it was kind of getting hard to work with, but I manage," she said. When she needs to take a break or calm down, Ferreras likes to dance. "Oddly enough, I dance when I'm stressed or angry or sad," she said.
The dance team usually rehearses two to three times a week, but they have more rehearsals before larger competitions, such as the upcoming state meet. Although they sometimes rehearse in the gym, the team usually rehearses in the cafeteria, where the team has to put up all the tables and put them back down.
Dance isn't the only sport Ferreras has participated in. When she was younger, she played basketball and volleyball, and she also learned gymnastics, but she didn't compete in it. If she had to compete in a sport other than dance, she would play basketball. "I kind of miss basketball," Ferreras said.
Finally, Ferreras gave a word of advice to freshmen or new dancers wanting to join the team. "Definitely join, even if you're experienced, not experienced, just join because it's a good community and you'll really like dancing on the team," she said.