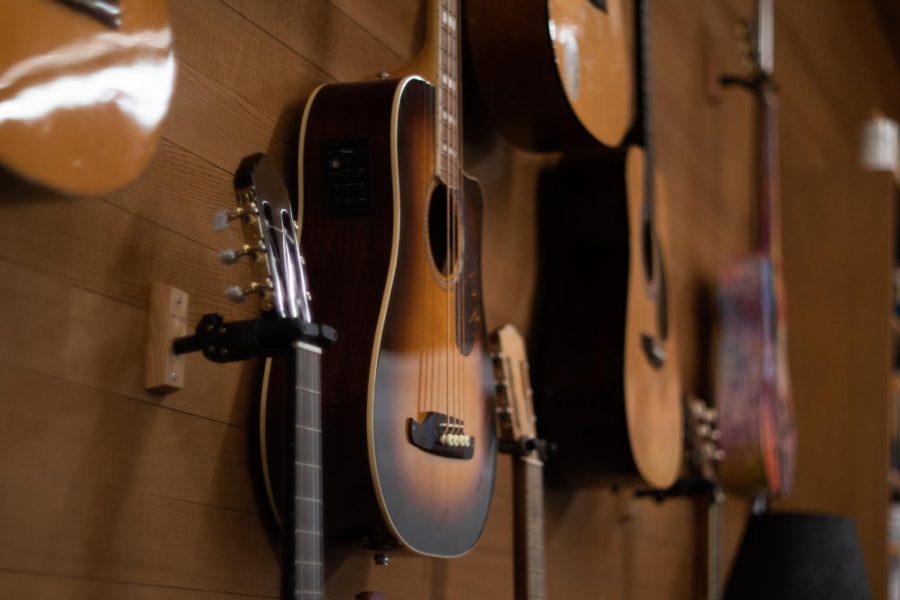 Lukas Werner
The following article includes music containing explicit content.
Recently, I have been enjoying acoustic music more than I have in the past. While I love high-production hit songs and electrifying guitar solos, there is something very special about acoustic music. Songs performed with just a few instruments feel more personal to me, and some even make me feel like I am in the same room as my favorite artist while I listen.
Because of my newfound appreciation for acoustic music, I have made a playlist of all of my go-to acoustic performances. I hope you enjoy it!
"State of Grace (Acoustic)" – Taylor Swift

The opener for "Red," Taylor Swift's first non-country album, "State of Grace" is an enchanting take on the feelings that consume someone when they are falling in love. The acoustic version cuts deeper, making the song feel much more heartfelt. 
"Hear My Train A-Comin' (Acoustic)" – Jimi Hendrix

Jimi Hendrix's talent on the electric guitar is mesmerizing. In this bluesy acoustic version of "Hear My Train A-Comin," Hendrix's talent can be appreciated in a new light. His vocals and twangy guitar riffs blend together perfectly in this song.
"Never Going Back Again (Acoustic Duet)" – Fleetwood Mac

The chemistry between Stevie Nicks and Lindsay Buckingham is arguably what made Fleetwood Mac an outstanding rock band. A great example of this is their acoustic duet of "Never Going Back Again." Their upbeat acoustic riffs are great for bringing up anyone's mood. 
"Sunshine On My Shoulders" – John Denver

John Denver's wholesome love of music and nature intertwine perfectly on this track. The song is a love letter to the sun, reminiscent of the way that warm summer days can make you feel.
"The Circle Game" – Joni Mitchell

Joni Mitchell's beautiful vocals shine in this melancholic song that embraces the simplicity of life. The song illustrates the feeling of growing up and feeling nostalgic about childhood.
"Georgia" – Phoebe Bridgers

Although this version is not officially released, it's something I've come back to repeatedly since initially hearing it. Bridgers' usually soft voice is left behind as she belts out an emotional performance that is truly unforgettable.
"She Lays Down" – The 1975

This song heartbreakingly tells the story of lead singer Matty Healy's mom battling postnatal depression. This song is emotional, in touch with harsh realities, while also being incredibly beautiful. 
"Skinny Love" – Bon Iver

Justin Vernon's heartfelt song about a malnourished relationship features a clever use of lyricism and captivating melodies on the guitar. The song, recorded at an isolated cabin in the Wisconsin woods, encapsulates the feeling of a gloomy fall day. 
"Like Real People Do" – Hozier

Hozier's captivating song, "Like Real People Do," off of his debut album is a beautiful blend of symbolic lyrics and sincere vocals. The track is an acoustic ballad with angelic background vocals. 
"Best Part (feat. Daniel Caesar) [Live]" – D'Angelo and H.E.R.

The love song written by Daniel Caesar featuring H.E.R. has been a massive success, going platinum five times. The live performance of the song by D'Angelo and H.E.R. beautifully accentuates the vocals by using an acoustic guitar and puts a different, more personal spin on the successful song. 
"California" – Joni Mitchell

Joni Mitchell's songwriting is unmatched, and the same goes for this track about her homesickness for California. You can feel her love for the state through this song, with her genuine and authentic lyrics while she is strumming a guitar in the background. 
"Going to California" – Led Zeppelin

To me, there is something magical about this song. The song shows a softer side of the popular band, with no drums, only a couple of acoustic guitars, and a mandolin. The song draws inspiration from Joni Mitchell. Robert Plant and Jimmy Page created a female character in the song who is modeled after Mitchell. 
"Ketchum, ID" – boygenius

Phoebe Bridgers, Lucy Dacus, and Julien Baker came together in 2018 to form an indie-rock supergroup of talented vocalists and songwriters. The closing track of their EP is a hypnotic blend of harmonies and poetic lyrics. With all of the women having successful solo careers, the song is a gloomy take on their experiences touring the world.  
The Falconer has created a Spotify playlist featuring all of the songs above.