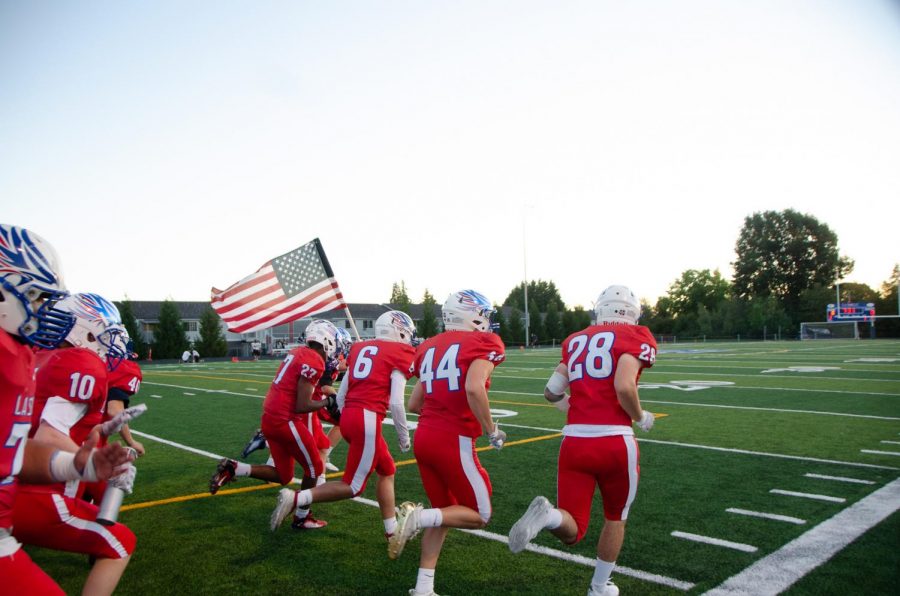 Lukas Werner
With a relatively large sum of the team having had to quarantine due to COVID-19 outbreaks, a new coach being brought on board two and a half weeks before the season officially began, and an abnormally small number of team members, the La Salle varsity football team has had a demanding start to the season.
Head football coach Dustin Janz described the year as "challenging," he said. 
Just as the season was kicking off, a portion of the 40-member team was forced to quarantine for over a week in order to conduct accurate contact tracing and minimize further infection. Due to this, Coach Janz made the decision to cancel the game against Parkrose High School on Friday, Sept. 17.
"It was certainly difficult for me," Coach Janz said. "In 19 years, I've never had to cancel a game because of anything, and to have to cancel a game was really, really hard for me personally, and I'm sure for our kids."
Due to the small size of the team, a single COVID-19 case could quickly result in a large portion of the team being forced to stay home, making it difficult for a game plan to be successfully executed. 
However, the cancellation served as a turning point for the team.
"I think kids are finally realizing now that it's really important to wear a mask which is good that they're actually doing it," junior Joey Irish said, who plays safety on the team. 
In an attempt to prevent further need for quarantine, the team wears their mask consistently indoors, even through weight training and conditioning. The team also works in small groups a majority of the time, working with members of the same position or strength level.
Although the team has a 0-5 record thus far, the team's goal moving forward will "consistently be to plan, prepare, and win every game [they] play," Coach Janz said. 
Junior Nate Dominitz, who is starting quarterback on the team, expressed excitement for future seasons, saying "there's a big freshmen class this year which is a good sign," he said. "Hopefully, in the years coming we [can] improve our numbers," he said.  
Although small in number, the team has continued to foster strong relationships with each other, becoming "a little family," Irish said. One way they have become closer is by going out for team dinners, provided by team parents and chaperones. 
Recently, they went out to watch a high school football game together. "That was a really positive thing and it was really enjoyable to get to know the kids and talk and build the camaraderie," Coach Janz said when recalling the evening. 
"Everyone seems to be very welcoming and everyone seems to get along really well," Dominitz said when asked about his experience being new to the team.
"When we have our older guys teaching younger guys how to do things, it helps the younger guys come along so we're better as a whole," junior Jack Koppy said, who plays on the offensive and defensive line.
Empathy, responsibility, perseverance, and resilience are the four virtues Coach Janz wants his team to focus on this year.
"The purpose in coaching football is to develop young people with tremendous character," Coach Janz said. He wants to develop a team that is dedicated to their sport and dedicated to growing together.