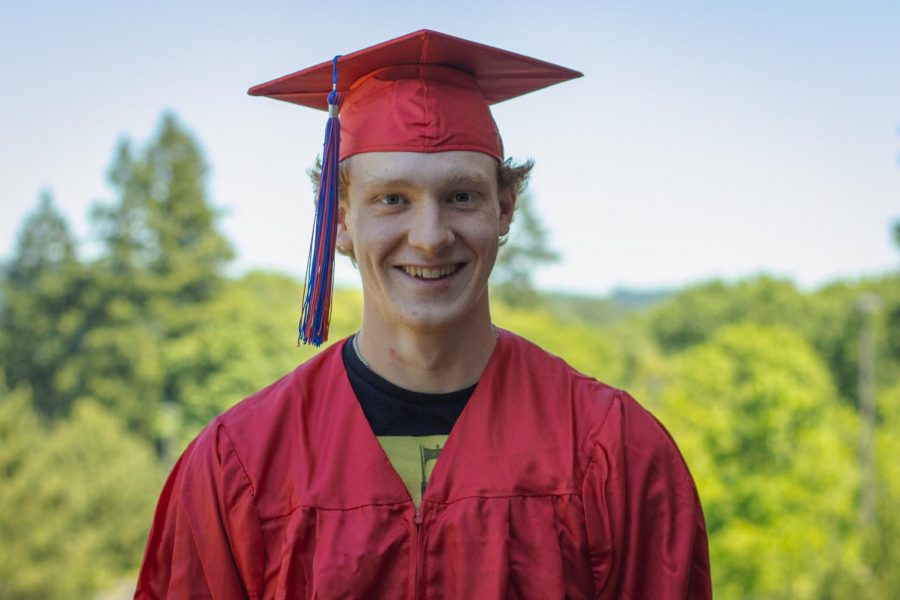 Alec Willard-Herr
For David Jensen, becoming valedictorian was not a goal heading into high school.
"I wasn't consciously thinking, 'This is why I'm… actually putting in work,'" he said. "Coming in, I was not like 'This is what I want to do,' so much as take classes and see what happens."
During his four years at La Salle, some of his favorite classes have been AP Physics, which he took sophomore year, and his junior and senior year English classes. AP Physics, he said, was very hands-on. "Because that class is so physical, the structure of it really capitalized on that, so it was really fun," he said. "We get a problem and a group of like three of us would just kind of go and try to figure it out, and you can see things happening."
Part of what made those classes enjoyable was the combination of the content and the social aspects of the classroom. "Those classes had a good balance of stuff that I was interested in, and that the whole class was interested in, and so people were involved and engaged," he said. "But also, it's just the people that were in it were just fun… and same with the teachers."
Jensen was able to take higher level classes, and La Salle was "very accommodating," he said. "I think that was definitely helpful, just having people that are like, 'Hey, if you want to try that, go ahead and take physics your sophomore year as your elective.'"
For example, he and some classmates took a combined math course of Calculus BC and Multivariable Calculus his junior year, allowing him to take a linear algebra course online this year through Massachusetts Institute of Technology.
"When I add it up, I've taken probably five years of math and six years of science," he said. 
For his linear algebra course, Mr. Larry Swanson teaches the class, but Jensen said that between the students and Mr. Swanson, "we all don't understand it together… Mr. Swanson kind of guides us, but we're all trying to figure it out together," he said.
Jensen has had Mr. Swanson as a teacher in math classes for two and a half years, and said that "he's just awesome."
"Some people are going to enjoy math, and they're going to be good at it, other people are going to struggle with math more," he said. "That is irrelevant to Mr. Swanson. He's going to teach everybody the same way and make the class just as fun or supportive. He is really good at separating your ability in math and just you as a person." 
"I think that is really important and valuable for creating a classroom," he continued. "There's a reason why people show up in his classroom and hang out."
Jensen said that Mr. Swanson's approach to teaching is also something that he appreciates, and that "he's just very genuine in everything he does." In an instance of cheating in a class, for example, Mr. Swanson's attitude wasn't angry — "he was sad because the fact that someone was cheating made him feel that he wasn't teaching them well enough," he said. 
Part of Mr. Swanson's teaching philosophy, Jensen said, involves considering how he might increase his support for students, rather than place blame — and that is valuable to him as a student. 
Throughout school, Jensen said he didn't necessarily draw motivation from a specific source, but rather found himself creating his own standards to reach. "I think I'm definitely pretty competitive in just everything," he said. "Regardless of what other people are expecting, I like to do what I think is good work, for most things… I want to do what I know as good work, not what other people expect."
In the age of digital learning, he said that it has been easier at times to put less effort into online classes, and that the mindset where "if you don't have to, you're not going to," can be easy to get caught up in. 
Jensen related poet William Stafford's thoughts on writer's block to the situations where it can be tempting to put in less effort. 
"He said, when you have [writer's block], just lower your standards and keep writing," Jensen said. "And I think you can kind of… lower your standards and keep whatever it is. Just keep on doing it, even if you're not up to your standards at that point. It's important that you're still doing it."
At La Salle, Jensen was on the soccer and swim teams for three years, and played baseball for all four years. Out of the three sports he played, he said baseball is his favorite, though all of his teams allowed him to broaden his social circle and experience an environment different from the one he experienced in the classroom.
"Having those different circles… is really cool because they're people you wouldn't know if you were just playing baseball," Jensen said. "It just kind of gives you a better perspective and gives you different contexts in which you can get to know people."
Jensen said the environment that made baseball so enjoyable is also attributed to his coaches.
"The environment that the coaches, the baseball coaches, create, it's just awesome," he said. "Just showing up to practice everyday, it's just fun, regardless of what we're doing."
For Jensen, playing sports created an outlet to give himself a break from school or other stressors — especially during the period of digital learning. "During online school, people are like, 'I do school all day, and then I go straight to homework and that just sucks.' And I think it does suck, because… you don't have a break," he said. "But [if] you've got sports after school… it's a good time to kind of do something physical and reset, and you don't have to think about whatever is going on."
Outside of La Salle, Jensen has gained experience with photography and videography, and even uses drones to capture aerial scenes. He said that growing up, remote controls were always of interest for him, and freshman year, he bought his first drone with a camera on it. "It was kind of an impromptu thing," he said. 
In his free time, he goes out and flies his drone, sometimes with his brother, and this year, he also got a more traditional camera for photo and video. 
Jensen said that he has done some projects for other people, and getting paid to create film or photos can push him to produce better results. "It's more interesting because it's a challenge," he said. "Someone wants you to do something, and you're trying to do that, so I think that aspect of it is appealing."
For Jensen, working on things that have a "purpose" makes them more interesting. At the charter school he went to before La Salle, for example, he took Lego robotics materials and created "functional" pieces, like an iPad stand. 
"That's kind of the same thing with drone and video," he said. "Just to have it and go out and film stuff spontaneously is a little less interesting to me… So I think that's where… doing it for someone else as a job or going to a basketball game, there's a purpose behind what I'm doing, which I think makes it easier because you know what you're trying to do."
Between a challenging academic course load, athletics, and other hobbies, Jensen said that it is likely his "teachers taught me more than I realized" about time management. "Throughout high school, I've always been playing sports and doing school, and so it seems like that's just how I do it," he said. "But I think in college… when I do have that free time, I'll hopefully be thanking my experience in high school, knowing how to kind of manage myself and give time to do other things besides school."
Next year, Jensen will be attending Montana State University's Honors College, where he is considering studying actuarial sciences or mechanical engineering. He said his baseball coach is an actuary, and that it seems like an "interesting" job, where "you're always kind of learning and getting better." 
But, Jensen said it is possible that his interests could change. "This is all what I feel like right now," he said. "Who knows a year from now."
In reflection on the last four years, he said that it is important to value who you're doing things with. "You can have a class, regardless of the teacher, and you're in it with a good group of people, it's just going to be a fun class, no matter what you're doing," he said. 
For students, he said that academic success is not the only thing to be striving for in high school, and that "there's more important things than getting A's on assignments" — finding the things that you enjoy, for example, and pursuing them.
Using the things that you are passionate about, he said, can be the motivation to get through the more difficult moments in school. "If you have things you care about, and know what those things are," Jensen said, "you can use that as motivation."
"You do the school to be able to go play sports, or go act, or whatever it is," he said. "So I think to have those things that you do care about makes the things you don't care about easier to do, just because you've got a reason to do it."