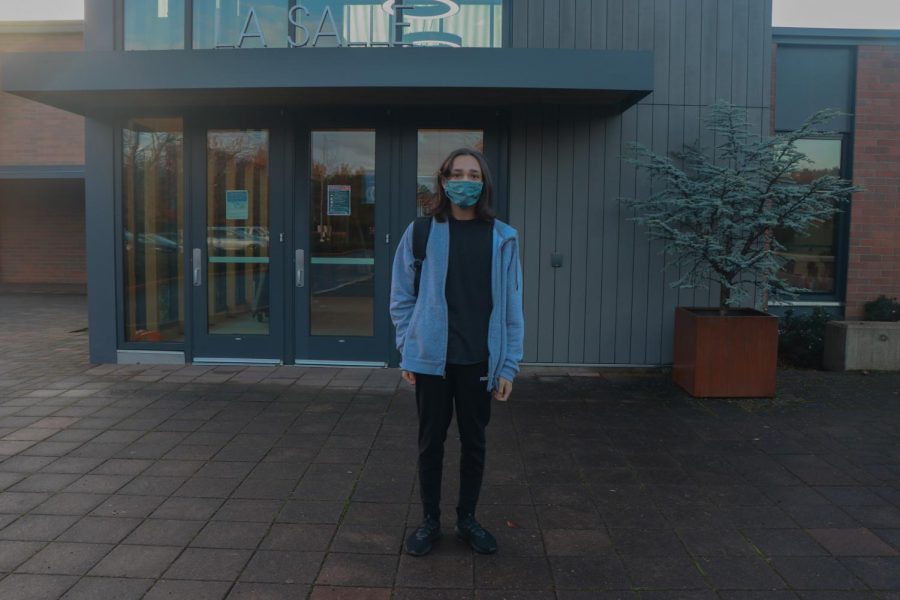 Fia Cooper
Coming from Franciscan Montessori Earth School to La Salle, freshman Milan Cieslak aspires to make his parents proud while at La Salle. 
"It's definitely a very big change for me, and I really enjoy it," Cieslak said when asked about his adjustment from FMES to high school. 
In October, Cieslak joined a group of his classmates to participate in different stations around campus for Freshmen Connect Day.  Cieslak said this gave him a chance to meet new classmates and to explore more of the campus in person. 
When Cieslak is not focusing on school, you can find him playing his favorite video game, "Rainbow Six Siege," or watching his favorite anime series, "Attack on Titan." 
Something that many people don't know about Cieslak is that he did Taekwondo for eight years. 
The most challenging part of his freshman year so far has been taking the Intro to Computer Science class taught by Mr. Kyle Voge. Several of Cieslak's father's friends work at Intel or have a job in computer science. 
Cieslak said that he decided to take computer science as soon as he noticed it as an option because he has always enjoyed technology, and he has grown up playing video games. He also built his own computer, which has contributed to sparking his interest in computer science.
When thinking about possible careers, computer science is "definitely in the future," said Cieslak. "That's kind of the direction I want to get into. It's a bit hard, but I persevere."
During the course of the coronavirus pandemic, Cieslak admitted that he has taken "human interaction" for granted, and is hoping for in-person school. 
"Digital learning has been alright," he said. "But I can't wait to be back in regular school because it will make classes a lot easier, especially computer science." 
Throughout Cieslak's four years of high school, he said he hopes to "acquire some new skills and better [himself] as a person." Cieslak said he plans to complete his goals by doing well in school, participating in more activities, and trying new things. 
Someone who inspires Cieslak is his father.
"He's been through a lot and I really look up to him," Cieslak said. "I really want to be like the person he is. He's really caring and kind." 
Cieslak's father is Polish and his mother is Indonesian, and so he has been able to visit both Poland and Indonesia. He also has a 13-year-old sister and enjoys eating and making different kinds of Polish foods with his family. 
Cieslak described himself as "a little bit shy," but he said he tries to get along with as many people as he can. 
What has helped Cieslak's transition into high school the most has been staying in touch with his best friend Issac of 10 years, who attends Parkrose High School.