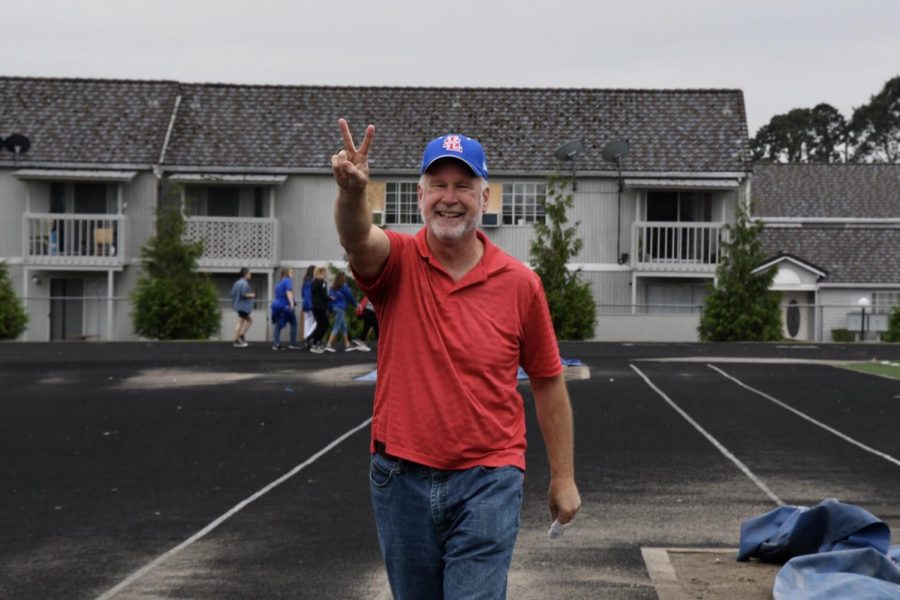 Kendal Shride
After years of wrestling with his own dignity, feeling unwanted, and craving the discovery of his purpose in life, religious studies teacher Mr. Tom McLaughlin encountered La Salle — a place where he finally felt valued.
Now, Mr. McLaughlin's colleagues have selected him as Educator of the Year, recognizing him as an individual who embraces the Lasallian core values and is looked upon by the community as an older sibling.
In his eight years of teaching at La Salle, Mr. Mac, as he is known to most students, has built a reputation as a kind and loving teacher, and he has also played an instrumental role in the school's equity work in recent years.
Mr. Mac was born in Maryland to two traditionally Catholic parents. Six years later, he and his family departed, moving across the country to Seattle.
Although Mr. Mac recalled feeling heartbroken that he had no choice but to leave his childhood best friend behind, he eventually "fell in love with the Pacific Northwest," he said. "I fell in love with the mountains and the land," especially Mount Rainier. 
As a young boy, Mr. Mac went camping frequently, "which was my love," he said. 
When his parents purchased a sailboat to explore the nooks and crannies of the San Juan Islands, he said that he threatened to burn it down out of disappointment that he wouldn't be able to pitch a tent in the woods or roast marshmallows over the campfire for a while. 
However, as Mr. Mac and his family began their voyage through the Islands, he formed a "connection to the Earth" and a "connection to Native American spirituality" — something he now feels passionate about and shares with his students.
Alongside Mr. Mac's connection to the land, his devotion to studying the Bible and learning about the Catholic Church flourished throughout high school. 
"I just was really, really hungry to experience the love of God that I was hearing about, and so I just really committed myself," he said. "I really kept trying to develop this relationship so I could really experience that love."
After going to college, Mr. Mac began to thrive in his spiritual journey even more.
Mr. Mac attended Notre Dame for his bachelor's degree on an Air Force Reserve Officer Training Corps scholarship. Initially, he studied mathematics, but he said that after feeling defeated by the subject and when his grades became a concern, he received approval to switch to an English major. 
Because Mr. Mac grew up in what he described as a "very patriotic home," with his father being a Navy veteran who served on submarines, he felt a desire to follow in his footsteps. 
"He loved this country, he was a big believer in our system, he was an attorney, he worked for the federal government, and really encouraged us to serve our country," Mr. Mac said. "[It] seemed like a good way to earn a scholarship through the military, and be able to serve and pay for my college at the same time."
Before leaving for active duty, Mr. Mac worked as a personal officer with other enlisted people. For him, this experience was similar to working a nine to five corporate job, with weekends off most of the time. 
But as Mr. Mac went about active duty and started to further develop his religious beliefs, he said that something wasn't sitting right with him. 
The violence in the military led Mr. Mac to question the path he was on. He said that the mission to protect and defend the United States using weaponry was no longer what he wanted to contribute to, so he requested and received an honorable discharge. 
"After I was on active duty, I just came to the conclusion that Jesus would never point an M16 or an M15 rifle, much less a nuclear weapon, at anybody," he said. "I felt like, in order to be a disciple of Jesus, I needed to follow his example of nonviolence."
Through reading the Bible and learning about both Martin Luther King Jr.'s and Gandhi's peaceable approaches to life, "the more I was convinced that they were right and that I needed to change my path — I needed to change direction," Mr. Mac said. 
"This model of Jesus in the Gospels that is loving…, he never raises a hand against anybody, and speaks about loving our enemies," he said. "Over time, I just started taking that more seriously — I started to think that he didn't mean that just as a nice Hallmark card moment, and not just so that we can get into heaven someday but that's how I'm supposed to act right now."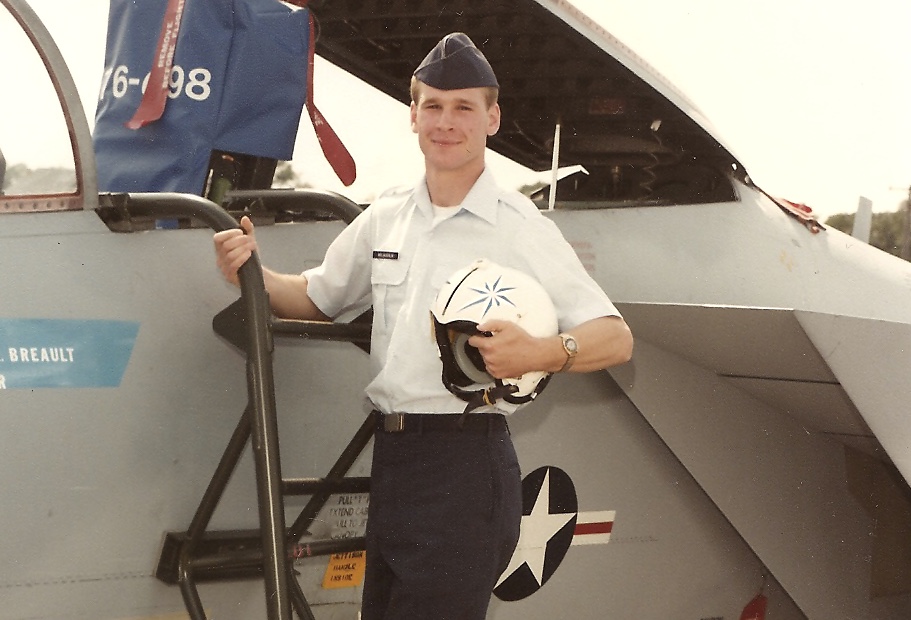 After leaving the Air Force, Mr. Mac found work at a Mrs. Fields cookie franchise in Denver, Colorado, and "just hated it," he said. 
Then Mr. Mac became a youth minister at a Catholic parish in Michigan, and he later proceeded by moving back to Seattle with his wife at the time, continuing to bounce from one job to another, cleaning carpets, delivering pizzas, and even working as a part-time service representative. 
"I was going through this period where I was working a lot of part-time jobs that I was really overqualified for because I was going through a very serious depression, and I didn't believe in myself, and it was a really dark time," he said.
Mr. Mac's battle with depression dates back to high school. 
While he said that different events can influence his depression and cause it to feel like a larger weight on his shoulder, one of the most significant experiences was the sexual abuse that he experienced. 
Between Mr. Mac's sophomore and junior years of high school, he was sexually abused by a clergyman, which he described as a "shattering event." 
He said that he swept this experience under the rug for many years, as he continued to earn straight A's, become an all-conference football lineman, and serve as the student body president.
"No one knew what had happened to me," he said. "I kept it secret."
As Mr. Mac continued to push this experience aside, he started to build a life for himself that pleased others. He said that he didn't know what he wanted, and at times even felt as if he didn't want to live anymore.
"I felt this deep sense of, well, being trapped and having no option," he said. "I didn't see any light at the end of the tunnel… That just led me to despair because I couldn't imagine living like this for the rest of my life." 
But, later in his life, when he entered his thirties, Mr. Mac said that he had a "turnaround" from this bout of depression.
"I was starting to say, 'no, I deserve to be happy — I deserve the life that I dream of,'" he said.
He came to this turnaround as he divorced his first wife and received an annulment from the Catholic Church, then enrolled in graduate school at Marylhurst University in Portland, where he studied comparative religions.
"Slowly but surely, I started doing things because I wanted to," he said.
When Mr. Mac was a senior at Notre Dame, he took a theology course, called "Death and Rebirth," which was taught by one of the most well-known professors at his school.
"I had heard he was good, so I took his class and he was a magician," he said. "He was just an awesome storyteller and a deep thinker."
Every time Mr. Mac attended this class, he recalled being "mesmerized," which influenced his decision to eventually pursue teaching.
"I'm just sitting there, listening to him lecture, telling stories, and I just felt in myself, I knew, I wanted to do what he was doing," he said. "It feels to me like that was the day that I received my calling to teach, whether you understand that calling is coming from God or from deep in your own heart… it came to me."
Mr. Mac chose to study comparative religions in particular as a result of his early exposure to different religious traditions, specifically the spiritual practices of Native Americans. 
As a young boy, Mr. Mac said that his "soul would sing" when he read different stories about people who encountered spirit through the Earth. "[There were] just all of these different bits of experience that just attracted me, and I wanted to know more," he said. 
Mr. Mac was also inspired to study religion as he firmly believed that he was dedicated to living a spiritual life. 
"It's one of my languages — it's something I know intimately," he said. "It fascinates me. I have encountered this love, this power, [and] this energy that continues to intrigue me and fill me with life." 
Once Mr. Mac completed graduate school, he started teaching soon after for the first time in 2001 at Valley Catholic High School in Beaverton. 
However, this experience for Mr. Mac wasn't all that he anticipated, as a layer of fog blew over him again, steering him into another depressive state of being.
During his time at Valley Catholic, Mr. Mac met a student who was also a victim of sexual abuse. As he helped this student through her own personal struggles, Mr. Mac said that it triggered his past trauma, sending a flood of emotions and causing him to question the path he was on. 
"I was struggling emotionally and with the abuse at the church," he said. "I just didn't want to be teaching religion at a Catholic school anymore."
While Mr. Mac still grapples with occasional depressive episodes, he said that it's been about six years since he has been in a more serious dark space. 
When the coronavirus pressed pause on much of the world back in March, resulting in La Salle's switch to digital learning, Mr. Mac said that he slipped into a feeling of melancholy for close to three weeks. 
"I've kind of gone up and down," Mr. Mac said, "but I know where to go for help if and when the depression hits."
An outlet Mr. Mac commonly relies on is speaking with a therapist, which usually makes him come "back to life," he said. But he has also found that writing plays another role in helping him process his emotions, as it allows him "to creatively take what was dark and create beauty out of it."
Over the years, Mr. Mac has written several different books, and is "still writing to this day," as it is "a big part of my life," he said. 
"Reflections of a Dying Soldier" is a memoir that reveals the beliefs that led Mr. Mac into the military and to eventually request an honorable discharge. It was the first novel he had ever written.
His second, named "Through Shadowlands to Love," took him 15 years to complete, and retells his journey about healing from trauma. 
"I used a lot of my life, my dream interpretations, and different… active imagination practices that form kind of the foundation of the novel," he said. 
Mr. Mac's third book, "100 Ways to Love Yourself and Why it Matters to All of Us," helped him heal the most, as it discusses "self love and why it's important for the world," he said.  
Before writing this novel, "I had not done a good job of loving myself," Mr. Mac said. "[I] set out, intentionally, to learn how to treat myself with genuine love because I really believe, too, that a lot of the pain that we see in the world is the result of us not treating our own selves with love."
After leaving Valley Catholic, Mr. Mac traveled to Europe for several months, and bounced around, writing — "hoping to make a living," he said, but "that just wasn't working."
When Mr. Mac returned, he struggled to find a job, as the United States was experiencing an economic crash. 
"I didn't have a job and I couldn't get interviews for a couple of years," he said. "I ran out of money."
Around this time, Mr. Mac sold his car, using half of that money to pay an editor to read over one of his novels, and the other half to pay for his groceries. 
As he eventually started working various temporary jobs again, Mr. Mac said that it was during this time that he had to ride his bicycle down the road to a church to collect items from their food pantry, and ride back home with a backpack full — that was until he reconnected with Rebecca, who is now his wife. 
"I'm really blessed to be married to Rebecca," Mr. Mac said. "She's just the love of my life."
With a tremor in his voice, Mr. Mac said that he gets emotional thinking about all that they have been through together, what she means to him, and "the fact that she loves me as thoroughly as she does."
"Here I am as a kid just longing to experience love," he said. "Yes, I experience the love of the mystery that we call God, but I also experience it really specifically in Rebecca."
Mr. Mac described this time of his life as "the beginning of a transition" — not only emotionally but also financially, as he finally landed what would become a stable job at La Salle. 
At first, he subbed for other teachers on occasion, but eventually, Mr. Andrew Kuffner, who was principal at the time, offered Mr. Mac a full-time position, stepping in for a teacher who was taking maternity leave.
Mr. Mac said that he was in the middle of substitute teaching for another class that day when Mr. Kuffner walked into the library to share this proposition with him. 
"The door opened for me to come to La Salle and teach religion," he said. "In my Christian language, it was the spirit leading me. The spirit was saying, 'Tom, they need you over here.' But, I also was very aware that the spirit was saying, 'Tom, you need them…' There's this exchange going on where what I'm bringing to the community, the community is feeding me."
While he had two other jobs to choose from at the time — teaching world religions at Portland Community College or working at an insurance company — Mr. Mac set his heart on La Salle in 2014 as the "invitation to relationship" motivated him to stay. 
"Lasallian schools encourage their teachers to be big brothers and big sisters to students," he said. "They encouraged me to have this relationship with you and my other students that I just really appreciate."
Currently, Mr. Mac teaches religion at La Salle — specifically World Religions as well as Introduction to Catholicism and Introduction to Sacred Scriptures. However, he has taught other classes in the past, such as Ecclesiology and Catholic Moral Thinking. 
He usually starts his day alongside Rebecca, with a cup of coffee and a conversation.  
"It's my favorite time of the day," he said. "We might have a conversation about our lessons that day, and kind of work to co-create plans for what we might do," as Rebecca is also a teacher at both Portland and Mount Hood Community Colleges.
COVID-19 has had a substantial impact on Mr. Mac's teaching style, as he said that most of the activities he has traditionally done with his students for years are having him "step back and reimagine" and "be creative in new ways."
In replacement of a baking project in which students would normally gather in the La Salle Center to collaborate, bake cookies, and reflect on Hinduism, Mr. Mac formed the idea of having his students connect on Zoom from their own kitchens where they would then make whatever they please.
In addition, Mr. Mac is having students collect outside materials to create a mandala from home — also over Zoom — and inviting students to on-campus connect days for a game of hide and go seek that follows pandemic guidelines. 
While he has found ways to make do, Mr. Mac feels nostalgia surrounding the little things, like seeing Ms. Rhonda Fisher in the office, chatting with his students, and saying "hello" to the counselors. 
He also finds it more difficult to become "immersed in the energy of the classroom." 
Before, Mr. Mac found it easier to understand when a subject wasn't sitting right with his students, by "watching people's faces and their body language."
"I could throw out my plan and go where it felt like the spirit was leading — where the energy of the room was leading," he said. "I miss that because there's a real community that we can build together when we're in each other's physical presence."
Despite the changes brought on by the coronavirus, Mr. Mac said that he is still learning, just like his students, by attending workshops and reading, all of which informs what he brings into the classroom. 
"When I say to you that I'm also a student, I mean that seriously," he said.
Last year, Mr. Mac earned his certification as a spiritual director through a year-long program. Additionally, he obtained an equity certificate through the Center for Equity and Inclusion — something he cares about deeply, and that he now brings to his work as a member of the school's equity team.
"I've learned a lot about what I don't know… especially around equity issues — meeting more people of color and hearing their stories and realizing, 'oh my gosh, I had no idea that was going on and I had no idea of my own privilege as a white man in America,'" he said. "One of the most impactful things for me is really taking a look at my own white privilege."
Over the summer, Mr. Mac wrote an essay about his privilege as a white man, recognizing and listing out the areas where it shows up. 
He said that while there isn't a lot of diversity on La Salle's staff, he appreciates "some people of color who have helped me to see and helped me to discover more about my own privilege, and how it's time to make sure that either everyone gets that privilege or no one does."
Junior Jacob Waterman in particular, has directed a key part of Mr. Mac's focus to equity work. 
After Mr. Aaron Hazel, the head coach of the football team, sent an email to religion teachers looking for someone to lead chapel services on game days, Mr. Mac jumped at the opportunity.
As Mr. Mac heads into his seventh season as the chaplain and waterboy, he emphasized his admiration for "one of the moments that will stick out in my life," he said. 
Last year, Waterman announced to the football team and his coaches that he was going to kneel during the national anthem to protest police brutality and racial inequality. 
Talking about Waterman's bravery, Mr. Mac commented on "how hard it is for people to talk in class… and to really say how they feel."
Despite being in awe, Mr. Mac explained that he was also quick to tell Waterman that he wanted to join him. 
"It helped me to really make a choice about what I was going to do for justice — what I was willing to do," Mr. Mac said. "He was willing to do it  — he was willing to face rejection from his teammates, from his classmates, from his coaches, and the school… I think we watched a prophet wake up and tell us we need to do something."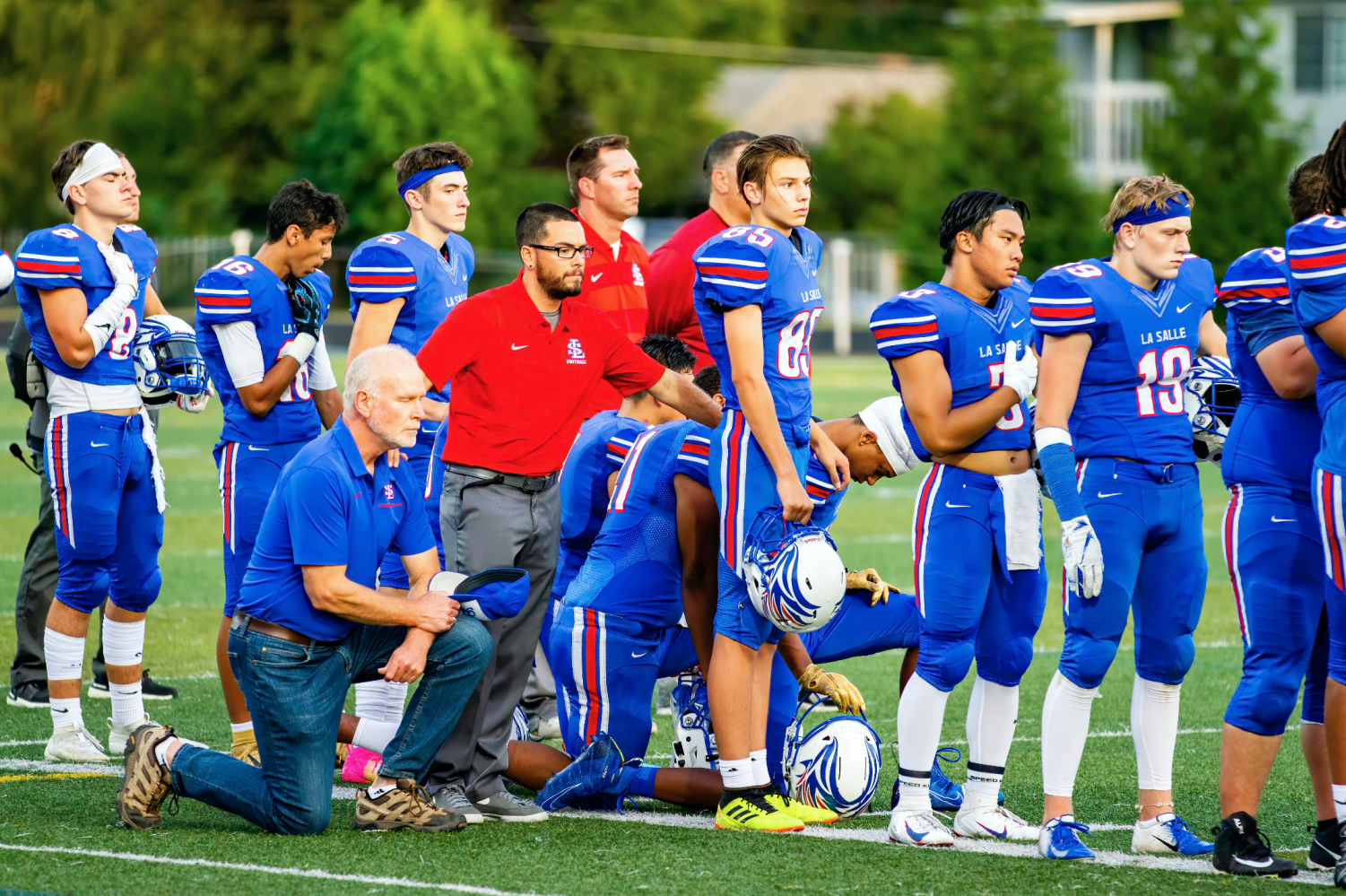 Mr. Mac also spoke positively about when he first started at La Salle, and shared a classroom with religious studies teacher Ms. Jane Nitschke, who "is brilliant," he said. 
"She and I just clicked, and we would have these wonderful conversations," Mr. Mac said. "I just so respected her as a person and her mind… I just liked her."
Another highlight for Mr. Mac is when La Salle began to more actively focus on equity work by forming the Equality Alliance. After Vice Principal of Student Life Mr. Brian Devine and a group of students participated in an LGBTQ conference, they returned hungry to spread awareness about diversity and provide support to those who need it. 
"When La Salle started making a commitment to addressing those problems [and] those concerns, that was a moment where I found myself committing even more to La Salle," he said. "I wanted to be a part of that — I wanted to be a part of addressing racism and addressing sexism and homophobia."
After becoming immersed in the La Salle community, Mr. Mac feels that the Educator of the Year award "is one of the greatest honors I've ever received," he said. 
"I feel really humbled by it because there are so many incredible teachers at La Salle," Mr. Mac said. "That they would choose me [and] they see me as a good educator, it just means a lot, especially coming from some of these teachers who are just so skilled at what they do and they're such good people… When people like that say, 'we see you as a good educator,' it's really beautiful."
When he was informed of the news, Mr. Mac said that he called Rebecca and cried, as he was overwhelmed with emotions. 
"I'm just feeling this flood of emotion in my body and I can hear it in my voice," he said. "I can feel the tears just right there. I just feel this tremendous gratitude."
Mr. Mac also said that the honor doesn't just come from his way of teaching, but he feels that it comes from his commitment to justice. 
"I also see it as an affirmation of the path that La Salle is on around social justice — around equity in particular," he said. "I think a lot of people started really focusing on equity and recognized me as a leader in that work — not just the leader, but a leader."
Despite the honor, Mr. Mac still feels that his job is not yet complete, as he said that he is determined to continue fighting for justice within the community and to becoming an even better teacher. 
"I'm committed to learning even more because there's so much growth that I have to do," he said. "I commit to continue growing as a teacher, so that I can be an even better big brother to you and the other students."
Looking back on his time at La Salle so far, Mr. Mac emphasized how much he deeply values the close camraderies that he has constructed with students, whether that's from meeting in the classroom, having a great conversation, or walking down the hallway and exchanging high fives.
Mr. Mac also likes to believe that his students see him as genuine, and that he has prevented others from feeling alone by speaking about his own flaws. 
"I think that students appreciate that I'm willing to open up my heart and open up my life, and say, 'this is me — this is what I've been through,'" he said. "I haven't been a star my whole life… I think the fact that I've lived a life that has had its ups and downs, that I've struggled with mental health, and that I'm willing to just be honest about that as part of our exploring what spirituality is, that has had an impact."
As being an educator at La Salle now becomes a job that Mr. Mac has held longer than any other throughout his entire life, he expressed his gratitude for what the community has given him. 
"I've bounced around job to job to job," Mr. Mac said. "I've been at La Salle longer than I was at any other job in my life… La Salle has given me a place where I feel like I belong, I feel wanted, I feel seen, and that feeds my soul and it helps me to think I'm on purpose in my life — like I'm fulfilling my purpose… That is a gift."
Throughout Mr. Mac's past, he struggled to feel accepted and wanted at times, and La Salle became the remedy he needed to fill that void. 
"I knew I wasn't fulfilling my purpose," he said. "I knew I was hiding. I just knew I was in the wrong place. La Salle gives me a place where I feel like I can be myself and that I'm welcome."
For others who might be experiencing this same feeling, Mr. Mac wants them to know that they are loved.
"You are loveable simply because you exist," he said. "I know in the core of my being that our essence, who we are, is love. We came from love… I really believe that love is the most powerful force in the universe; I think it's the most creative force in the universe. You and I, we're born out of love — we're made up of love, and we don't realize it. We're blind to it."
Mr. Mac emphasized this idea of intrinsic love, which drives all that he does.
"What I really hope people will hear from me, not just in my words but in the way that I interact with them, is you are so beautiful and you are so good and you are lovable, and there's nothing you have to do to earn that love and it's there," Mr. Mac said. "I hope that I can help people to really start to believe that or at least start to say, 'maybe it's true.' If I can do that, then I will have done my job — not just as a teacher, but as a man."