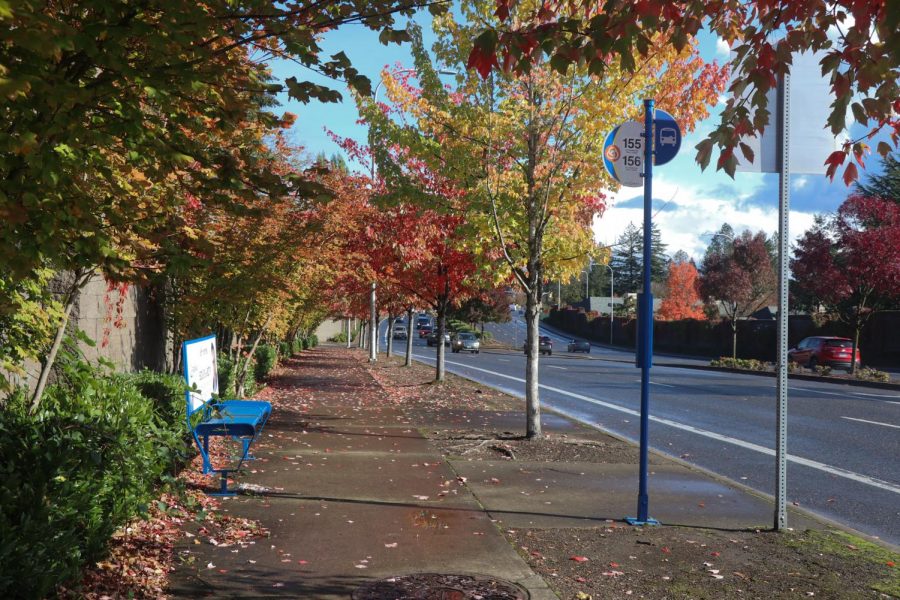 Fia Cooper
Around the globe, youth have spearheaded the movement for climate change action, driven by increasing frustration with a lack of action from leaders and compelled by the fear that their generation may not have a certain future on the planet. 
Climate change has become an issue of increasing concern for teens and young people worldwide, and at La Salle, things are no different. 
"The two things that stress me out most right now are climate change and homework," said sophomore Sid Lefranc, who founded the Earth Club at La Salle this year. 
Lefranc is one of many students at La Salle who are feeling concerned about climate change.
"I'm getting more anxious and worried," senior Anneliese Stahly-Dronkowski said. "If we don't do something, then what is the state of our world going to be in the next five years?"
Faced with uneasiness about the future of the planet, many anxious La Salle students are calling upon leaders locally and nationally to take action against climate change, and are making individual efforts in their own lives to combat the issue.
Some students have pushed for wider-reaching climate action by speaking to government officials or attending climate strikes, and many have made adjustments to their lifestyles in an effort to do their part to protect the environment. 
Lefranc, for instance, has stopped buying single-use plastics entirely, an adjustment that they said was "really easy, actually, and [it's] a lot more convenient, too." 
"A lot of earth-friendly products are actually products that you just don't have to keep buying over and over again, and last longer," Lefranc said. "I'd recommend it to everyone."
Part of Lefranc's transition to a plastic-free lifestyle has included swapping everyday household items for more sustainable options.
"I got rid of all my exfoliators that I used to use, because exfoliators actually have microplastics in them," they said. "I started investing in more eco-friendly products, like reusable sandwich bags and wax wraps, and a metal razor."
Junior Emma Olson has also made the switch from disposable items to more sustainable alternatives. 
"I'll think about items that I use daily and things that can be wasteful, like using single-use face wipes," Olson said. "Now, I have cotton washable little face swabs, [so] I am not throwing garbage away every day with that."
While Lefranc and Olson have made changes to some of the products that they are using, junior Daniel Hartson has focused on recognizing and addressing wasteful habits he has formed.
"I definitely looked at a couple of the things that I do and realized, 'Hey, I don't really need to be doing this,' like driving places when I could walk," Hartson said. "I definitely realized that what's easiest for me isn't always what's best [for the environment]." Hartson has also tried to use less energy by shortening his showers and being attentive to turning the lights off when he leaves a room.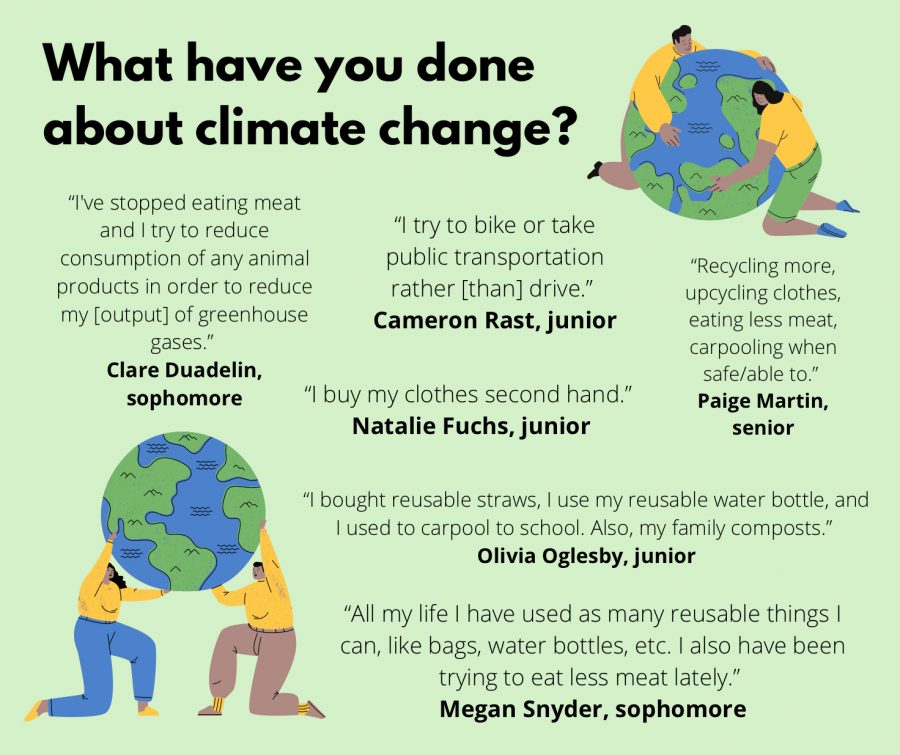 In addition to making changes to their lifestyles in consideration of the planet, several students have attended climate strikes or protests for climate change action. 
"I went to a climate strike last year," Stahly-Dronkowski said. "[It] was really cool just to see a lot of youth out there, from little, little kids, to even adults [who] showed up… It's kind of cool to see that we're uniting over this issue, because it's so universal." In addition to having participated in a climate strike, Stahly-Dronkowski doesn't use any plastic bags and tries to thrift many of her clothes to be more sustainable.
Hartson is another student who has advocated for climate change action. "I went down to Salem and actually talked to a couple of the policy makers with my church," he said. Hartson said this experience made him realize how important it is for voters and people in the community to communicate with local leaders about issues they are passionate about.
"I think we just need to have more people advocating for [climate change action] because a lot of the time, you know, it's just how politics [are], but [politicians] are going to advocate for what they think their voters want," Hartson said. "And so if you write to these people who are representing you… and say, 'This is what we're passionate about,' they'll be a lot more likely to see that, like, 'Hey, a lot of the voters actually believe this.'"
Although younger people globally seem to be taking climate change more seriously than older generations, staff members at La Salle have also voiced concerns about climate change, and some have also made efforts to become more environmentally friendly.
Math teacher Mr. Chris Cozzoli said that he has tried to live sustainably for most of his life. In college, he took an online survey in one of his courses about his environmental footprint. When the results of the survey revealed the negative impacts that his lifestyle, and his diet in particular, was having on the environment, he decided that he needed to make a change.
"I think I didn't want to be a person that just went, 'Oh, well that sucks,' and didn't do anything about it," Mr. Cozzoli said. "And so in that moment, sitting in that classroom, I decided that I was going to go vegetarian."
While Mr. Cozzoli initially only planned to become vegetarian for one year, he ended up continuing this new diet for more than 20 years, even becoming vegan for several intermittent periods during this time.
Though Mr. Cozzoli can no longer continue his meat-free diet due to unrelated health issues, he said that he is still making an effort to eat an environmentally-friendly diet, noting that he only buys high quality, sustainably-sourced meats. 
"It's part of being Catholic, in my mind, to be concerned for others and the environment and our impact on the environment," Mr. Cozzoli said.
English teacher Mr. Greg Larson is another staff member who has attempted to make decisions that are healthy for the planet. He tries to carpool or take public transit when he can, and is also mindful about his diet and where the food he eats comes from.
"All these things that we may not see as immediately connected to climate — like what food we eat — do have connections," Mr. Larson said. "I try to live with an awareness that my actions have consequences."
Social studies teacher Ms. Mallory Spanjer has tried to do her part by attending several climate strikes in Portland to raise awareness about climate change.
While many staff have felt the need to take action because of their concern about climate change, some have also voiced hope and appreciation for the initiative that numerous young people are taking to combat climate change. 
"I will say that even though it's really concerning, there are some things that make me really happy to see," Ms. Spanjer said. "And that's the fact that younger generations seem to be taking this issue and actually doing something about it."
Other staff members also expressed admiration for youth who have become leaders in the movement for climate change action, like Greta Thunberg, a 17-year old Swedish activist who has achieved international recognition for her work advocating for climate change awareness. 
"Whether you agree with her actions or not, it's really powerful to see a young person fighting really hard, and walking the walk," Mr. Larson said. 
Overall, many students and staff at La Salle have taken action in their own lives in attempts to help slow the progression of climate change, but a common thread among those that The Falconer spoke with is the belief that additional change is necessary to avoid the potentially disastrous future effects of climate change. Some students and staff accentuated the need for further education and awareness around climate change.
As a student, Olson said that learning about the detrimental effects of climate change can feel frightening and overwhelming, but she emphasized that education around the issue is vital to reducing its harmful impacts. 
"Without knowing much about climate change it's hard to really understand how real it is and how detrimental it is," Olson said. "Education is the most important thing right now for everyone. Even if you don't feel like you'd have a big impact on the issue, learning about it and understanding it [is important] so that if you ever do have an influential voice over people, then you can use it for good."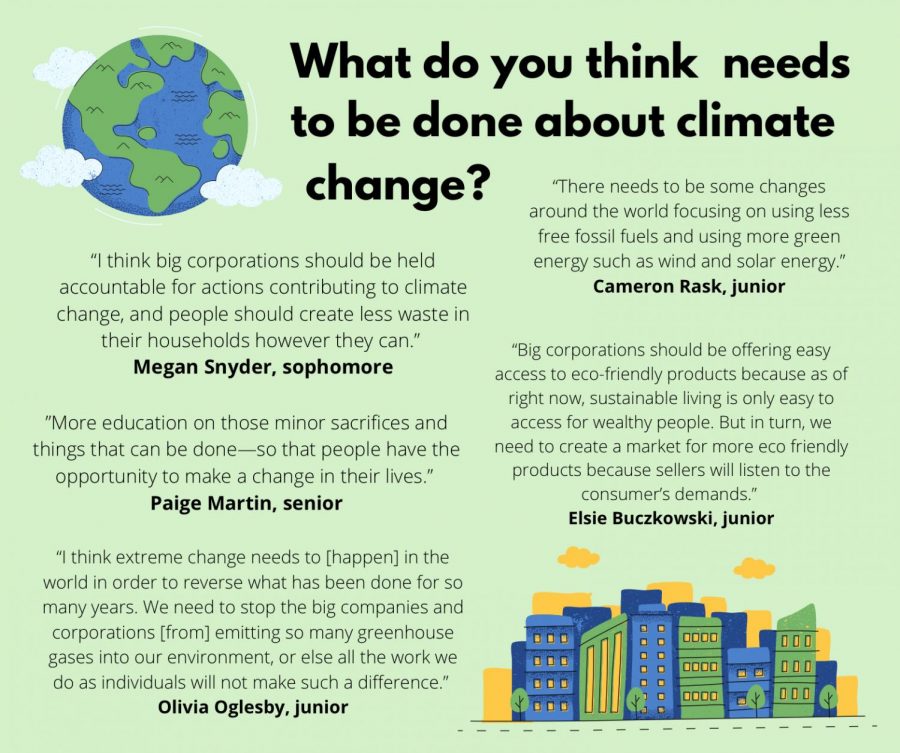 When Hartson spoke to state representatives about climate change, he said one of the topics he discussed was "how we need to bring [climate change] into our education systems and really make it clear that this is a problem, because it is something that is supported by science."
Mr. Larson highlighted the urgency that is required for attending to climate change, and emphasized the importance of making sure people are educated about the issue and having conversations around it, especially with people they disagree with. 
"I think that it's going to spread awareness about itself eventually if we don't take action," Mr. Larson said. "Especially conversations with people who feel differently about these issues than we do are important, because we need everybody to pitch in. And we need that to happen at the individual level, at the community level, at the societal level, at the governmental level, at the international level, and at the global level." 
Although many students and staff at La Salle believe education about climate change is a crucial step in creating change, climate change education is not a dedicated chapter or unit in any science class at La Salle. And while climate change does appear briefly throughout units in Chemistry and Biology classes, several La Salle staff members, including Ms. Carie Coleman, Science Department Chair and Director of STEM, believe that, based on the rate at which climate change is advancing, the current level of climate change education in the curriculum at La Salle is not enough.
Despite the fact that La Salle's curriculum does not include formal education around climate change, many staff at La Salle have made efforts to support students' learning about this topic by focusing on climate change awareness in other ways. 
Some staff members, like Mr. Larson, have said that they welcome conversations with students about climate change. In addition, several teachers, including Ms. Spanjer, have created projects for their classes in which students have the option to research a variety of different topics they are interested in, including climate change. 
Interim Principal Ms. Alanna O'Brien invites students to be open with the administrative team about issues of concern like climate change, encouraging collaboration between students and administration, while also acknowledging the administrative team's responsibility to create change within La Salle's curriculum.
"One of my hopes would be to get a group of students who are invested in the topic to collaborate with the administration around climate change and how we as a community can be responsive to that," Ms. O'Brien said. "So I would be completely supportive of collaborating with students, but also recognizing that there is a responsibility on the school itself to be responsible towards climate change and build in pieces that are intentional so that all students can learn, and not just the students who choose to learn."
Although many students and staff have taken individual action around climate change, and several staff members are making efforts to support awareness and education about climate change, both students and staff members have stressed the need for collaboration and change on a larger scale, calling everyone, especially those in power, to take action. 
"This is an issue that's urgent, it's not something that we can put off," Stahly-Dronkowski said. "As we've seen with the wildfires recently in Oregon and California, we're already experiencing the effects of our actions, specifically towards the climate… We need to take immediate action."
Ms. Spanjer acknowledged the political divide over climate change in the U.S., and highlighted the importance of unity and cooperation when it comes to tackling this issue.
"It may start with us, but we have to get policy makers to care about this and unfortunately, it's become politicized," Ms. Spanjer said. "I just feel that people from all sides of the political spectrum in the United States need to realize the importance of climate change, [and] realize that this isn't a political issue, and it affects all of us the same."
In harmony with many other students at La Salle, Lefranc believes that there must be urgent and extensive action around climate change.
"This is a really pressing issue," said Lefranc. "And we need to start making really big changes right now."