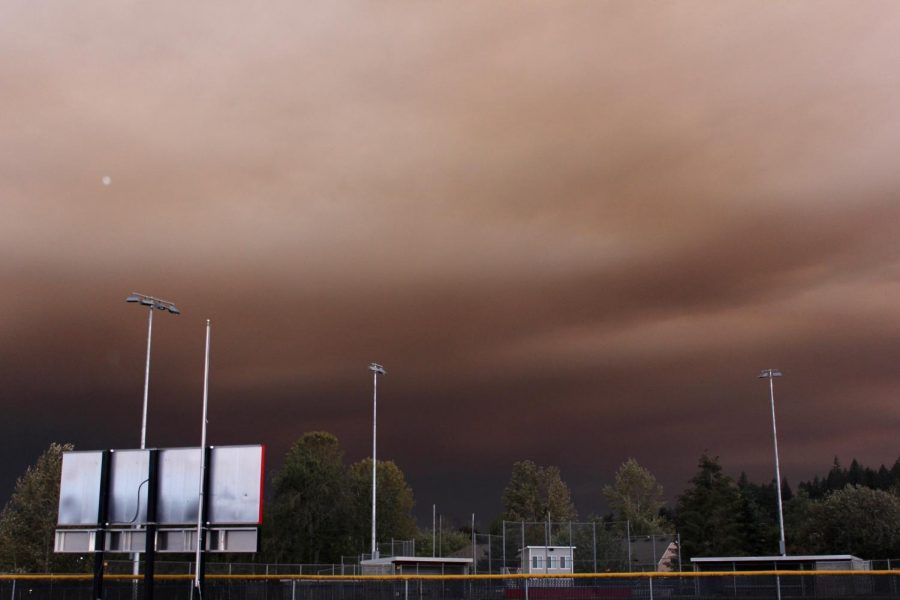 Dakota Canzano
Labor Day weekend led into a week like no other for senior Ian Simmons. 
Simmons and his family went out of town for the holiday weekend, returning to their home in Eagle Creek on Monday, only to be greeted by a massive wind storm that shook up much of Oregon. That night, his family repacked their cars and left for his grandma's house to take shelter from falling trees that could have potentially damaged the 30 acres of land he lives on. 
The next morning, the new school year began. "It was kind of stressful," he said. "The first day, kind of figuring things out… I didn't know what to expect." 
Simmons had to start digital learning not only away from school, but away from home too. However, eventually, he and his family were able to return to their house on Tuesday evening, after the dangers created by the windstorm had dwindled. 
They weren't at home for long. 
"We weren't really even hearing about the fire," Simmons said. "Then we were heading home and were like 'man, that's pretty smoky in that direction,' which is kind of by our house. And then all of a sudden we were put on watch and told to leave."
Following the windstorm, Simmons and his family already had bags of clothing packed from their previous evacuation. That night, they received a message that said that their home was in a level two evacuation zone because the wildfires were growing closer. Shortly after, they evacuated their home for the second time. 
"It kind of came quick," he said. "We got home and already had the bags and kind of just threw them right back in our cars." 
Around 10 p.m., Simmons said, he and his family talked to his older brother, who is a firefighter in central Oregon. While many firefighters from that area were actively fighting the wildfires, his brother was not. 
"He said that it's probably a better idea for us to evacuate right now, at level two, and just get out of there, rather than getting the alert in the middle of the night to have to evacuate," Simmons said.  
Even though Simmons already had bags packed from the wind storm, he and his family then began the process of packing other important belongings — documents, memorabilia, and photos. 
"We're glad we were able to get the information ahead of time and be able to pack stuff, and all my family was safe," Simmons said. "People in southern Oregon and stuff were getting knocks on the door in the middle of the night like, 'you need to leave, your neighbor's house is on fire.'"
Simmons said that on Tuesday evening, he went through his garage and bedroom and asked himself, "could I get a new one of that, or is it irreplaceable?"
"I grabbed kind of like memory stuff, and then I grabbed some jerseys from sports I've played, and other [items]," he said. "That was tough."
At that point, Simmons said the smoke had become thicker, but was not as bad as other nearby places. He ended up driving down his road to see if any fires were visible to him, but he could only see the smoke. 
For his family, the overall packing process took a couple of hours. In addition to packing, he sent out an email to most of his teachers, who he said were all understanding of his situation. 
Simmons said that while he was packing, everyone remained calm. "Later that night, around 10:30 or whatever, when we decided that we had to leave… I was pretty emotional," he said. "I was like, 'man, this is kind of crazy,' and everyone was just quietly kind of [moving] around packing the cars some more, and just [thinking] 'is this really happening?'"
"I think it was just more shock," he said. "It didn't really hit until my parents were like, 'alright, we're leaving,'… [I was] like, 'is this going to be the last time we see this place?'"
Once packed and ready to leave, Simmons went to senior Jake Owens' house, who is a family friend of his. 
As they were leaving, Simmons said not many people on his road were evacuating because the location of his home was only in a level two evacuation zone. Once they reached the Sandy area, he observed many animal trailers and cars packed full from other people who were evacuating. 
Simmons' uncle, aunt, and cousins all live on the same 30 acres as him. They also have horses, which they took to Owens' house, which is located between Gresham and Damascus. 
"My family kind of dispersed to different places, and that following morning we had been put on level three," Simmons said. 
According to Simmons, Owens' grandpa "has a ton of acreage and was taking in animals, and I think his family actually took in like 19 additional horses and a donkey." They kept their dogs with them, and took their cats to a different house. 
Simmons' parents spent the first couple of nights in Gresham at his mom's daycare center, which is based out of a house. They eventually joined him at Owens' house, where they stayed for the rest of their time evacuated. 
Simmons was evacuated for about four days while their house remained in the level three evacuation zone. "I think it'd been a week since our actual evacuation that we were told that we had been reduced back down from a level three to a level two," he said.  
Since Simmons and his family had left for vacation on Thursday, no one had slept at home in over a week. "The night that we drove back from our trip was when the windstorm was, and so we ended up just repacking our cars and leaving," he said. "Then we came back to our houses, and then the fires [came], and [we] left that night." 
When Simmons was finally able to return home, thick smoke still filled the air for almost two more days. Rain came that weekend, which helped to clear out the smoke, and "we haven't really been worried and everything's kind of returned back to normal," he said. 
His home did not suffer any damage from the fire, as it stayed around three miles away, he said. "The thing we were kind of worried about is… the wind direction with the fires and [the dryness]. The three miles seems kind of far, but with how fast the fires were moving and stuff, it can get going."
For Simmons, the whole experience was new to him. "Oregon has always been a pretty mellow state when it comes to natural disasters," he said. "I'd say this is the first disaster that has actually impacted me."