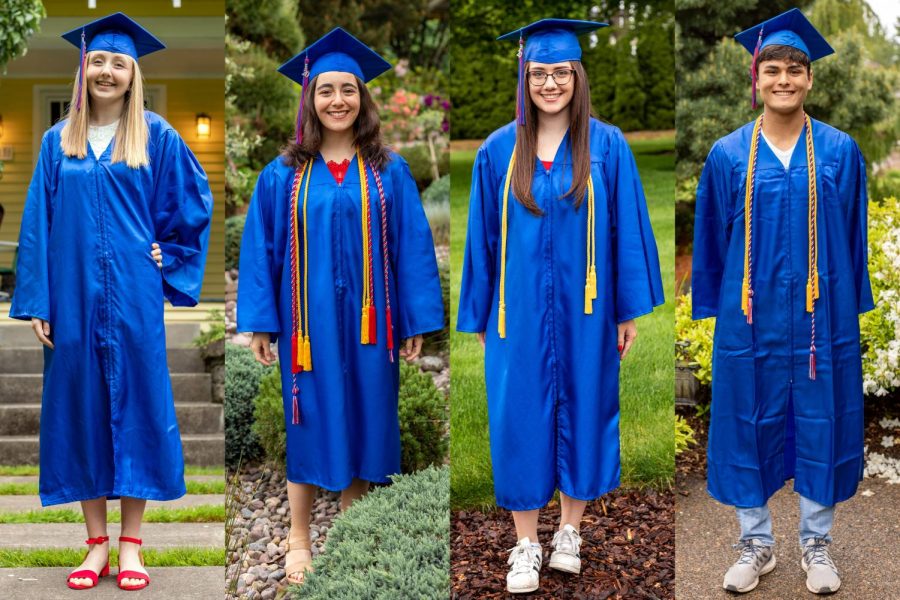 Reilly Smith
On Wednesday, May 6, four La Salle seniors got a surprise visit to their house from President and Principal Mr. Andrew Kuffner.
When Mr. Kuffner showed up at their door, these four seniors found out that they had been selected as the valedictorians and salutatorian for the class of 2020. 
Although the valedictorian and salutatorian awards are traditional academic awards that are universally recognized, "no two schools do it the exact same," Vice Principal of Academics Mr. Mario De Ieso said. 
At La Salle, the valedictorian and salutatorian honors are strictly academic awards, meaning other areas such as service, extracurriculars, or sports are not taken into consideration when choosing which students are deserving of the honor. 
"As a college prep institution, we felt it appropriate to have a strictly academic award," Mr. De Ieso said. Along with the valedictorian/salutatorian awards, La Salle also designates awards to seniors each year that are based on "other intangibles not related to academics," he said. For example, the Zach Davidson award, the De La Salle award, and the Falcon Determination award are other honors that are distributed to seniors each year, celebrating characteristics that Mr. De Ieso said "can't always be reflected in GPA."
"Every year that I've been at La Salle, we've had not one, not two, not three, but a host of seniors, graduates, that are so deserving," he said. "It seems almost more fair to make sure that we have the ability to recognize specifically the outstanding achievement in a variety of areas, not just academic, which [valedictorian/salutatorian] is, but also in character and faith and service." 
The valedictorian and salutatorian honors, Mr. De Ieso said, are based firstly on cumulative weighted GPA, although that isn't the only factor. The administrative team reviews the transcripts of a group of candidates who have the highest GPAs in their class, then decides on a recommendation of students to receive the award. The recommendation is then reviewed by the Academic Council, which consists of each department chair, who then provides input on the potential candidates.
Mr. De Ieso said that this year's recipients of the valedictorian and salutatorian awards stood out from their peers because they took every opportunity they could, then excelled in those areas, all throughout their high school careers. 
"That's what it really came down to," Mr. De Ieso said. "If there was an opportunity to take a rigorous class, it was taken, and they did well in it."
These students who jumped on and excelled in every opportunity possible are Franny Bengtson, Grace Elkhal, and Ashley Smith, who have been awarded the honor of valedictorian, and Lucas Wobig, this year's only salutatorian. 
"One thing in common that all of these students have, the three [valedictorians] and the one salutatorian, is that when they had the opportunity to let off the gas pedal a little bit, and sometimes that's usually senior year — you've been accepted to colleges, and maybe you're taking a job or maybe you're volunteering, you've done what you need to do — they didn't," Mr. De Ieso said. "They took the five or six AP classes, they made it work, when really, they didn't have to."
While the hallways of La Salle are filled with lots of studious, hardworking students, these four graduates have distinguished themselves from their peers, consistently building an outstanding academic record for the duration of their high school careers.
Here's a look into the high school journeys of each of the valedictorians and salutatorian of the class of 2020 — how they got to where they are today, their reflections on different aspects of high school, and their plans for life after La Salle.