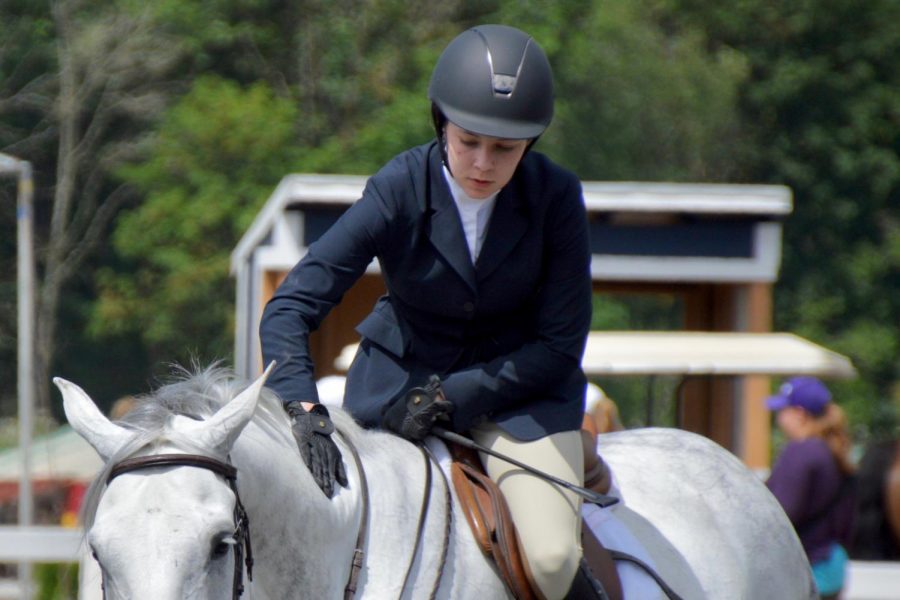 Hatte Hamilton
Learning to balance her schoolwork, social life, and competitive sport, horseback riding, Hatte Hamilton has had to develop diligent organizational skills to have a balanced lifestyle. 
"It's a lot of work, but I feel like I've gotten into a pretty good routine with [balancing school and competitively riding horses]," said Hamilton. "It's very time consuming, so I have to be very diligent about staying on top of stuff and not getting behind."
When Hamilton isn't riding her horse, she works with her good friend Olivia Fobi as co-president of the Climate Control Club, with the goal to bring more sustainable living to La Salle. 
"I have found that being a club moderator has been really, really cool because I've gotten to interact with… underclassmen… [and] it also allowed me to do Unity Day, which is pretty cool," Hamilton said. "[To] present on some topics surrounding my club… [it was fun] to have the juniors and seniors come in and participate."
Previously, Hamilton attended St. Mary's Academy, but going into her junior year decided to transfer to La Salle. She said that her experience switching schools was smooth. 
"I didn't really have any negative experiences as a transfer," Hamilton said, "I felt pretty welcomed."
Over her time at La Salle, one of the biggest things she said she's learned is to always advocate for yourself, and never be scared to speak up. 
Hamilton puts emphasis on "advocating for yourself with your peers, your counselor, just everyone… It's just like 'Hey I need help, and I really want to be doing well, but I'm not right now, so how can you help me'."
Balance is something we have all needed to learn while attending La Salle, whether it's between school work and sports, or your job and social life. Hamilton emphasizes the importance of staying on top of school work, while still not missing out on life experiences. 
"[Don't] necessarily put schoolwork to the side, but [make sure to continue] embracing other parts of life instead of just having your life revolve around school because that can kind of just lead you to not [having motivation] to do schoolwork at all, which most people experience [during] their time in high school," Hamilton said.