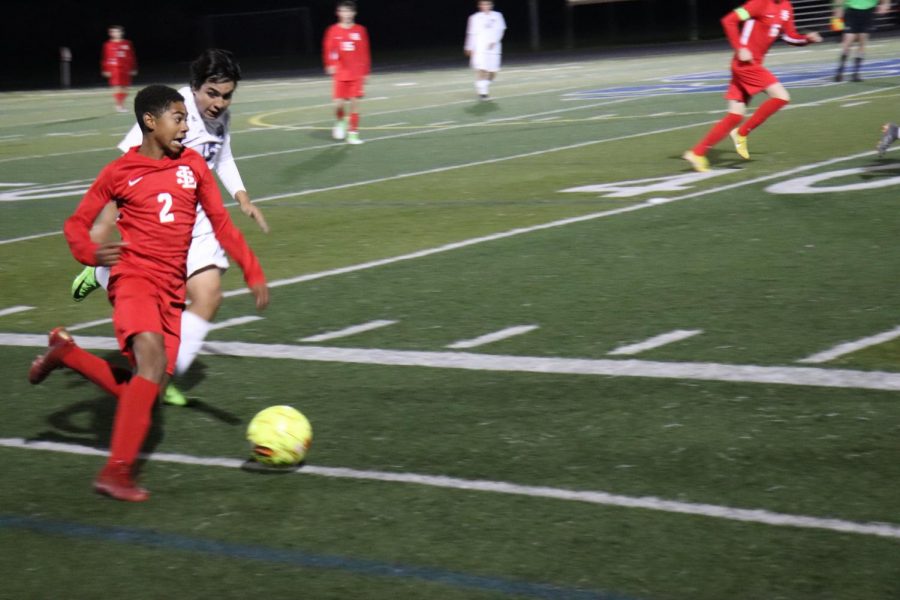 Sam Hull
As the #1 ranked boys varsity soccer team heads to the state playoffs this Saturday, one of the only freshmen on the team is Mizael Harris, who has played a significant role in helping the team achieve their current success.
One of Harris's favorite moments from the season is when he scored his first goal against Putnam on Oct. 4. "It was a great experience because I really wanted to score and the captain Brendan Dexter is always like 'you're going to get it, you're going to get it.'" Later in the season on Oct. 25, Harris scored another goal against Scappoose.
Harris is arguably the best soccer player in the freshman class and is an active member of the varsity soccer team. While other freshmen have been pulled up from JV to varsity throughout the season, Harris was the first freshman to make varsity originally, and has proven himself worthy throughout the season by scoring two goals, and contributing four assists.
When asked about his soccer background, it is clear that Harris has put in the time and effort to secure his success now and in the future. "I've been playing soccer since I was three and just carried on with the sport," said Harris. Not many freshman athletes can say that they have been playing a certain sport for eleven years.
In addition to playing for La Salle during the fall, Harris plays for a club soccer team the rest of the year called Portland City United, which is one of the best teams for his age group. 
Even though Portland City United is a challenging club soccer team, Harris said that playing for La Salle is "a lot harder because it is more intense [because I am not] as physical or as big yet."  
Head coach Seth Altshuler said that he quickly realized the potential that Harris possesses. "I saw a kid with a very, very high soccer IQ and technical ability mixed in with the kind of kid who understands the work rate required to play varsity," said Coach Altshuler.