Sophomore Lauren Harrington Wins Bronze at International Taekwondo Competition, Taking the Next Step in Her Taekwondo Journey
Lauren Harrington, a sophomore at La Salle, has been competing in taekwondo for multiple years, and recently placed third in her division at the World Taekwondo President's Cup in Las Vegas. She also won the wild-card spot for the USA and secured her spot to compete in the 2019 Pan Am games in Lima, Peru at this competition.
Lauren has been participating in taekwondo for 11 years, and began competing only about 6 months after she began in August of 2014. She was previously a soccer player, playing for 9 years, but she stopped playing in January in order to focus on taekwondo. Her great success at her most recent tournament was the "first real indication that I made the right decision," Lauren said.
Taekwondo is a significant part of Lauren's life, and she practices seven days a week. Two days a week Lauren practices from home, using the mini taekwondo gym in her garage to practice the skills that her coach assigns to her, and four days a week she practices with her team.
On the one other day of the week, Lauren and her team are "either training with the Oregon or Washington State Team, competing at a tournament, attending a camp, or doing a conditioning session at the track or stairs," she said. "We tend to fight locally at tournaments in Oregon and Washington from February through June, and [then] travel to compete from July through January."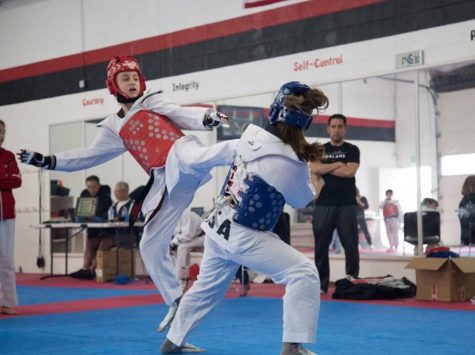 Her most recent competition on October 12, the World Taekwondo President's Cup, was in Las Vegas, and athletes from across the Pan American region came to compete. Lauren's division is "female, 15-17 years old, 49-52 kilograms," and she placed third overall within it. She was also the top American in her division, and therefore she won the USA wild-card spot.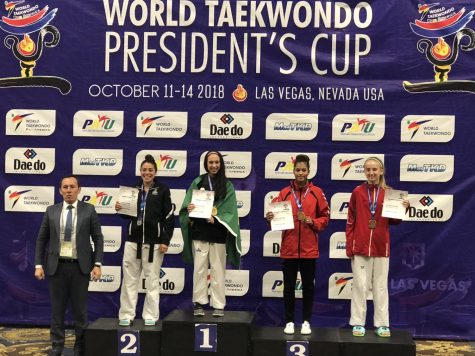 In the next couple of months, Lauren says she plans to travel to different camps around the Northwest in order to continue training and gaining strength. She will go back to Las Vegas to fight in the US Open with international athletes at the end of January, and then will compete only a few days later at the Oregon State Championships. Following that, Lauren will fight in the Washington State Championships and other local tournaments in the spring.
However, "there's really no off-season in taekwondo," she said. "In July, I'll travel to Fort Lauderdale, Florida and Minneapolis, Minnesota and try to land a spot on the USA National Team."
At the end of the summer, Lauren will fight at the Pan Am Games in Peru and the Canada Open in September. Her competitions will loop right back to the World Taekwondo President's Cup, where she wants to earn the wild card spot for the USA again next October.
Initially, competing nationally and internationally was nerve wracking for Lauren, knowing that she would have to fight others who are better or stronger than her. But over time, her experience has taught her how to turn nervous energy into adrenaline, and competing nationally and internationally is now exciting to her.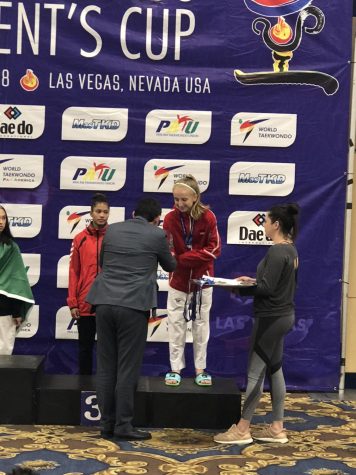 Lauren has been able to beat athletes from all over the world, and she's proved to herself that "I can hang in there with the best of the world." She said that "trying to intimidate your opponents is a big part of taekwondo, so even if you're scared to death of your opponent, it's important that you don't let it show." However, her teammates, who are also some of her closest friends, always cheer each other on and help each other be better, which is one of her favorite things about the sport.
Lauren has found a way to successfully balance academics, athletics, and her social life. "School always comes first, so I make sure I get all of my homework done before I go to practice at night," she said. "For athletes who have trouble managing their academics… and athletics… try not to procrastinate. Do your very best to get everything done before practice… and you'll feel a lot less stressed, which will allow you to enjoy your athletics more."
She also says that it is important to make strong relationships with your teammates, so that missing out on social events because of practice or a competition is easier since you have close friends along with you.
Lauren's goal for this year is to stand on the top of the podium at an international event, as well as make the USA national team. "You get out of taekwondo exactly what you put into it," she said. If you put in the work, you will usually get the results."
As for the future, Lauren knows she will continue her taekwondo journey throughout high school, and possibly after. "No matter what, taekwondo will always be a part of my life," she said.